The UN estimates that over 13 million Ukrainians, many with pets, have fled since the attack began on February 24. Nearly 5 million have registered as displaced Ukrainian people in neighboring countries while over 8 million are internally displaced. Donate now to help the people and pets of Ukraine.
Provide emergency relief to people and animals fleeing from attack in Ukraine.
On February 24, Russia started a war on neighboring Ukraine, invading the country on several fronts. The UN estimates that nearly 5 million have registered as displaced Ukrainian people in neighboring countries while over 8 million displaced inside war-torn Ukraine itself. The journey is daunting, with many Ukrainian families and their pets traveling for days without food. They need your help now.
Greater Good Charities is working on the ground to provide urgent relief, and is in contact with humanitarian and animal welfare partners responding to the immediate needs of the people and pets of Ukraine. We're providing funding and supplies to help distribute nourishing meals at border crossings for displaced Ukrainian people fleeing Ukraine and at shelters and camps for those who remain in the country.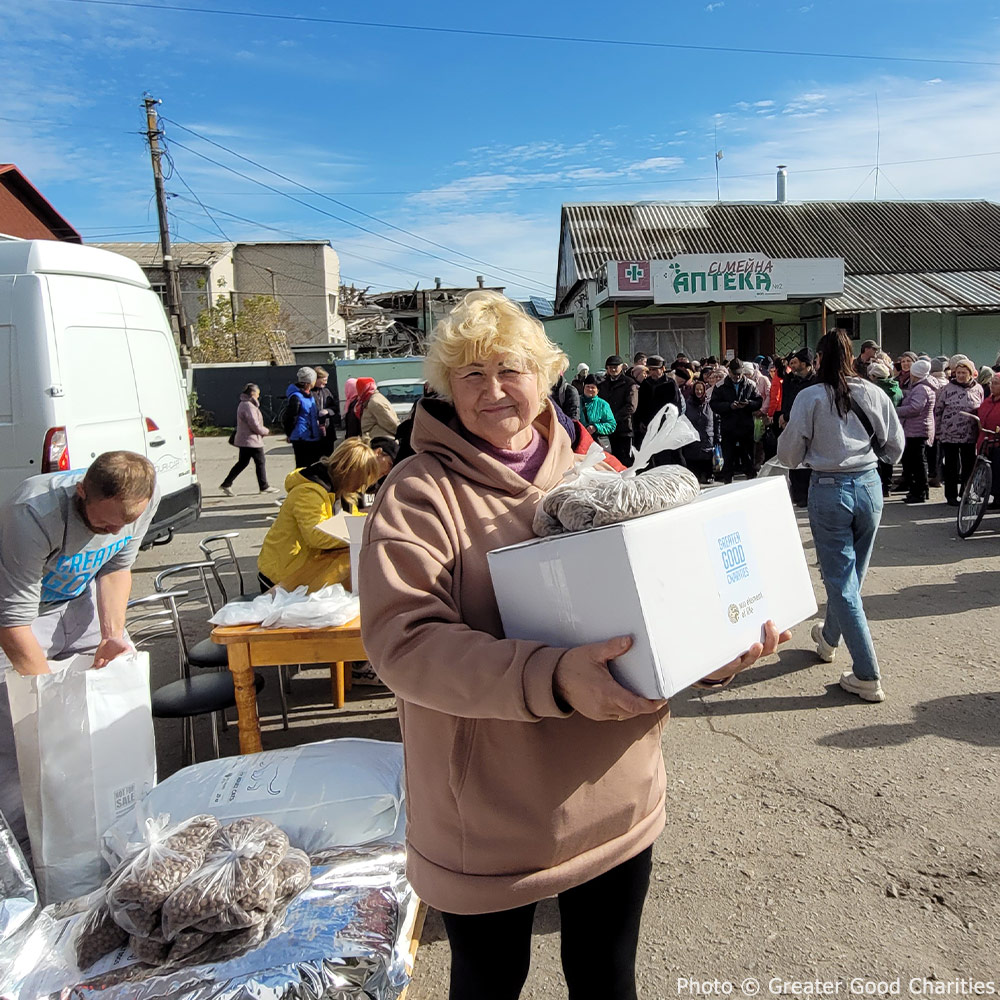 As the war nears its eighth month, donations to support relief efforts are declining around the globe—meanwhile, the need is greater than ever. Here's what Greater Good Charities has been doing to help:
Establishing a network of warehouses necessary for effective distribution of emergency aid items

Procurement of food, humanitarian supplies, veterinary medicine, medical care supplies, toys and other enrichment items

Distribution of relief kits containing immediate relief supplies for families escaping Ukraine and re-settling in safety

Purchasing of tons of pet food to send into Ukraine for animal shelters without access to food

Production of high quality zippered tote bags to hold supplies and meal kits to be distributed in Ukraine

Distributing relief kits containing meals filled with nutritious food to Internally Displaced Persons, each kit providing up to 78 meals



Funding the purchase of a refrigerated van to deliver frozen pizzas and ice cream

Next round of grant funding to key partners to cover operational expenses in the next several months
We will keep you updated as we gather more first-hand information here: Our Response to the Ukraine Crisis
You can help. Your emergency donation is a beacon of hope and will go directly to aid the people and pets of Ukraine during their time of greatest need. Give today.
Send checks to:
Greater Good Charities
C/O: Accounting
600 University St Suite 1000,
Seattle, WA 98101 US