Wildfires in Maui: Help Victims Now
CURRENT RESPONSE: Help People and Pets Affected by Wildfires in Maui
115 people have been found dead and 338 people are still missing as a result of the devastating wildfires in Maui, making it the deadliest US wildfire in over a century. The fires, spurred on by Hurricane Dora, engulfed the island of Maui, causing mass panic, the loss of power to thousands of homes and businesses, and wide-ranging destruction across the island. People and pets who have survived the fires but lost everything need your help NOW.

Greater Good Charities' Disaster Response Team has been on the ground since the beginning of the disaster in Maui distributing cash grants, pet food, and supplies to impacted communities and working to provide solutions to aid in the island's long-term recovery. Our animal shelter partners in the area are tirelessly working to take in and care for burned and displaced pets. We're also partnering with with the Animal Search And Rescue/Animal Incident Management and Maui Humane Society to rescue stray and missing pets.
We're currently shipping in humanitarian supplies to Maui. To prevent temperature sensitive goods like medicine and food from spoiling, we're also working to establish an ongoing, recurring supply chain of deliveries in order to distribute fresh supplies to the people and pets of Maui.
We can't do it without you. Your donations are urgently needed to support efforts on the ground.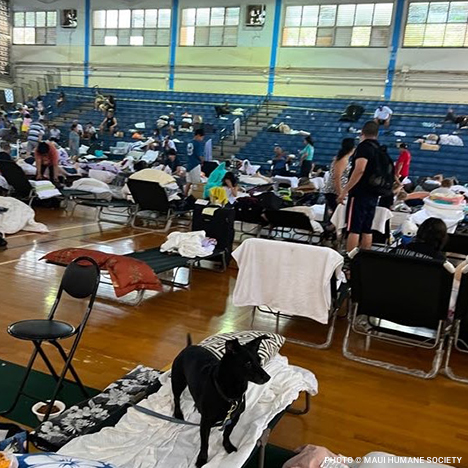 your gift helps us respond when disaster strikes
Greater Good Charities is dedicated to being there when it matters. With the help of our amazing community of donors, we've provided truckloads of supplies, food for both people and animals, medicine, emergency transport for pets and much-needed funding in the wake of extreme weather events like dangerous flooding, devastating hurricanes, tornadoes, and now, this deadly wildfire
We need YOUR help now! Your support allows Greater Good Charities to prepare first response teams as quickly as possible whenever disaster strikes. Your donation will support Greater Good Charities' disaster relief efforts and help provide relief to people and pets affected by the wildfires.
Your donation will support our disaster response fund, providing immediate relief for victims of this tragedy and other natural disasters. We cannot do it without you, and every dollar helps—please donate now.
Send checks to:
Greater Good Charities
C/O: Accounting
301 Union Street #21308
Seattle, WA 98111 US