The holidays are a time of year traditionally filled with festivities, togetherness, and joy. But for many, especially the countless animals in overwhelmed shelters across the US, it's a time filled with struggle and pain as they desperately wait for medical care and a loving home. But you can help the animals in need this holiday season, by giving them hope and a chance for a better life.
Lu was rescued by animal control dripping blood from his face. Despite his great physical pain, he was still incredibly sweet and gentle with his rescuers. Concerned about his condition, they rushed him to the vet. If it weren't for their swift action and immediate treatment for the injury and infection on his face, he wouldn't have survived. Lu continues to fight for his life and needs ongoing medical treatment for the dangerous infection, dental surgery, and care for his face injury.
Greater Good Charities' Emergency Animal Medical program is dedicated to ensuring that pets just like Lu get the lifesaving medical care they need to become healthy and adoptable pets. Will you give the gift of hope and healing this holiday season to pets like Lu?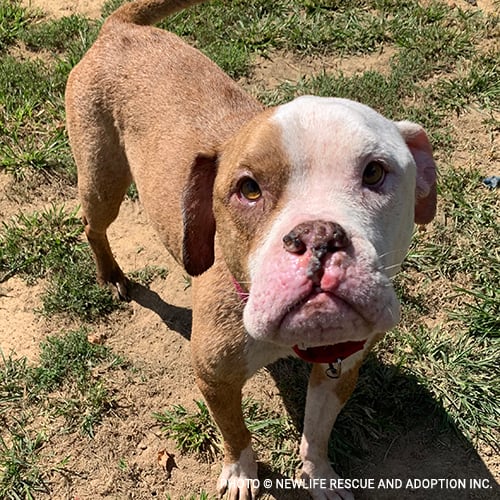 Save sick and injured pets like Lu!
You can help animals across the US receive the medical attention needed to make a full recovery and heal, so that they can find new homes and be adopted! By helping cover the cost of their medical treatment through the Greater Good Charities Emergency Animal Medical program, Lu, and others like him will be soothed of their undeserved pain and go on to live long and happy lives.
Your tax-deductible donation goes towards the cost of Lu's medical treatment, surgeries, and aftercare, ensuring he goes on to live a long and happy life and find his forever home.
We need YOUR help now!
You can help sweet Lu heal and recover from this painful injury and infection. He deserves to be cherished and healthy, and your gift will go directly to cover the costs of his medications and aftercare, ensuring that he goes on to live a long and happy life. Funds raised over the goal amount will go to help provide medical care to other shelter pets.

Greater Good Charities has ultimate authority and discretion with regard to the distribution of its funds. All expenditures made are consistent with the exempt purposes of Greater Good Charities.
Send checks to:
Greater Good Charities
C/O: Accounting
301 Union Street #21308
Seattle, WA 98111 US