Animal shelters across the country are operating above capacity. Many shelters find themselves with more pets in their shelters than they can hold, leaving little hope for homeless pets. You can help transport pets from under-resourced shelters to rescue organizations in parts of the country with stronger adoption options.
On December 4th, we are conducting a lifesaving flight for pets without families in overcrowded shelters across Louisiana., all the way to their new homes in New Jersey! 45 dogs and 15 cats will take to the sky on the start of their adventures to finding their forever homes.
If you are a momma cat or dog in an overcrowded shelter, your chances of being adopted are slim. While kittens and puppies get adopted all the time, older animals are left behind. To make matters worse, treatable and curable diseases like heartworm can be a death sentence for an otherwise adoptable pet because the cost of treatment is prohibitive. The reality for many of these pets is bleak: if you are a pet in an overcrowded shelter in the South, your chances of making it out are poor.
This important flight program is the last chance for many pets to find their perfect homes. A tax-deductible donation of only $40 can transport one shelter pet and give them the chance at the better life they deserve.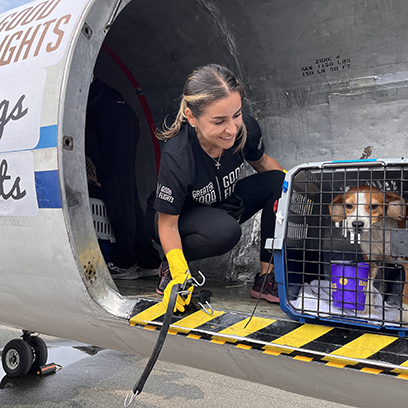 Help Transport At-Risk Shelter Pets
The lack of resources and prohibitive cost of treatment can make curable diseases like heartworm a death sentence for otherwise adoptable pets. The reality for many pets in overcrowded areas is bleak, with veterinary care and adoption unlikely. 
Good Flights solves this issue by transporting adoptable pets from these shelters in need to areas where there is more space and adoption demand. The result? Good Flights pet passengers are quickly adopted into loving forever homes. We're committed to transporting thousands of asymptomatic heartworm positive pets to safety, and treating thousands more in shelters in the South so they can be adopted. 
Good Flights is staffed with trained and seasoned animal welfare transport professionals who adhere to best practices in pet transport. We work in concert with veterinary teams and shelter staff to select qualified transport candidates, cover all transport costs and provide mentorship to sending shelters as well as pet care supplies and cash grant support to all shelter partners. Donate to help pets reach their forever home!

Greater Good Charities has ultimate authority and discretion with regard to the distribution of its funds. All expenditures made are consistent with the exempt purposes of Greater Good Charities.
Send checks to:
Greater Good Charities
C/O: Accounting
301 Union Street #21308
Seattle, WA 98111 US