 Thanks to a generous donation from Wag!, all donations will be matched dollar for dollar, up to 1 MILLION MEALS. Help make this the biggest Giving Tuesday Pet Food Drive yet!
Across the country, animal shelters and rescues are overcrowded and understaffed. One of the biggest expenses for shelters and rescue groups is feeding pets in their care. This is a struggle for many groups in a normal year—and with the effects of a pandemic, economic downturn, and unprecedented natural disasters, this has not been a normal year.
With pets flooding shelters and the temperature dropping, overcrowded shelters incur extra expenses. The need for food is dire, and pets like Hildie need you now more than ever.
save thousands of pets in need!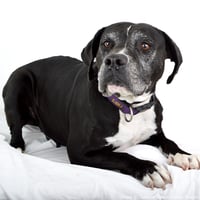 Hildie (pictured right) was found as a stray and brought to Iberville Parish Animal Shelter in horrible condition. She was emaciated, her teeth worn and broken, and her heartworm so severe that she coughed constantly. This gentle, smart girl was in bad shape and hopes for her adoption were slim.
Resources and space at Iberville are tight due to the increase in displaced pets in the wake of Hurricane Ida. Fortunately, food donated by Greater Good Charities ensured that Hildie had the highest quality nutrition to help her recovery. Now, she's in the best of foster hands with the shelter's director, healing and hopefully awaiting her forever home.
Hildie's story and many others like it are why this GivingTuesday, Greater Good Charities and Wag! are hosting a food drive for shelter pets! GivingTuesday is a global generosity movement unleashing the power of people and organizations to transform their communities and the world. Your donations will provide nutritious meals to shelters and rescues across the country through our programs that feed hungry pets in need. The best part? Healthy, happy, well-fed pets have a much better chance of being adopted!
Just $25 provides 500 meals for shelter pets in need.
Your donation will deliver nutritious food generously donated by our partners at Chewy to pets who need it most. You can make this the biggest GivingTuesday yet. Donate today!
Send checks to:
Greater Good Charities
C/O: Accounting
600 University St Suite 1000,
Seattle, WA 98101 US