On any given night, the U.S. Department of Veterans Affairs (VA) estimates that nearly 40,000 veterans experience homelessness. And in the wake of the pandemic and the economic hardship it has caused for so many, even more of our nation's heroes are at risk of food insecurity and unemployment. The security of basic comfort items and a nutritious meal can help bridge the gap for our veterans as they seek to secure permanent housing—and they need your help.
help provide food and essential comfort supplies to veterans and their pets experiencing homelessness. They fought for us, let's fight for them.
Greater Good Charities is working to provide food and comfort items to veterans experiencing homelessness in areas with high veteran poverty populations. Through our relationship with the VA, these essential items will ensure local veterans have access to basic supplies and nutritious meals. Like housing, food is critical to sustaining a healthy and stable life, and hunger can only exacerbate the mental and physical impairments a veteran might be going through.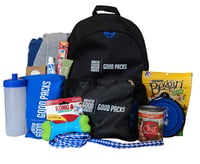 Along with food, we'll provide Good Packs full of basic survival supplies to veterans facing homelessness. For those veterans that care for comfort or service animals, we will also provide support for their pets in Pet Packs. These supplies for people and pets include blankets, clothing, reusable water bottles, basic hygiene products, pet food and treats, toys, slip leads and collapsible food/water dishes.
Now is the time to do our part to support veterans who have sacrificed so much to protect our country. Just $36 provides a meal pack and Good Pack to a veteran and their pet. This GivingTuesday, join us in serving our nation's heroes who served our country. Give now.
Send checks to:
Greater Good Charities
C/O: Accounting
600 University St Suite 1000,
Seattle, WA 98101 US