Animals Affected by Flash Floods in Texas and Oklahoma
A deluge of rain over Memorial Day weekend brought on deadly flash floods in areas of Texas and Oklahoma. Thousands of buildings sustained heavy damage, while many homes were completely destroyed by the powerful rushing waters. As a result, thousands of people, along with their family pets, have now been displaced.
As families work to rebuild their lives, many of their dogs, cats, and other animals have ended up in local shelters. Unfortunately, several regional animal organizations in Texas and Oklahoma have been damaged by the floods. The remaining rescue centers are now completely overwhelmed by the number of animals that need to be tended to following the storms.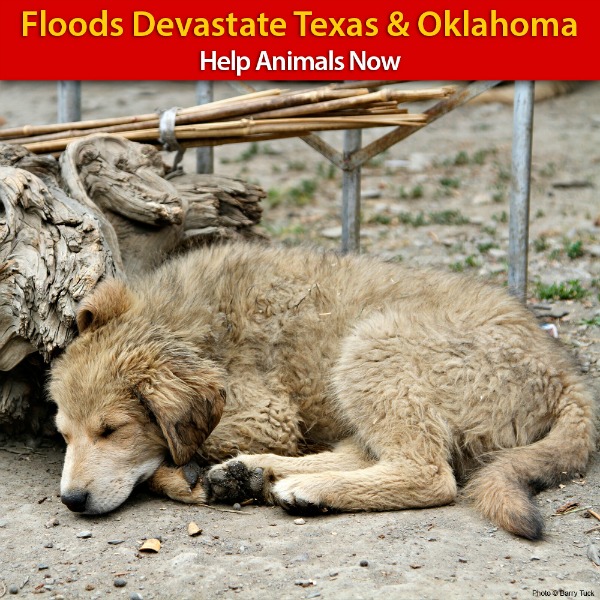 After the waters reside and structural damage attended to, many of the pets will return home with their families. However, others will be placed up for adoption if families are unable to take them back.
Because of this, there is currently an urgent need for temporary housing for the multitude of displaced pets in Texas and Oklahoma. It is also critical that additional veterinary care be obtained to treat animals injured by the flash floods. The clean-up from this disaster could take several months and these animals will need extended attention.
GreaterGood is taking immediate action on the situation and has begun working with local partners to make sure their needs are met. Along with providing shelter and veterinarian services, we are also working to ensure there is enough food for the homeless pets.
You can help us accomplish these tasks. For as little as $5, you will assist us in funding shelter, veterinarians, and food that is desperately needed. When you give a Gift That Gives More™, 100% of your contribution will go directly towards this cause. Click here to learn more about how you can donate to help the animals affected by the devastating flash floods in Texas and Oklahoma.