Pipsqueak the Bravest Mouse
When Hurricane Laura threatened the Gulf Coast, you gave such immediate support that we assembled emergency flights to evacuate pets out of harm's way. Our Wings of Rescue team took flight and helped so many pets in the hurricane's path, like Pipsqueak the bravest mouse. Three-legged Pipsqueak boarded one of our eight flights to safety and found his forever home!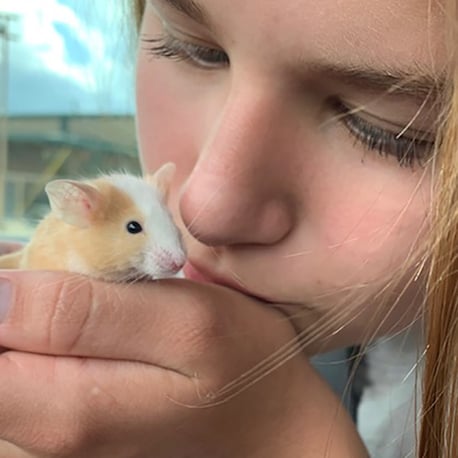 Pipsqueak was among more than 400 pets whisked out of the way of danger from Hurricane Laura as the storm approached the Gulf Coast. Our partners at Wings of Rescue chartered eight critical flights. These took pets in Texas and Louisiana out of the danger zone, to shelters and rescues across the country with room for pets in need.
Pipsqueak was aboard a plane flying animals from the Houston SPCA and the Galveston Island Humane Society to shelters in northern Texas. Also on the flight with this special mouse were 20 dogs, 56 cats, and three rabbits.
Finding all of these pets good homes was the top priority for shelter staff as soon as they touched down. And Pipsqueak was soon in very high demand. A long waitlist of interested adopters formed just 24 hours after posting his adoption info. But ultimately the best-fitting family was chosen to take the lucky little mouse in and provide him with every mouse amenity.
You made the rescue of Pipsqueak and so many more pets possible in this time of crisis. Thank you!
Help animals all over the country receive the medical care they so often desperately need.