First Annual Cat Pawsitive National High-Five Day Shelter Contest
To celebrate the expansion of The Jackson Galaxy Project's (JGP) life-saving Cat Pawsitive program, GreaterGood.org, the Petco Foundation, and Halo® pet food are teaming up for the first annual Cat Pawsitive National High-Five Day Shelter Contest. From April 2 until National High-five Day on April 19, animal shelter staff and volunteers, along with the public, will be invited to share their most creative feline high-five photos and videos on Facebook or Instagram using the hashtag #CatPawsitive, tagging @TheJacksonGalaxyProject and @HaloPets.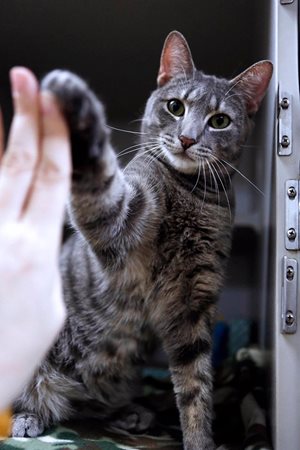 Cat Pawsitive is a life-saving program for shelter and rescue cats that aims to increase feline adoption rates by teaching shelter staff and volunteers how to implement positive reinforcement training for cats. Jackson Galaxy, star of the television show My Cat from Hell on Animal Planet, and founder of JGP, developed the Cat Pawsitive program with a team of feline behavior experts.

"The genesis of Cat Pawsitive stemmed from the simple desire to duplicate the "AHA!" moment I had in the early stages of my life with cats as a shelter worker," said Jackson Galaxy. "By utilizing the training concepts that were, to that point, only used for the dogs in our care, not only were the cats stimulated, motivated and energized, but so was I. That, along with the most important result, lives being saved, was the win-win. We are thrilled to launch the first-ever Cat Pawsitive National High-Five Day to promote adoption and help generate awareness about the program."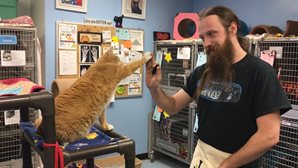 Jackson Galaxy will judge the contest entries and select the top five entries. The grand prize is a $5000 cash grant and 10,000 bowls of HOLISTIC, WHOLE, HUMANE Halo® pet food to an animal shelter/rescue of choice, and a post shared on Jackson Galaxy's Facebook page, and four runner-ups will each receive 10,000 bowls of Halo® pet food, courtesy of GreaterGood.org and FreeKibble.com.

Contest participants can download step-by-step instructions to teach the feline high-five as well as review the complete contest terms and conditions via http://felinehighfive.com.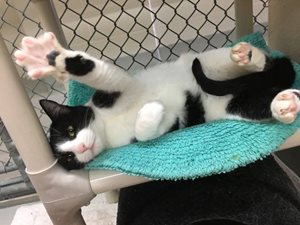 After the end of the contest, applications will open for shelters to apply for the expanded 2018 Cat Pawsitive program. Selected groups will be taught training techniques for cats in their shelters to improve engagement, awareness, and adoptability. Follow The Jackson Galaxy Project, and Halo® Pets on Facebook or Instagram to see more inspiring cat videos throughout the year. The program is supported by Petco Foundation, and all training treats are provided by Halo® Pets.