10 Thanksgiving Safety Tips for Dogs Every Pet Parent Should Know
The most "woofderful" time of the year is upon us — Thanksgiving! Traveling to reunite with family and friends? Feasting at home with your four-legged foodie? No matter what you've got planned for Turkey Day, here are some essential tips for keeping your pup safe.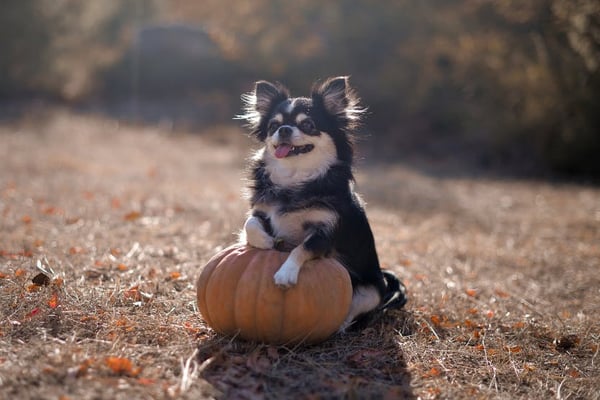 Review your dog's obedience commands
This should be the first item on your Thanksgiving to-do list, especially if Toto is still working their way through the dog training manual. Thanksgiving Day means lots of activity in unfamiliar environments filled with strangers. Make sure your mutt knows how to mind their manners in such situations.
The lead-up to Thanksgiving often means crunch time for pet parents with full-time jobs. Need a helping paw with your pup's obedience training? Book a 60-minute dog training session with a superstar dog trainer near you! Dog trainers on the Wag! platform work around your busy schedule to bring the obedience class right to your living room.
Know which Thanksgiving foods are safe for dogs to eat
Baxter will hardly be able to resist begging at the table during the mouthwatering feast! But many of the delectable Thanksgiving dishes you'll enjoy aren't safe for dogs.
Here's a quick overview of which Thanksgiving foods are safe for dogs. For an in-depth look, check out Wag!'s guide to Thanksgiving foods for dogs (which also includes some yummy recipes!).
Dog-safe Thanksgiving foods
Serve these foods without spices, artificial flavors, or added ingredients:
Carrots
Celery
Squash
Green beans
Apples
Cranberries
Cooked sweet potatoes
Cooked potatoes
Pure, cooked pumpkin
Low-fat cheese
Frozen plain yogurt
Plain, unseasoned white turkey meat
Thanksgiving foods and ingredients to avoid
Onion
Garlic
Leeks
Sugar
Xylitol
Raisins
Chocolate
Desserts
Raw potatoes
Cranberry sauce
Dark turkey meat, fat, skin, and bones
Make a tasty Thanksgiving treat for your dog
Your fur-baby is part of your family, so they'll likely want to join in the "feastivities" too. But slipping your hungry hound some table scraps on the sly isn't the best option. Why not prepare them a Thanksgiving doggy bag instead?
We've got you covered with 6 easy peasy Thanksgiving recipes for dogs, including the turkey and veggie loaf pictured above! (Bella "pawsitively" loved it, by the way.)
Does your doggo have food allergies or a sensitive stomach? These treats for dogs with food allergies are sure to get Dizzy drooling!
Learn the signs of toxicity in dogs
In many ways, dogs are like toddlers. Turn your back for one second, and they'll start meddling in things they shouldn't.
Know the signs of poisoning in dogs in case your woofer gives you the slip and snags a Thanksgiving treat from the table. Keep in mind that some symptoms may not show for a few days, which is why it's important to monitor your mutt at all times.
Consult a vet if your dog shows any of the following symptoms:
Lethargy
Excessive panting
Tremors
Restlessness
Loss of coordination
Swollen limbs
Intestinal blockages
Set boundaries with family members
Well-meaning family members might be tempted to give your dog a treat without knowing their dietary requirements or your rules. Avoid this by setting boundaries with your family before the big day.
This isn't just limited to food and treats. If your dog doesn't like being petted in a certain area, or if they have a medical condition, let your family members know.
Check your pup's packing list twice
Traveling with a dog this Thanksgiving? Your four-legged friend might need a bigger suitcase than you do! Here are a few essentials to pack for your pup:
2 leashes
Harness/collar
Carrier crate
Food and water bowls
Food and treats
Doggy waste bags
Medication
Favorite toys
Towel and bedding
License
Proof of vaccinations
Dog tag with updated contact info
Car safety system for dogs if you're driving (see our next Thanksgiving safety tip!)
If you're driving, buckle up your pup
If you're flying, read the pet policy carefully
If you're planning to fly with a dog this Thanksgiving, make sure to read the fine print — rules for pet passengers are usually pretty strict. If you have any questions, contact the airline before booking your flight.
Check out our guides to flying with a dog with some of America's most popular airlines:
Stick to your dog's usual routine if you can
Throughout your Thanksgiving break, try to stick to your doggo's usual times for meals, walks, playtime, and potty breaks. Canines are creatures of habit, and they're happiest on a regular routine.
Feeling too full after the Thanksgiving feast to go for walkies? Why not book a dog walker near you and let a Pet Caregiver keep Callie company? While you're snoozing after the feast, your Pet Caregiver will take Sparky for a spin around the block. They'll even send you photo updates and a report card!
Supervise your dog, especially around children and other pets
High-energy dogs and children alike can sometimes play too "ruff" together. To keep both human and canine children safe, supervise your dog at all times around young children. Big dogs might knock over small children while playing. And curious little ones might also distress your dog by pulling their fur or pinching their ears.
The same goes for guests planning to bring their pets. Before you arrive, discuss your pets' temperament with friends and family members. Agree on a plan of action in case your fur-babies don't get along.
Thanksgiving safety tips for dogs: recap
Busy environments with lots of people can stress out even the friendliest, calmest dogs. It's a good idea to set up a safe space where your pup can chill out if things get too overwhelming.
Ultimately, the best way to keep your dog safe over Thanksgiving is to prepare well. With a plan in place for keeping your dog relaxed in unfamiliar environments, interacting with other pets and children, and traveling via plane or car, you're sure to have a "furrific" Thanksgiving.