400 Volunteers Helping Animals
With nearly 400 volunteers from Mars Petcare, we were able to return to Pima County Animal Care Center and the Christopher Columbus Park and continue where we left off last year. We do not often have the privilege to build in the same county twice, but this gave us the ability to truly expand our list of project ideas that benefitted both the shelter cats and dogs as well as the community pets.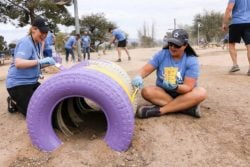 First stop…the park! There is a new idea that many dog parks are embracing, and we were able to make that happen at Christopher Columbus Park. While the existing dog park had a large dog and a small dog area, there is a substantial benefit to also having a space for lower energy dogs so that they don't get overly anxious by the more rambunctious bunch. With it being such a sizeable park, we were able to divide the large dog park to then create this low-energy section for the more old-timers and mellow fellows. Having so many volunteers, we were able to gravel the whole park to not only make it look nicer, but also make it more accessible when muddy and more manageable for the city to maintain. We also had time to build two new shade pavilions in the areas lacking shade and touched up the paint on the ones we built the year before. Making sure that all sections of the dog park have access to water, owners are now able to bring their dog to the park and have them comfortable in their surroundings by matching behaviors, age, or energy levels. Once finished, we were able to see our work enjoyed by both the owners and their blissful pups!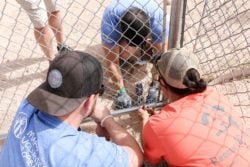 Of course, we didn't stop there. We grabbed our tools and got to building a catty shack for the Pima Animal Care Center. This catty shack is part of their working cat project which is a new and exciting idea in the world of animal welfare. With the overall goal of increasing adoption rates, cats that are not a good fit for a couch-pet still deserve a shot at life! Not all cats are mentally meant to be inside and get super stressed about being forced to do so. Instead, they would be happier placed in barns, construction companies, or businesses with rat populations that need rodent control. Our new catty shack and catio will be their layover spot until they get adopted out to a working situation.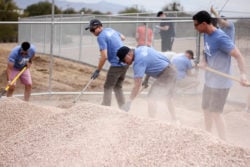 Our volunteers still had more energy to continue doing more. To finish up the job, we added two new play yards with benches, agility steps, and tires for the dogs to run through. And for those animals not outside running around in the yards, we made hundreds of snuggle mats, braided fleece toys, and activity towers! These shelter animals will be well taken care of until they are in their new forever homes!
You can be a hero to shelter pets by donating to Rescue Rebuild! We increase adoption rates by up to 300%!