Cat Pawsitive Pro is a Success at Animal Rescue League of Berks County
By Dawn White of Lola the Rescued Cat
The Animal Rescue League of Berks County (ARLOBC) in Birdsboro, PA, says the Cat Pawsitive Pro (CPP) program is a success at their shelter. They are celebrating seven adoptions and two rescue transfers, and according to Executive Director Alexis Pagoulatos, they are looking forward "to welcoming more cats into the program." Pagoulatos reports that "most adopters seem absolutely delighted with how the cats interact and engage with them" and advises that they are extremely impressed!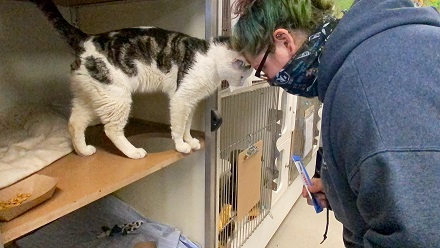 One of their success stories is Bella, a six-year-old sweet and petite brown tabby girl. Bella was surrendered with her brother when her guardians moved and were unable to take the cats to their new home. Megan Yohn, CPP Team Leader and Feline Behavior and Enrichment Coordinator, says that Bella was very scared upon her admission to the shelter. "She shut down and would exhibit defensive aggression." Yohn says, "She'd just hide under her kuranda bed, [and] if you'd go to see her, she'd pee right where she sat." Bella was also a little "hissy, spitty, and swatty."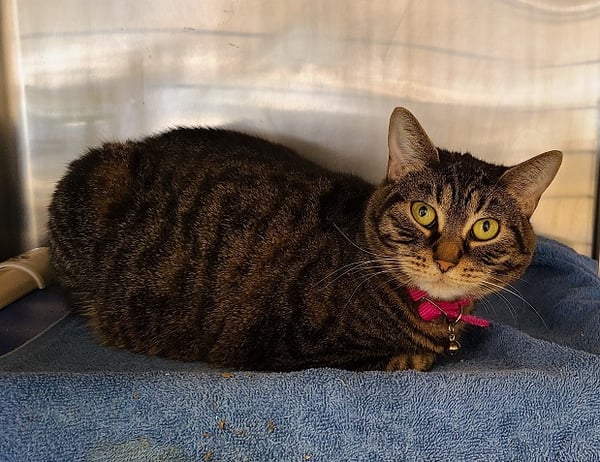 Bella was given plenty of time to decompress before starting in CPP. She was a bit of a slow learner because she was very frightened and alert about everything in her surroundings. But as soon as she got a taste for the squeezy treat, she was interested, and her confidence soared day by day. "[Bella] actually became a bit of a goofball, reaching out of her kennel to try and steal target sticks from us while we were trying to train other cats," says Yohn. Bella made such progress that she was adopted the day she was made available.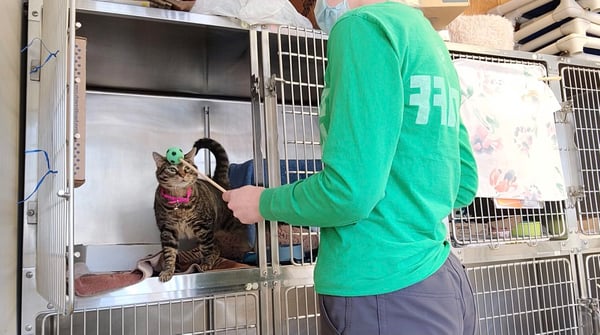 The ARLOBC team also enjoyed seeing Torque, a two-year-old super sweet girl, flourish because of the program. Torque was surrendered when her guardians could no longer care for her and her four siblings. The family was living in a hotel room when they decided it was time the cats had a better quality of life.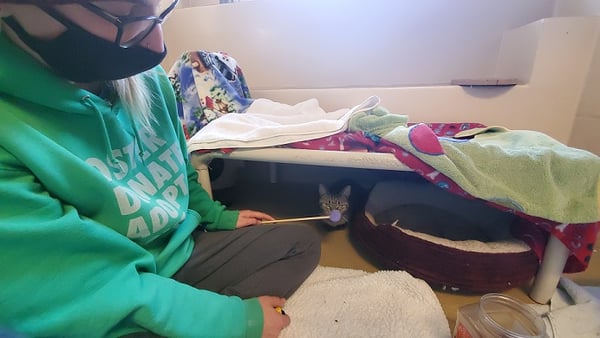 An outdoor cat who was taken inside, Torque was never able to be properly socialized. She was terrified when she arrived at ARLOBC, and the team was pretty sure she was going to be a barn cat. "Torque lived under her blankets [and] we'd have to watch where we stepped in the colony to make sure we didn't walk on her," says Yohn. "If we lifted the blankets, she'd scream in terror, scatter, [and] try to climb the walls." Torque was incredibly unhappy. But since she hadn't been socialized to an indoor life, the team wasn't quite sure what her options were.
Torque's progress was slow at first. Staff would have to get down on the floor of her colony and throw treats to her because she would run to the back of her hiding spaces to keep her distance from them. She was still very scared, mostly living under her kuranda bed or in the cubby of her cat tree. But within a week or two of training, she was starting to venture out and approach people. Yohn says, "It was really beautiful."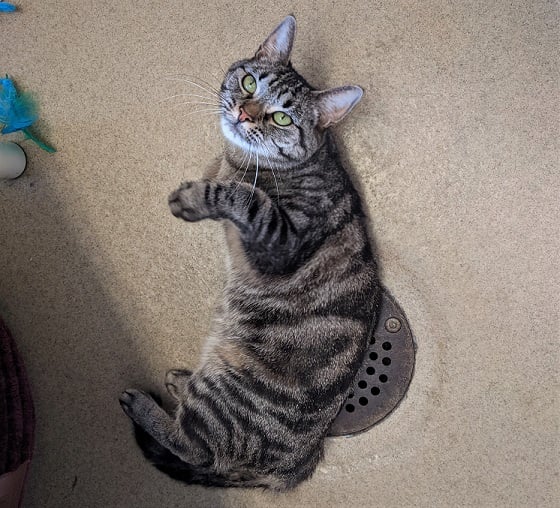 Torque is so confident and outgoing now and enjoys going up to the top levels of her colony, asking for attention. When staff approach her, she runs around, makes biscuits, and loves rubbing all over them. Yohn reports that she is a completely new cat. "CPP has done amazing things for Torque, and it has been absolutely incredible to work with her." As a result of her training, Torque has been adopted!
Carrie Seay, the Trainer-Mentor for ARLOBC, says the team is doing so great with their training and has done an amazing job of troubleshooting throughout the program to make sure the cats are set up for success. They have had some logistical speed bumps due to covid regulations at their shelter, but the way they are still getting their training sessions in and are excited about the program is "so refreshing." Seay says that "while this semester is a bit different than others we have seen before, the cats are still learning new behaviors, becoming confident and more friendly, and the staff and volunteers are also becoming more confident and excited about how much the cats are changing."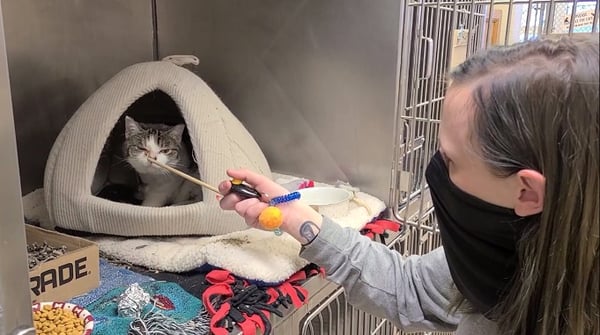 The ARLOBC team is immensely proud to be able to learn skills at this more advanced level because, according to Pagoulatos, "nothing fills our hearts more than getting our shelter animals what they need to thrive to find a loving home." Seeing their cats reach out to adopters to connect with them in new ways has been incredibly fulfilling for everyone involved in their training.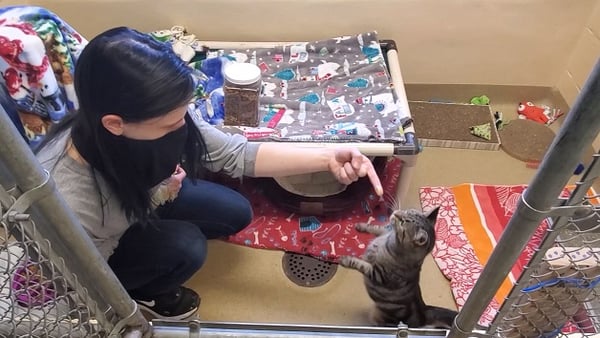 Pagoulatos is happy to report that the response from staff and volunteers has been supportive and passionate as they see the wonderful benefits and outcomes that continue to unfold. "Knowing that cats are the shelter's biggest challenge due to the sheer volume who need help, and the challenges of a shelter environment, this program has given us entirely new tools to help cats thrive and people connect with them. Thank you, CPP!"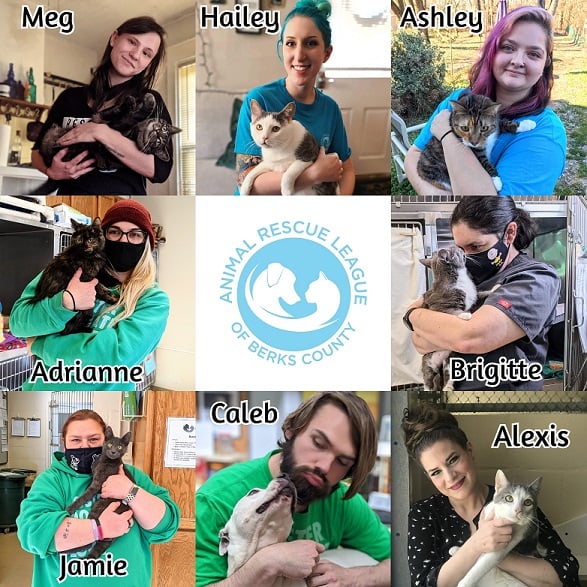 YOU can improve the lives of cats at risk. Donate today to The Jackson Galaxy Project's Cat Pawsitive Program and transform the places and people that support at-risk pets!