From Fast Friends to a Forever Home at Roice-Hurst Humane Society
By Melissa Lapierre of Melissa's Mochas, Mysteries and Meows
One of Roice-Hurst Humane Society's primary motivations for applying for Cat Pawsitive Pro (CPP) was to help cats like Bob Meowly, who arrived at the Grand Junction, Colorado, shelter on December 2, 2020 after being trapped through their TNR (Trap-Neuter-Return) program, the Grand Valley Cat Project. Many TNR'd cats who are on the borderline of social/semi-feral would typically be neutered and returned to where they were trapped.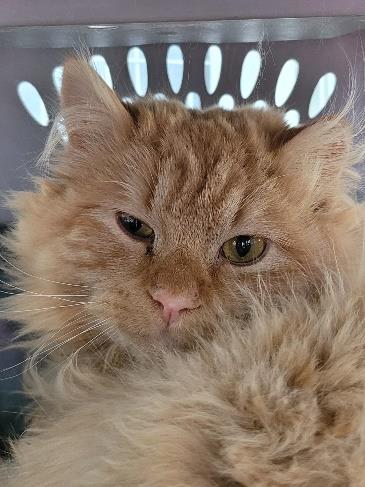 After his neuter, Field and Outreach Coordinator Mila Revelle determined that he was social enough to be moved into their adoption program rather than released back to where he was trapped so the handsome boy could live the rest of his life in a loving home.
The 10-month-old cat was understandably fearful when he first entered the shelter. He was set up immediately in a dark, isolated environment to alleviate any oversensitivity to his first steps on the path to an indoor life. At first, any human approach was met with signs of fear and stress (hissing, growling, and shaking). The behavior plan for Bob Meowly began after a few days of healing from his neuter and getting acquainted with his new space.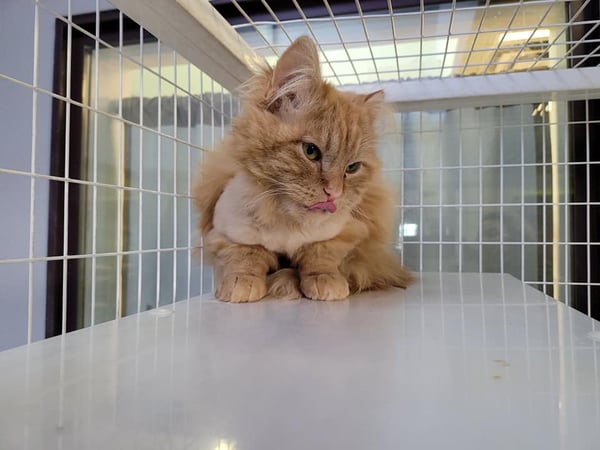 When training began, his fear responses were quickly triggered. He would frequently hiss and occasionally shivered as a result of overstimulation. The first sessions ended quickly for these reasons, but after two months of CPP training sessions, his confidence started to bloom in interactions not only with the CPP behavior team, but also the cat volunteers and adopters who frequented the cat room to visit with him. He began approaching people, including strangers, for touch and offering slow blinks at close distances. He learned to associate human touch with positive feeling, and because of it, loved to purr when petted. According to JGP Trainer-Mentor Molly DeVoss, "The behavior journal notes would even say things like 'He wasn't into working today – just wanted pets.'"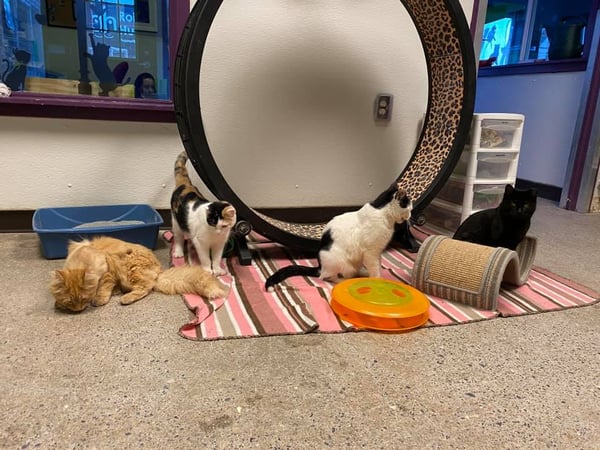 Before long Bob Meowly found a feline friend in Ebony, another cat in the CPP program. Molly continues, "Both of these cats started out in individual kennels and were eventually let out in the community cat room. The team was fearful they would run from them and not be able to train them. But to their surprise, both cats loved the training and were fully engaged. Once out of their kennels they stayed together, cuddled, and displayed the deep bond they shared. Bob Meowly would butt into Ebony's training sessions and try to steal her reinforcer [a treat or other reward used in positive reinforcement training]."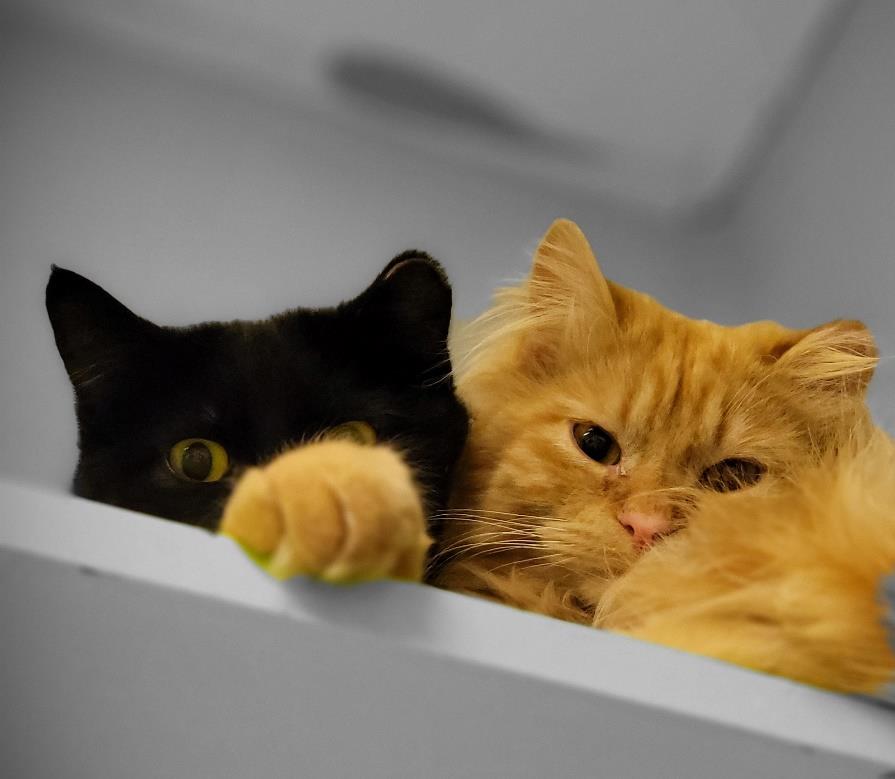 Bob Meowly and Ebony learned from each other through play and observation of one another, began spending most of their days together, and on March 23rd were adopted together – the shelter's first cats to get adopted from the CPP program! "It is so wonderful they found a home together with an adopter who is going to give them the transition patience and continued training they crave," Molly says.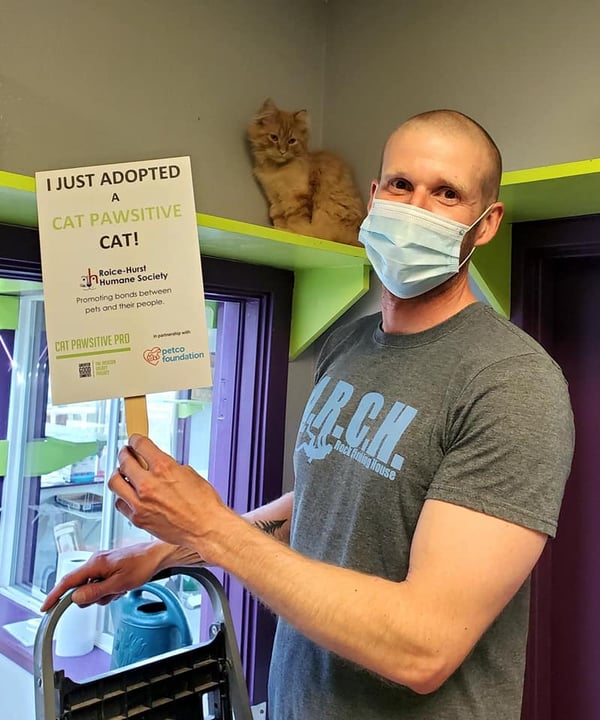 Such an incredible success story has made staff and volunteers even more excited about the knowledge they're gaining thanks to CPP. "This program has helped me feel more confident when helping out our community and fosters as well as doing some things different in the shelter with the behavioral cats that come through. We all have learned so much and will apply these techniques to our daily routine and this will help our cats gets adopted faster," says Adoption Counselor Arlena Philipy.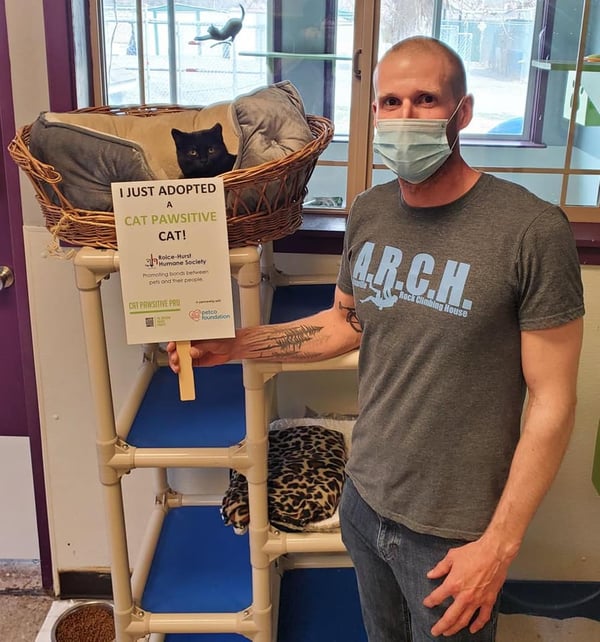 One thing that RHHS has recognized is the benefits of bonds between animals to get them through major changes, like being a shelter pet. Typically, bonded animals enter the shelter with an already established connection. Through the new friendship between Bob Meowly and Ebony that was kindled within the walls of the cat room, it was a lot easier to use the trust they had built with each other to build trust with trainers during CPP behavior sessions. They plan to use Bob Meowly as an example for future cats during behavioral observations in the likely event that they house a cat with a similar need for feline friendship to build trust and confidence.
"Working with a cat on behavioral issues is so important, especially with cats who have not been given the love and care of a stable home environment. I work with feral kittens, and patience and slow baby steps to positive behavior and interactions is crucial to earning trust and fostering a safe transition to a more stable world," says cat volunteer and foster Julia McHugh.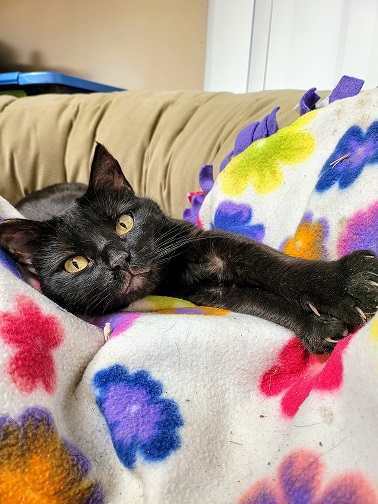 The program's success stories continue with some of the community cats trapped through GVCP that were somewhat socialized but would not have previously entered the adoption program. CPP training has enabled staff to admit them to the shelter instead of returning them, and they don't anticipate that any of them will need to be released due to their promising progress. In fact, the majority of the cats at RHHS are responding positively to clicker training. Even the shelter's lobby cat has joined the bandwagon and knows to sit and shake for treats!
"It has made me so proud to watch not only the cats gain confidence and transform, but also our CPP team's transformation. Our staff are more confident about their ability to take in, work with, and find homes for these cats that would otherwise have spent the rest of their lives on the streets. But the benefits haven't stopped with the CPP program cats; our team is applying many of the concepts to our whole cat population and even to our dogs! I'm so grateful for the incredible opportunity CPP has given to our team and for what it will mean for our organization long term," says CEO Anna Stout.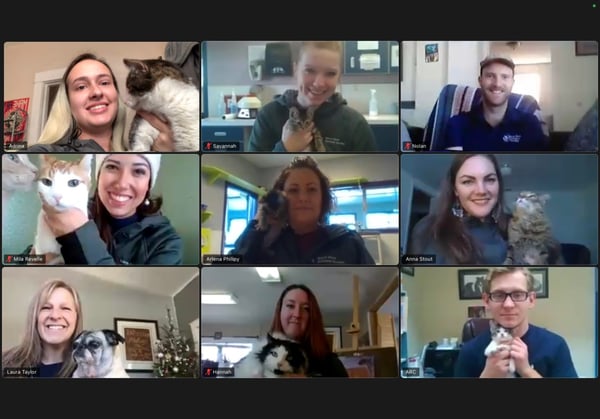 YOU can improve the lives of cats at risk. Donate today to The Jackson Galaxy Project's Cat Pawsitive Program and transform the places and people that support at-risk pets!