GreaterGood.org's Rescue Bank Helps Benton Get Back on His Feet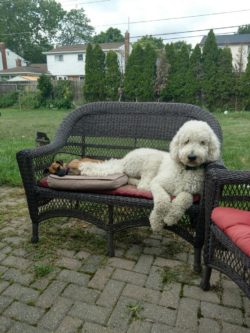 Benton (left) and Roy (right) relaxing as new siblings!
Benton was born to a shy, malnourished mother. He was quite scrawny and ate like he was never going to get food again. He ended up being shy as well, so House of Hope Rescue worked with Benton on his confidence and also his eating habits as he was eating everything and ended up eating a tug toy and ended up in the ER.
Now, thanks to training and high-quality pet food donated by GreaterGood.org's Rescue Bank, little Benton is living the good life! Not only has his confidence grown with people but also with other dogs outside of the ones he's known through foster. A home with a large Goldendoodle adopted Benton, and he had to overcome his fears.
"GreaterGood.org's Rescue Bank has not only provided food, but they have also provided litter and treats, among other things. Some animals are with us for a lengthy time, and we would spend all of our money on food if it weren't for all that Rescue Bank does for us. We are eternally grateful to Rescue Bank." – House of Hope Rescue
*Rescue Bank is now the Greater Good Charities GOODS program!