Little Splash Makes a BIG Splash with Cat Pawsitive Pro
By Kristin Avery of My Rescued Life

When 4-month-old Splash arrived at St. Sophia's Forgotten Felines via Chicago Animal Care and Control, she was terrified. So terrified that the adorable calico kitten would disappear under blankets or curl up in a teeny-tiny ball in the back of her cage.

But thanks to Cat Pawsitive Pro, the once frightened Splash is now adventurous, cuddly and super vocal when she wants something.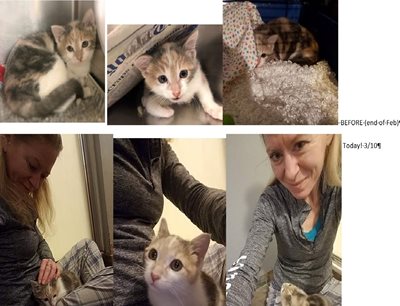 Splash was initially hesitant to accept treats and maintain eye contact, but she quickly caught on and was soon bouncing around her foster home like a kid in a toyshop.

"Making a non-verbal, non-physical connection was definitely the first step," says Christine, her foster mom. "It was a learning curve, but understanding body language and her preference for rewards was a huge part of her success."

And the best part – Miss "small in stature, big in personality" Splash recently found herself a forever home!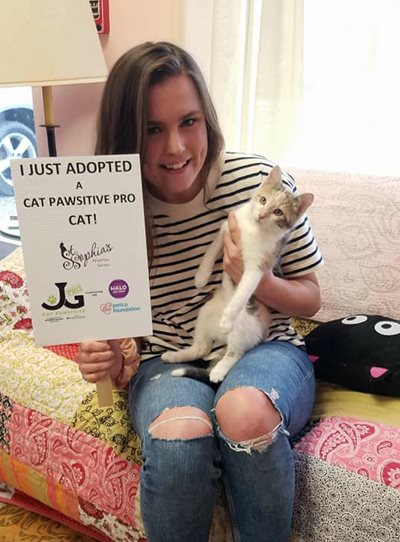 Located in Westmont, Illinois, St. Sophia's Forgotten Felines is a mostly foster-based cat rescue whose mission is to save cats from euthanasia and provide temporary care for those in transition.

Most of their cats come from high-volume, open admission animal control facilities and arrive shy, traumatized or just unsure of their place in the world.

"We want our cats to be confident and well-rounded, exposed to many different stimuli and environments so they are better prepared for a second chance in a new home," says Lauren Rizzo, Director of Operations.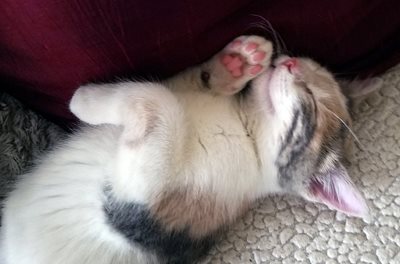 And that's where Cat Pawsitive Pro (CPP) comes in!

"The cats are doing well with clicker training. Although I have a bad habit of giving the treat and then clicking, which is NOT how it's supposed to go," jokes Lauren. "But I'm working on it – I'm learning and the cats are learning."

The St. Sophia's Cat Pawsitive Pro Team is amazed at how quickly the cats are responding to the program. In addition to Splash, three other CPP cats – Sherrie, Sidekick, and Pria – have also been adopted. All three cats did well in training and Sherrie's new foster-to-adopt mom plans to continue working with CPP techniques to help her adjust in her new home.

Of course, some cats are naturally more hesitant. But even Braeburn, a 2-year-old, super shy, tuxedo boy is starting to catch on that something good (and yummy) happens after he hears a click.

"Working with Lisa, our CPP Trainer-Mentor, has been really helpful. She is able to watch videos of Braeburn (and other cats) and give us suggestions of new things to try," says Terri Hoshell, CPP Team Leader. "She suggested we mouth click since Braeburn is noise adverse as well as to slow things down and work on eye contact."

Braeburn, who was originally found as a stray and transferred to St. Sophia's from Chicago Animal Care and Control, loves cats and dogs but has always been nervous around people. But, as you can see in the video below, this brave boy is making huge strides. Not only is he holding eye contact, he is even giving some high fives!
"We are greatly benefiting from Cat Pawsitive Pro. Three cats who might otherwise have been overlooked have been adopted while three other long-time resident cats are making incredible progress!" Terri says, proudly.

Terri's ultimate dream is for handsome Braeburn to find a home of his own. Thanks to CPP we think he might be well on his way to making her dream a reality. Paws crossed!



YOU can improve the lives of cats at risk. Donate today to The Jackson Galaxy Project's Cat Pawsitive Program and transform the places and people that support at-risk pets!