Newborn Pup Survives Against All Odds
Greater Good Charities has worked throughout the coronavirus pandemic to distribute grants to shelters in need across the country, to cover the costs of food, supplies, and foster programs. One such shelter is Austin Pets Alive! (APA!), who took in Long Joan Silver, a newborn pup who survived injuries to live a happy life.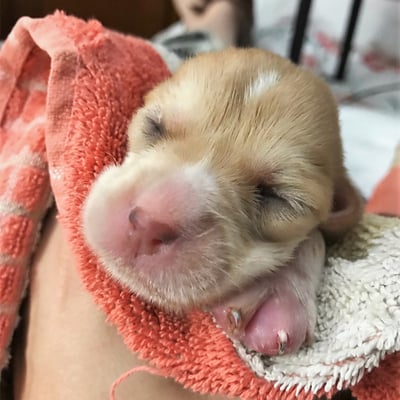 Newborn Pup Long Joan Silver
Long Joan Silver arrived at APA! when she was just a few days old. The poor pup's back foot had a hole where a bone fell out, and her other feet were swollen and becoming necrotic.
Typically the shelter would be forced to consider euthanasia, especially with the coronavirus pandemic straining resources. Fortunately for Long Joan Silver, APA!'s clinic and foster program were able to save her, thanks to help from GreaterGood.org donors like you.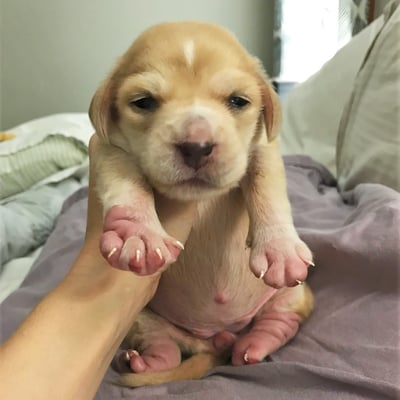 The Pup Who Survived
Long Joan Silver went home with an experienced medical/neonatal foster who was determined to call her the pup who survived. At first, Long Joan Silver was too weak to take a bottle and had to be tube fed. She also needed antibiotics and twice-daily leg soaks to prevent life-threatening infection and sepsis. Her injuries were the worst that her foster mom had ever seen on a newborn. But Long Joan Silver survived the first night and kept on fighting!
A New Life Blooming
Unfortunately, the severity of Long Joan Silver's injuries left her with deformed hind legs, missing a toe on each back foot. But this hasn't slowed her down one bit, and she is such a happy pup. In foster care, her wounds healed, and her spirit soared as she kept getting stronger. Joan learned to use her legs to crawl and then run around like any other pup. And she found an amazing adopter who loves her for her uniqueness and spoils her like crazy!