PAWS Chicago is Seeing Breakthroughs with Cats Returned to the Shelter
By Dawn White of Lola the Rescued Cat
PAWS Chicago maintains a life-long commitment to every cat that is brought into their program. Cats are always accepted back into the shelter regardless of the time they have been away or the reason for relinquishment. The PAWS team is seeing a positive response with three of these cats, who are participating in the Cat Pawsitive Pro program.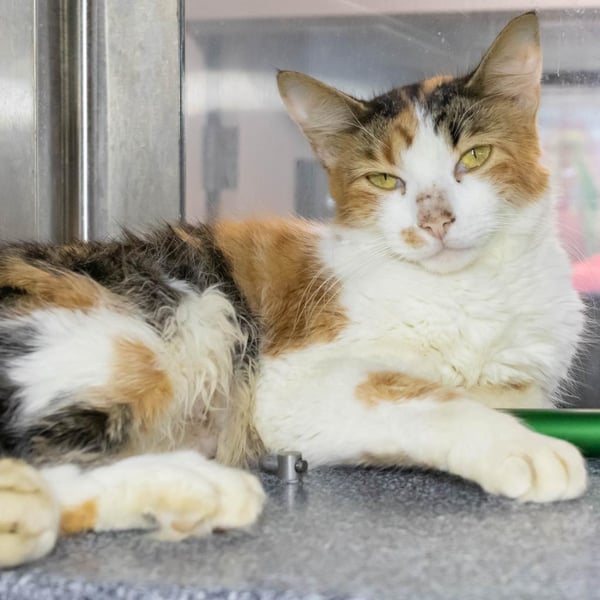 Mandy and her three kittens arrived at PAWS in November 2020. She was scared and stressed, swatting at everyone (including her kittens). Mandy was underweight, dehydrated and diagnosed with mild anemia. Once she was medically cleared, she was adopted but returned after only three days. "She was too stressed to be around other cats and to be co-housed with them," says Erin Mayes, CPP staff team leader. Mandy would quickly try to swat or nip at anyone who attempted to pet her, and her adopter did not feel they could provide Mandy with adequate enrichment.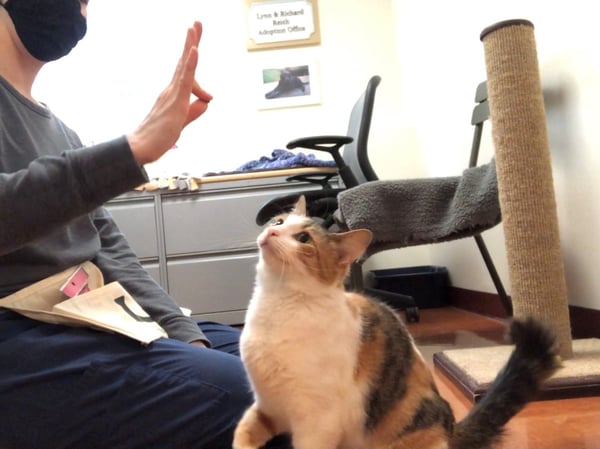 Since starting in the CPP program, Mandy is becoming more comfortable with humans and has blossomed into a spunky, smart and very sociable cat. "She loves interacting with her trainers, working on new behaviors, and she is chasing after her food rewards with more gusto than we see in many kittens," says Mayes. Mandy still expects her human friends to respect her boundaries when it comes to handling and pets, but the enrichment she receives from her CPP training has made it possible for volunteers and staff to spend quality time with her, building trust and having tons of fun with a genuinely great cat.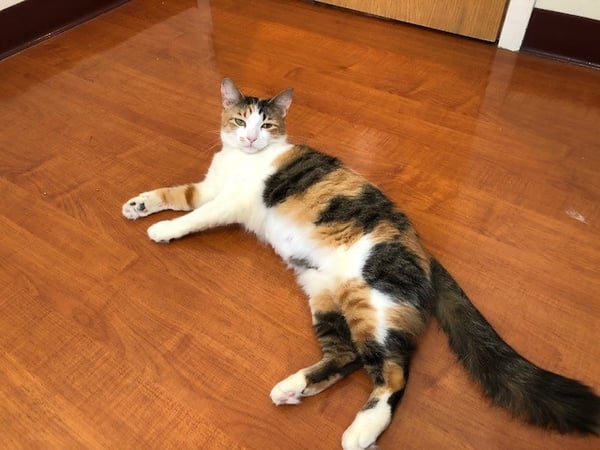 Ryker, a striking seven-year-old tuxedo cat, was returned to PAWS in the summer of 2020, after nearly six years in his last adoptive home. Mayes reports that "Ryker has challenges adjusting to new people entering his territory, and it was important that we create a low-stress environment and routine for him while working to find an appropriate adopter for this curious, engaging cat."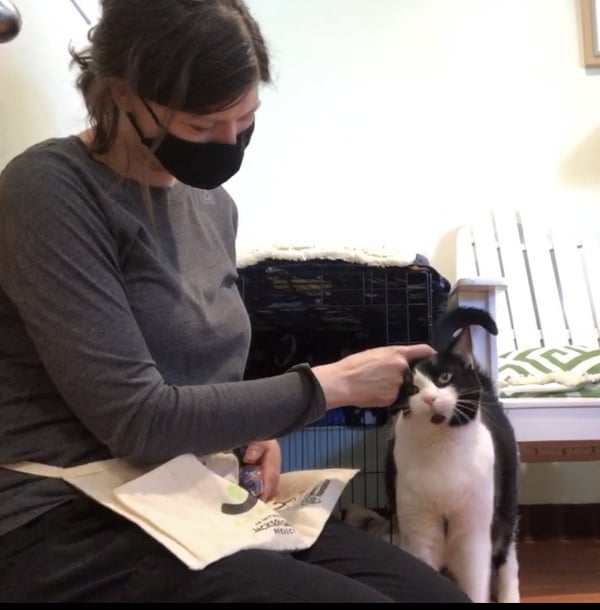 Ryker has taken to training quickly, and he tells staff how much he loves it with his focus and endless supply of chirps whenever he sees his target stick. "The training that staff and volunteers receive through CPP has been instrumental in ensuring [that] Ryker receives consistent enrichment from multiple people in a way that does not overwhelm him," Mayes continued.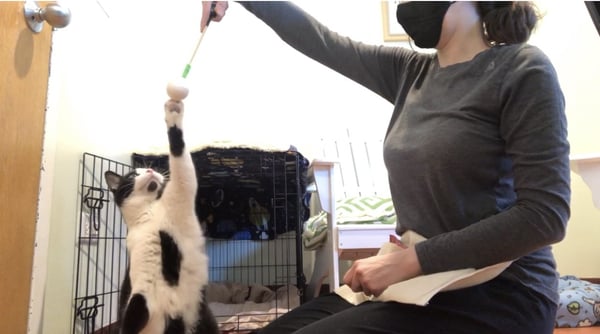 "Our goal is to provide Ryker's future adopters with the same training tools that CPP has given PAWS staff and volunteers, so they can continue providing Ryker with a safe and loving home for many years to come."
Briana Allen, volunteer team leader, reports that other volunteers regularly ask about the progress of the cats enrolled in CPP and what new things they are learning. She says, "They often peek in the windows to see the cats in action!" Allen continues on to say that "overall, the group of cats we are working with are responding well! The increase in attention and the structured interactions have helped several of them be calmer when volunteers visit. They are all eager to train and get excited when they see the volunteers [that] work with [them]."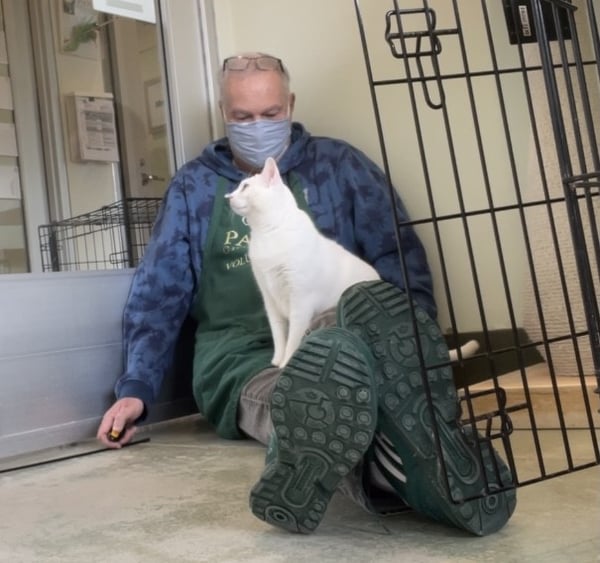 Chief Operating Officer Ashley Towns says that although disease control and sterilization are the focus for feline population management, behavior plays a critical role. "PAWS Chicago is excited about participating in a wonderful program," says Towns. "Our staff and volunteers have benefited immensely from the CPP Program." Their teams can work on the behaviors and track each cat's progress through a specific plan, unique to their behaviors. Towns also states that "CPP is a great resource for us and will help us correct behaviors while placing cats in an appropriate home."
And finally, the third cat that the PAWS team has seen striking results with is Sweater. "Sweater was not a happy cat when she was returned to PAWS after a life in Connecticut," reports Gregg Gilman, CPP volunteer trainer. When working with Sweater, volunteers were asked to wear large gloves to protect against bites and scratches from the unhappy, unpredictable cat. Sweater liked attention, but volunteers were often hesitant to give it to her. When PAWS added her to the CPP program, they worked with her consistently, and according to Gilman, the "evolution of Sweater has been beautiful to see." She now welcomes visitors, sits in laps, hops through hoops, high fives a touch stick, and follows treats into her crate and up onto ledges.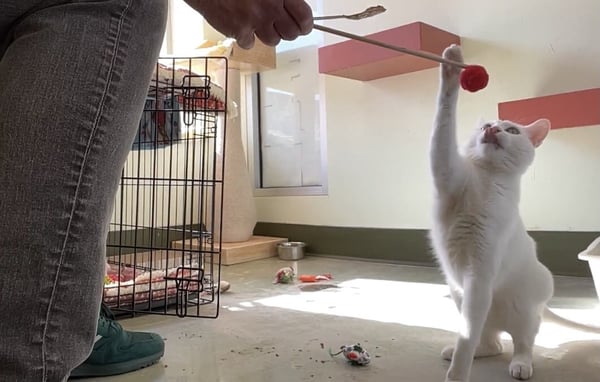 Lisa Stemcosky, the shelter's Trainer-Mentor, thinks Sweater is one of PAWS' standout kitties. "She's even learning shape discrimination," says Stemcosky. "She knows the difference between a square and a circle. She'll touch whichever one you ask for."
Stemcosky reports that PAWS is an amazing team to work with, and their trainers are learning so much. "They are so enthusiastic when it comes to working with their cats."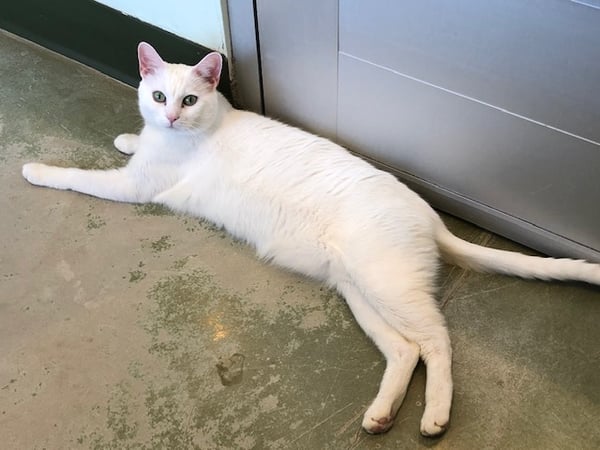 The cats participating in this semester's CPP program are all longer-term residents of PAWS, and each of these special felines has experienced specific barriers to adoption that range from overstimulation and handling challenges to frustration-based play aggression and generalized anxiety. Mayes is happy to share that "while many of these unique and engaging cats may wait longer than average to find an appropriate adoptive fit, the foundational training they receive through CPP will set them up for successful transitions into homes where they and their new families can thrive."
YOU can improve the lives of cats at risk. Donate today to The Jackson Galaxy Project's Cat Pawsitive Program and transform the places and people that support at-risk pets!