#StayHomeAndFoster – A Message From Our CEO
By Liz Baker, CEO Greater Good Charities
March 21, 2020
As we navigate this unprecedented global crisis, feeling helpless, I want to share an easy way you can help in your community. Foster a pet from your local shelter. On the cusp of puppy and kitten season where animal intake numbers increase exponentially, shelters need to get the animals currently in their care out of the shelter, now, and into foster homes, to allow for a cushion in your community to respond to this national crisis. In short, they need space to prepare for what is likely to come. In many communities, adoptions are slowing as people are ordered to stay inside, leaving very adoptable pets stuck.
With so many of us working remotely, self-isolating, social distancing, or otherwise just staying home, there has never been a better time to foster a pet. Pet companionship is scientifically proven to reduce stress, and you'll be providing a crucial service to your local shelter—you'll literally be saving lives by taking this action. And we want to make it as easy as possible, which is why we launched #StayHomeAndFoster, a campaign to spread the message nationwide and provide people who have never fostered before an easy way to sign up. All you have to do is fill out this form, and our team will work to connect you with a shelter in your area who needs foster parents.
Depending on your location, you may be paired quickly. In some cases, it may take a few days. If there isn't an immediate need in your area, we will notify you but still pass your info to shelters in your area for future needs. Either way, you'll be doing your part. It's quick, and it's easy—and I should know, I just went through the process.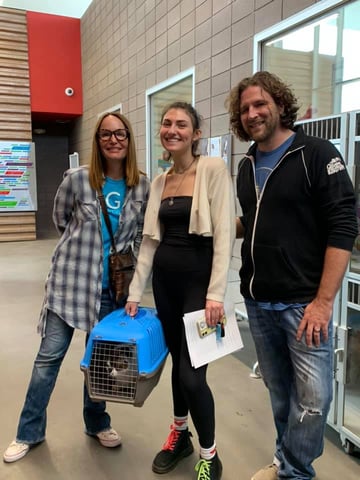 My family and I went to our local shelter, Pima Animal Care Center (PACC), in Tucson, Arizona, last week. I knew that I needed to do my part and get a foster pet, urgently. I have a senior pit bull who can be dog selective and an older cat at home already, so with the help of the staff, I chose a senior cat named Shaker whose owner was ill and could not care for him. He's very large and majestic looking, has six toes and very charming freckles. The staff at PACC made the whole process very quick and easy. They are doing their best to adapt to this crisis, providing an online foster form, training, and curbside adoption so people can practice safe distancing.
The PACC staff, like shelters everywhere, care so much about the animals and desperately want to see them ride out this crisis where they belong, in a home.
Shaker, a little timid at first, has settled into life at my house very well. He is relaxing in my daughter's room with a gate to separate him from his new foster siblings while everyone susses out the lay of the land. So far, they have been allowed to have glimpses of each other from their respective sides of the fence, and all is well, Shaker, in fact, is the one initiating the meetings. He is a happy guy with a big personality and has been a welcome distraction in my house.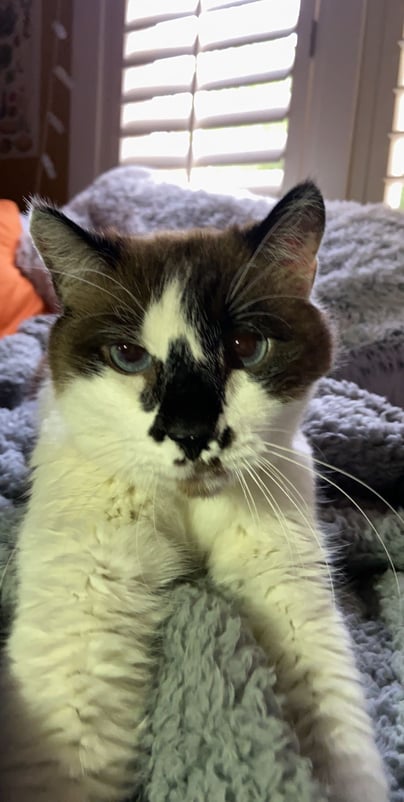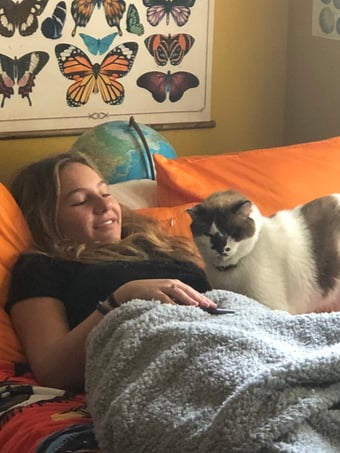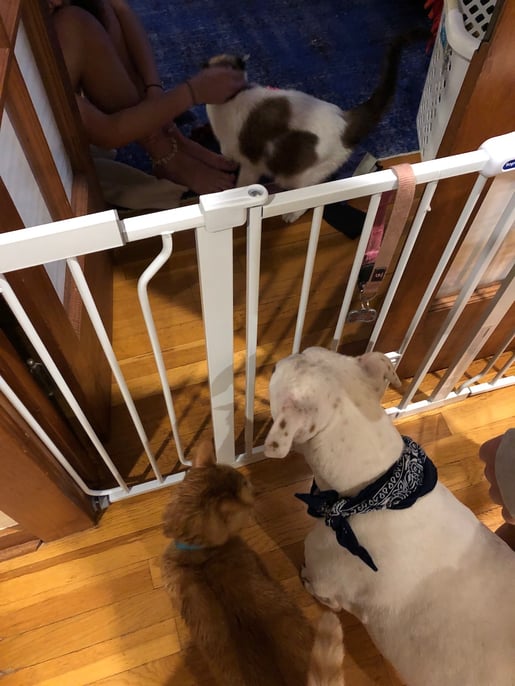 Shelters across the U.S. have made this process easy, offering online sign-up, training, curbside pick-up, and even home delivery. They will provide you with resources and training to make your fostering experience successful, and if for some reason, it doesn't work out, they will take the animal back into their care. There are unlimited benefits to having a furry companion in your life, and there is a pet out there for everyone. The shelters will counsel you to help you find the perfect match. And when we have survived this storm, you will get to see your foster pet placed into their forever home, knowing that you made that possible. There is nothing more rewarding.
It's simple. Contact your local shelter, and they will take it from there. Or, click the link here to visit GreaterGood.org's #StayHomeAndFoster form, and we will pair you with a shelter in need. We all need to do our part.
Stay safe, stay healthy, and please #STAYHOMEANDFOSTER a pet. Now.
Join the cause! Share your foster photos online with the hashtag #StayHomeAndFoster and we'll share some of our favorites.

We can't wait to see them!
---
#StayHomeAndFoster is a national campaign to support pet foster created by GreaterGood.org in partnership with NBCUniversal Owned Television Stations' Clear The Shelters™ campaign and sponsored by Boehringer Ingelheim Animal Health USA Inc. Their support makes this program possible.