The Cats of Gifford Cat Shelter are Progressing by Leaps and Bounds with Cat Pawsitive Pro
By Emily Hall of Kitty Cat Chronicles

Gifford Cat Shelter of Brighton, Massachusetts, is another shelter that is already witnessing tremendous results after just a couple of months working the Cat Pawsitive Pro program. The staff and volunteers at Gifford have been excited to learn about new ways to engage with the shelter cats, knowing what an effect the training has and how much it helps the cats. Sara Russell, the Trainer-Mentor for Gifford, says, "Gifford staff/volunteers have been amazing to work with. They're so driven to work with the cats that it makes my role in CPP so much easier. They have great observation skills and are able to easily adapt to each training session to set the cats up for success."

Sara's statement couldn't be truer. Gifford and its staff and volunteers have been working so hard, and that hard work is paying off. The shelter cats of Gifford are transforming more and more every day. Team Leader Vicki Zelski says, "This program has made me feel like I'm making a real difference in these cats' lives. The change in their demeanor, from bored and scared to engaged and confident, often happens so quickly it's amazing. The skills the team is learning will benefit these cats long after the program is completed."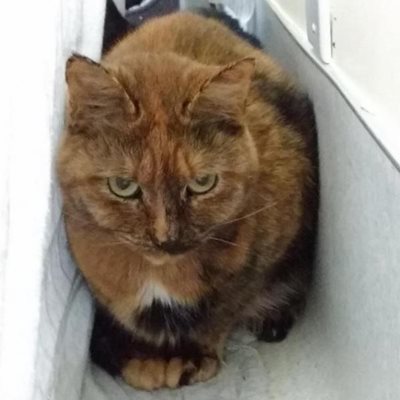 Santana is a Gifford Cat Shelter resident who has been making amazing progress. Santana is a 4-year-old tortie cat who, up until recently, preferred to stay low and hidden. An owner-surrender, Santana was scared and lacked confidence in the unfamiliar shelter environment. After beginning to work with Santana in the CPP program, the staff and volunteers began noticing a remarkable change in her. She now enjoys hanging out in the cat "buckets" around the room and loves to be the center of attention. She has learned to make eye contact, to sit, to lift her paw, nose bump, and reach up for a target stick. The staff says that Santana is the star student of Cat Pawsitive Pro, and they expect her to be adopted very soon.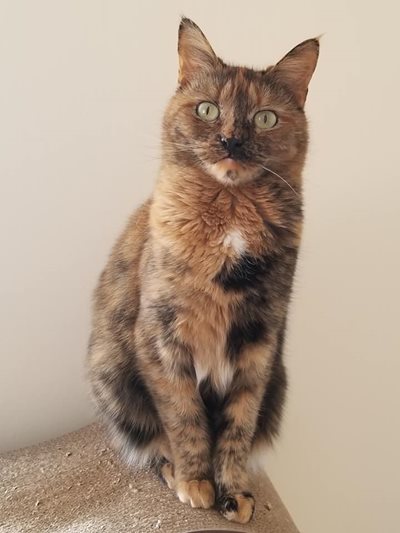 "As a trainer, it is so rewarding to see the change in Santana and how eager she is to learn something new every time we train. She sometimes likes to try to steal treats from other cats that are training but other times she will patiently wait and watch. She has such a unique personality and it has made us all more aware of her strengths and how smart she is, which we can then pass on to potential adopters. It has created a great bond between cat and trainer, and we are excited to see how far she will go," says Vicki.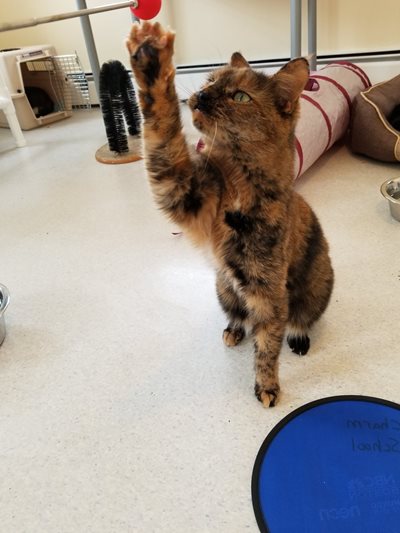 The Gifford Cat Shelter staff and volunteers agree that the biggest benefit of the program is witnessing the cats who were not adjusting to shelter life well or who were having difficulty getting adopted gain confidence. These cats are eager to learn and their true "cat personalities" shine through more and more as their confidence grows.

While the Cat Pawsitive Pro program is wonderful for building shelter cats' confidence and teaching them fun tricks, the training can also be used to make things like giving medication and other treatments easier. Volunteer Betsy DeLorenzo has this to say: "I am enjoying having team meetings with the Trainer-Mentor, Sara. I love being able to brainstorm ways to teach a specific behavior or to help come up with ways to use the training for helping with things such as medicating a cat. It's especially important when it's something that will benefit the cat in the future."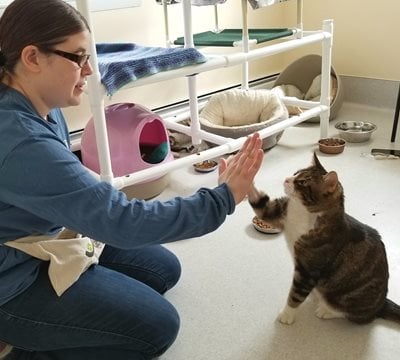 Betsy and Sara have specifically been working with resident cat Uber and his medication treatments. Uber is an FIV+ cat with asthma who requires regular inhalation treatments with a mask. It has been hard for Uber to keep his mask on long enough to get enough of his medicine in his system, so Sara has been working to come up with a plan to desensitize him to his treatment. This is important, not just for helping Uber to have a less stressful and more successful time getting his medicine, but also because it will help him to get adopted. Potential adopters tend to shy away from cats who require medical treatment because it can be difficult to manage, so once Uber, Betsy, and Sara have mastered his medication procedure, it will mean only good things for Uber!

Another shining star pupil of the Cat Pawsitive Pro program at Gifford Cat Shelter is Teddy. Teddy has previous training experience through the Cat Pawsitive introductoryprogram, so he is a seasoned pro. He no longer even needs a clicker for the behaviors he's learned. He responds to just the vocal cues, so the Gifford staff and volunteers are working on expanding his skill set by teaching him more difficult commands. This has been a fun process for both Teddy and the Gifford team.
When asked if the shelter has experienced any surprises as they've been training, they said they experience them all the time. They are often surprised by how interested some of the other cats are in joining the training sessions. And it's always a fun surprise when they attempt to guess which cat will be the star student, only to be blown away by the progress of one of the shyer cats!

Executive Director Marsha Smith says, "Cat Pawsitive Pro has already made a tremendous difference in the lives of Gifford's shyest cats! I have witnessed once feral kittens readily giving high fives and head bumps where hisses and spits used to be (they have been adopted and are going home next week!). Our 7-year-old, long term resident, Sage, has mastered eye contact and will eat treats directly from my hand. The Gifford team has worked incredibly hard to make this program a huge success in our organization, and the results are already starting to show!" Indeed, they are! Imagine the results they will see in another couple of months!
YOU can improve the lives of cats at risk. Donate today to The Jackson Galaxy Project's Cat Pawsitive Program and transform the places and people that support at-risk pets!