Vets Diving to Save our Reefs
As the 49ers and Chiefs get ready to kick off the big game at Hard Rock Stadium in Miami, a team of Special Operations veterans and military-trained combat divers are getting ready to tackle their own hundred yards … of coral restoration.
Greater Good Charities has partnered with FORCE BLUE to restore 100 yards of coral. The mission, 100 Yards of Hope, started off with the idea to replant 100 pieces of coral in honor of the NFL's 100th season, but the FORCE BLUE team knew they could do more.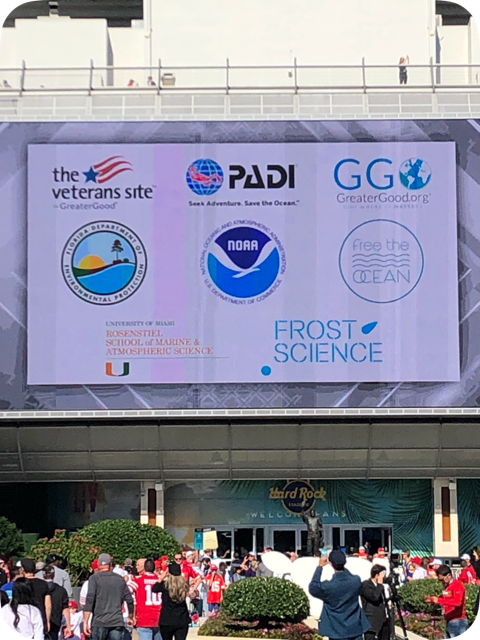 Over the next year FORCE BLUE divers will replant and restore a football field's length of coral along Florida's Coral Reef.
"Florida is ground zero for taking action," said Jim Ritterhoff, FORCE BLUE executive director and co-founder. The reef's accessibility, proximity, and diversity make it perfect for scientists to study what works and apply that to reefs around the world.
FORCE BLUE is currently the only nonprofit organization in the world that retains and redeploys former Special Operations veterans. The organization aims to take on two seemingly unrelated problems: our oceans & the difficulty service people face coming back into civilian life.
"For our veterans, PTSD is very real and just like coral under the sea, many people can't see it and often ignore it. It's our job to bring awareness to these very real and very impactful issues," Ritterhoff said.
OFC Angelo Fiori, a U.S. Navy Diver and member of FORCE BLUE agrees. "Military people are always looking for that sense of service," he said.
Fiori says it's our responsibility to restore what we have damaged and starting with our oceans is the first step in the right direction.
"If we were to launch a rocket to Mars and we found water and found coral, NASA would lose their minds. We have that here! But our actions are allowing it to go extinct. Out of sight, out of mind," Fiori lamented.
He says the importance of our corals goes by unnoticed, when in fact they give off more oxygen than our forests. In fact, while coral reefs only cover less than one percent of the ocean floor, they generate half of Earth's oxygen and absorb nearly one-third of the carbon dioxide generated from burning fossil fuels. Without them, we'll go extinct too, he forewarns.
"We know we're saving lives, we're making a difference. It's not just bold intentions. We're saving lives and the planet," Ritterhoff asserted.
Over the past several years, FORCE BLUE has been involved in a number of relief missions, including response to hurricanes Irma and Maria and as it embarks on its newest mission, the team knows they have a hard, but worthy road ahead of them.
"Our vets are not giving up, let's not give up on them," Ritterhoff says.