Project Peril Provides Essential Pandemic Funding To Protect Rhinos in South Africa
When COVID-19 halted travel and spurred shutdowns, many rhino reserves struggled to keep team members employed and provide security for the animals in their care. Black and white rhinos - the two species of rhino that reside on the game reserves in Africa - rely heavily on the protection of monitoring personnel for their continued safety.
With your generous support, Greater Good Charities' Project Peril program partnered with the International Rhino Foundation (IRF) to provide emergency grants to game reserves and parks in Southern Africa and Indonesia that faced severe budget shortfalls caused by the loss of tourism income over the last year.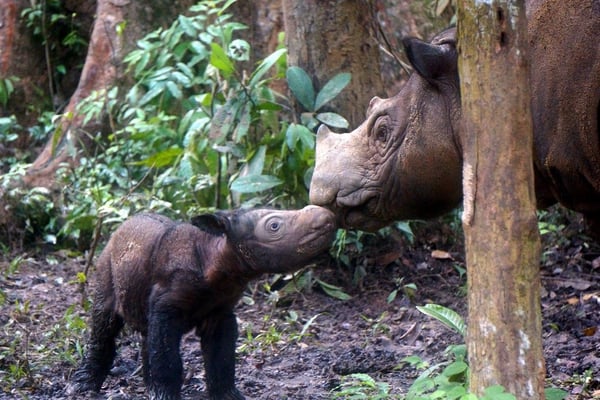 Delilah and her mother, Ratu
© International Rhino Foundation
This Reserve Relief Fund is making a huge difference for reserves that are struggling to ensure rhinos' survival through the distribution of grants to various organizations on a rolling monthly basis.
In South Africa, funding was provided to Phinda Private Game Reserve to cover the costs of rhino monitors and fuel, and Welgevonden Game Reserve received funding to support the salaries of 20 security personnel as well as operational fees for license plate recognition cameras.
This continued security has resulted in reserve staff arresting 12 rhino poachers over the past 9 months. Two of them were high-profile poachers with outstanding warrants out for their arrest, and another had previously escaped from prison while in custody for rhino poaching.
Swaziland's Big Game Parks received funding to help keep 26 rangers employed, protecting the parks' population of 137 black and white rhinos, including 12 new calves!
Funds were sent to support the Rhino Protection Units that operate in Java and Sumatra to monitor the rhinos and other wildlife, remove traps and snares, and apprehend poachers and encroachers. Currently there are 5 four-man terrestrial units patrolling the park at a minimum of 15-days per month per team year-round.
Rhino Protection Unit on patrol
© International Rhino Foundation
Thanks to this continuous protection and habitat improvement, the Javan rhino population is actually increasing, having grown by more than 20% over the past 10 years!
The long-term goal is to grow the population large enough that some animals can be moved to a second site and establish a second population. This is an incredibly important step because having every remaining member of the species in the same area increases the potential for localized threats to eliminate the species quickly.
We're happy and proud to be a part of this effort to protect rhinos and improve their habitats. We couldn't provide essential pandemic funding like this without your support for Project Peril.