How You're Driving On-the-Ground Relief for Ukrainian Refugees and Their Pets
Imagine waking up to loud explosions because your home country has been invaded. Disoriented, you barely have any time to process what is happening. You have little to no time to prepare before you have to flee for your family's safety. Adults, children, pets — with no way to bring essentials, mementos, or anything you can't carry on your back. The journey is daunting, and your family is traveling for days without food. You're scared, hungry, and are counting on the goodness of others to keep you and your family safe.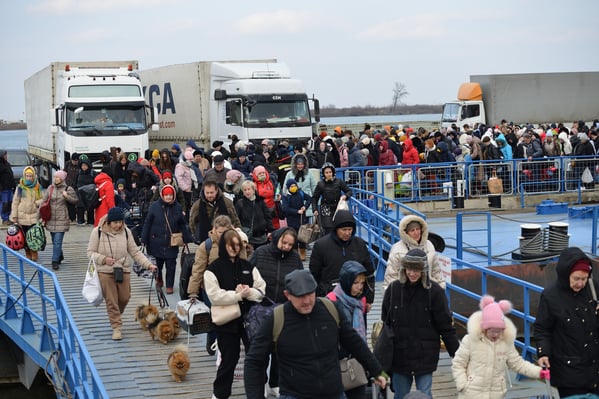 © Save the Dogs and other Animals
This is the heartbreaking reality for nearly 3 million Ukrainians, many with pets, who have fled since the attacks began. And that number is expected to continue to rise. But supporters like you are making a difference for these families. Donor support powers us to fund and partner with amazing local/regional organizations like Save the Dogs and other Animals to provide on-the-ground relief for refugees.

Many evacuees were forced to transport their pets in baskets and bags
© Save the Dogs and other Animals
With many animal shelters in Ukraine running out of pet food, Save the Dogs is bringing tons of dog and cat food from their shelter in Cernavoda, Romania to the Ukraine-Romania border at Isaccea. From there, the food will be transported to four animal shelters in Odessa which collectively take care of around 300 dogs, 40 cats, and a horse. And that's in addition to feeding dogs in the streets (many of whom have been abandoned by people who fled the country)!

Save the Dogs staff providing pet food and carriers to evacuees
© Save the Dogs and other Animals
Each day, Save the Dogs staff is posted at the Isaccea border crossing where they hand out supplies to refugees arriving from Ukraine. The staff also provides information about the documentation needed to bring their animals to other countries and share advice about animal care when needed.
Additionally, we're collaborating with the volunteers who assist refugees at Bucharest airport. Refugees receive donated pet carriers and are provided printed information about regulations of traveling with pets to various countries, as well as about contacting Save the Dogs if they need to temporarily or permanently relinquish their pets.
Although this situation is constantly changing, your donations provide on-the-ground support to adapt to changes and act on new opportunities to make an impact.