Surviving the Winter: How You're Helping Ukrainians in Crisis
As the war in Ukraine rages on, there are more than 4.5 million Ukrainians living in affected areas without basic necessities like food. These families are tired, hungry, and facing the harsh wind and frigid temperatures for what is likely to be the toughest winter for many Ukrainians.
This is why Greater Good Charities developed meal kits - to help families stay full and healthy in times of crisis. Each box contains ingredients like pasta, dry beans, and oil to make up to 78 meals! With these kits, we also distributed heavy locally-sourced blankets. These are vital for the families remaining in Ukraine, as winter in Ukraine is snowy and cold, with temperatures reaching well below freezing.
These kits are a huge source of hope, and comfort for the thousands of families living through crisis! And thanks to YOU, we're distributing these kits throughout Ukraine!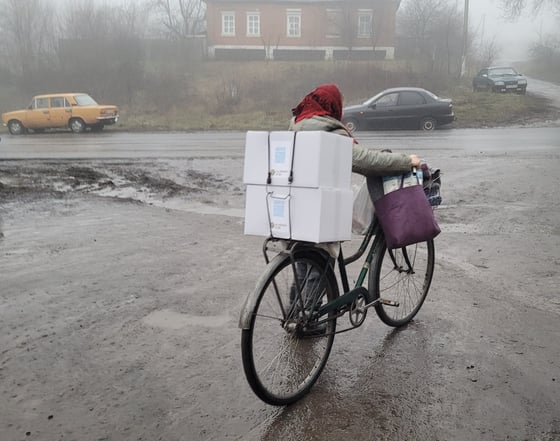 © Greater Good Charities
Our team on the ground recently visited Bilyi Kolodyaz' (and villages belonging to this community) and in the Zaporizhia region to distribute meal kits. Bilyi Kolodyaz' is a very rural, underdeveloped village eight miles from the Russian border that, before the war, was home to 4,000 people. Now, after seven months of Russian occupation, half the population is gone and those left are facing extreme challenges. Most people in the area lost their jobs. Farmers continue to struggle as fields are dangerous due to mines and regular missile attacks. And many of the people here used to work across the border in Russia, which is clearly no longer an option.
So we were thrilled to be able to kick off our time in this area by joining our partners at Siobhan's Trust for a pizza party in Balaklaya! For these families who have lost everything, events like this are about so much more than a hot meal. They bring joy, hope, and a feeling of support as these Ukrainians face what may be the coldest winter of their lives.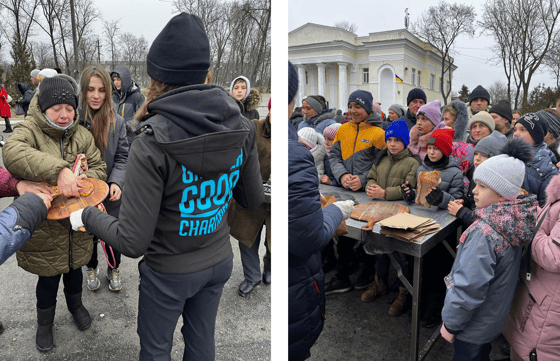 © Greater Good Charities
We then spent two days distributing meal kits to families who remained in these villages during the occupation. Thanks to your donations, our team provided 1,500 meal kits and 4,000 blankets to these brave Ukrainians! And, while they waited to receive their kits of much-needed supplies for the winter, the Siobhan's Trust team distributed hot tea and pizza to people waiting in line. We are so thankful for your support as it allows us to provide more than much-needed food, but also a moment of joy and connection for thousands of families going through times of uncertainty!
© Greater Good Charities
In addition to these events, our team on the ground knew it was essential to ensure these kits reached Internally Displaced people in the Zaporizhia area where the situation is particularly dangerous as 90% of the Zaporizhia Oblast is occupied by Russian forces. So we sent 500 kits and 2,000 blankets to our partners at Mriya Charity who, along with help from the local police, distributed the kits to some of the people who need it most!
Most of the recipients were elderly people who remain in "hot" areas, meaning the area is under regular shelling. These people are often completely alone, have difficulty moving around, and do not leave their homes or villages on their own. Despite the strength and perseverance of these Ukrainians, these people are in a crisis situation and can use all the help they can get.
You can be a hero for these brave Ukrainians as they fight to survive the harsh realities of living in countries in the midst conflict.