Want to save a life today? Greater Good Charities urges you to "Go Out And Foster"
There is an unprecedented animal sheltering crisis in the United States.
As we emerge from the COVID-19 pandemic, animal shelters are reporting overpopulation not seen in as much as a decade, due to an increase in pet surrenders and a slowdown in adoptions. Shelters are facing staffing and veterinarian shortages, causing restrictions in their ability to care for pets, including critical spay/neuter services.
The economic hardships that families are facing has contributed to increased owner surrenders of pets to animal shelters. Natural disasters including the flooding in the Midwest this summer, and Hurricanes Fiona and Ian, have only made the crisis worse.
As a result, countless pets are at risk of euthanasia, with many animal shelters that haven't euthanized due to space in years now having to consider it. They are in desperate need of support for the pets in their care.
To provide a solution to this devastating overpopulation crisis, Greater Good Charities has created Go Out and Foster in partnership with NBCUniversal Local's Clear The Shelters™ campaign.
Go Out and Foster is a follow-up initiative to #StayHomeandFoster, a national effort created by Greater Good Charities that registered more than 92,000 pet volunteers during the pandemic. It's also an initiative of Good Home, a Greater Good Charities program that connects qualified pet foster volunteers with animal shelters across the U.S.
By connecting potential pet foster parents with animal shelters in their local communities, Go Out and Foster makes it easy for anyone interested in fostering to help.
Simply register on the universal national form at GoOutandFoster.org, select the animal welfare organization you'd like to assist (from thousands across the U.S.), and if a foster pet is available at that shelter, you'll be matched.
Fostering a pet will not only save the life of the fostered pet but it will also free up space in the shelter for another homeless pet, meaning you'll actually be saving two lives!
Take it from this serial fosterer – you won't regret it. All you need is a little room in your home – and a lot of love in your heart.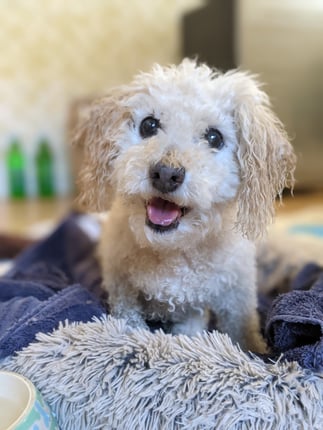 One of my fosters - Dasher
By fostering a pet today, you will save a pet's life. And bring a little joy to your own.