Foster Hero Says Goodbye to Girly Before Flight Across the Pacific
On October 29th, Greater Good Charities, Wings of Rescue, and the John R. Peterson Foundation completed Paws Across the Pacific, the biggest single airlift of adoptable pets ever. During the epic mission, nearly 600 cats and dogs from five Hawaiian islands were flown on a Hercules C-130 airplane from Hilo, HI, to Seattle, WA, and onward to receiving shelters and rescue partners in the Pacific Northwest, where they will quickly find forever homes.
This was a momentous occasion, described by some Hawaii partners "as a dream come true," as this year's COVID-19 pandemic has resulted in an increase in pets being surrendered, a decline in adoptions and the ceasing of pet transport "rescue flights" to the mainland. All in all, less space was available in many of the islands' shelters to save the lives of at-risk pets in the community, leaving some facilities entirely at capacity.
"I can't tell you how impacted our entire staff have been by this [Paws Across the Pacific] opportunity," said Jenny Miller, Director of Development & Marketing at the Maui Humane Society, which contributed nearly 30 cats and dogs to the flight. "The positivity from everyone is incredible."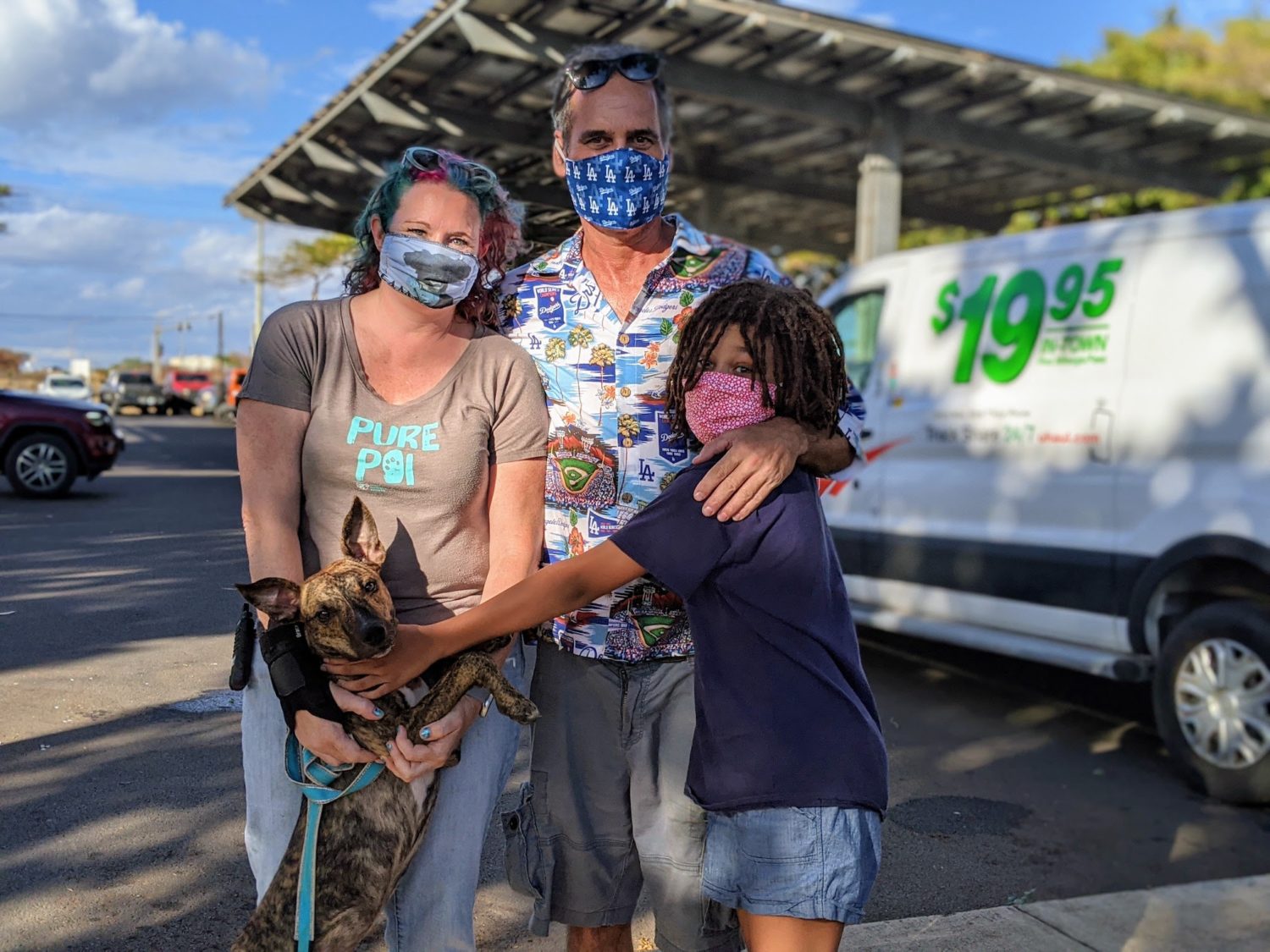 It wasn't just the staff who was emotional about the event, however: judging by the photos and videos we began to receive as the journey unfolded, it was a day of mixed feelings for everyone involved.
One image in particular caught our attention: that of a foster family dropping off a gorgeous young pup at Maui Humane Society, the mom gently holding her up for the shot, the child reaching across tenderly, her father's arm around her shoulder for support. Above the masks, their eyes brim with tears.
We knew we had to get the story behind the photo.
It turned out that the pup in question is Girly, a one-year-old Feist (hunting dog) mix, and the mom is Jamie-Sue West, who has fostered no fewer than 88 dogs for Maui Humane Society over the last two and a half years! Also in the photo are Jamie-Sue's boyfriend and his daughter.
Despite Girly's rough start in life, having been kept outside by her previous owner, Jamie-Sue calls her "a curious girl with so much love to give. I've rarely met a dog [like her] with a smile on her face at all times. She is very food driven and would do anything for a treat. She also LOVES toys! She was AMAZING in my home."
Outlining their daily routine, Jamie-Sue explains, "Every morning, Girly would run upstairs, jump in my bed and wake me with face kisses! Once I was up, she would use the time when I was getting ready for work to play with my other two dogs, Monroe and Boogie. She also would do everything she could to get to me, including jumping baby gates and even over the counter!
"She wormed her way into all of our hearts, including my dogs. I'm not sure we've ever had a foster that Monroe and Boogie loved more. There was constant play and cuddling between the three of them!" She was beloved by humans too, including Jamie-Sue's roommates, and her partner and his daughter.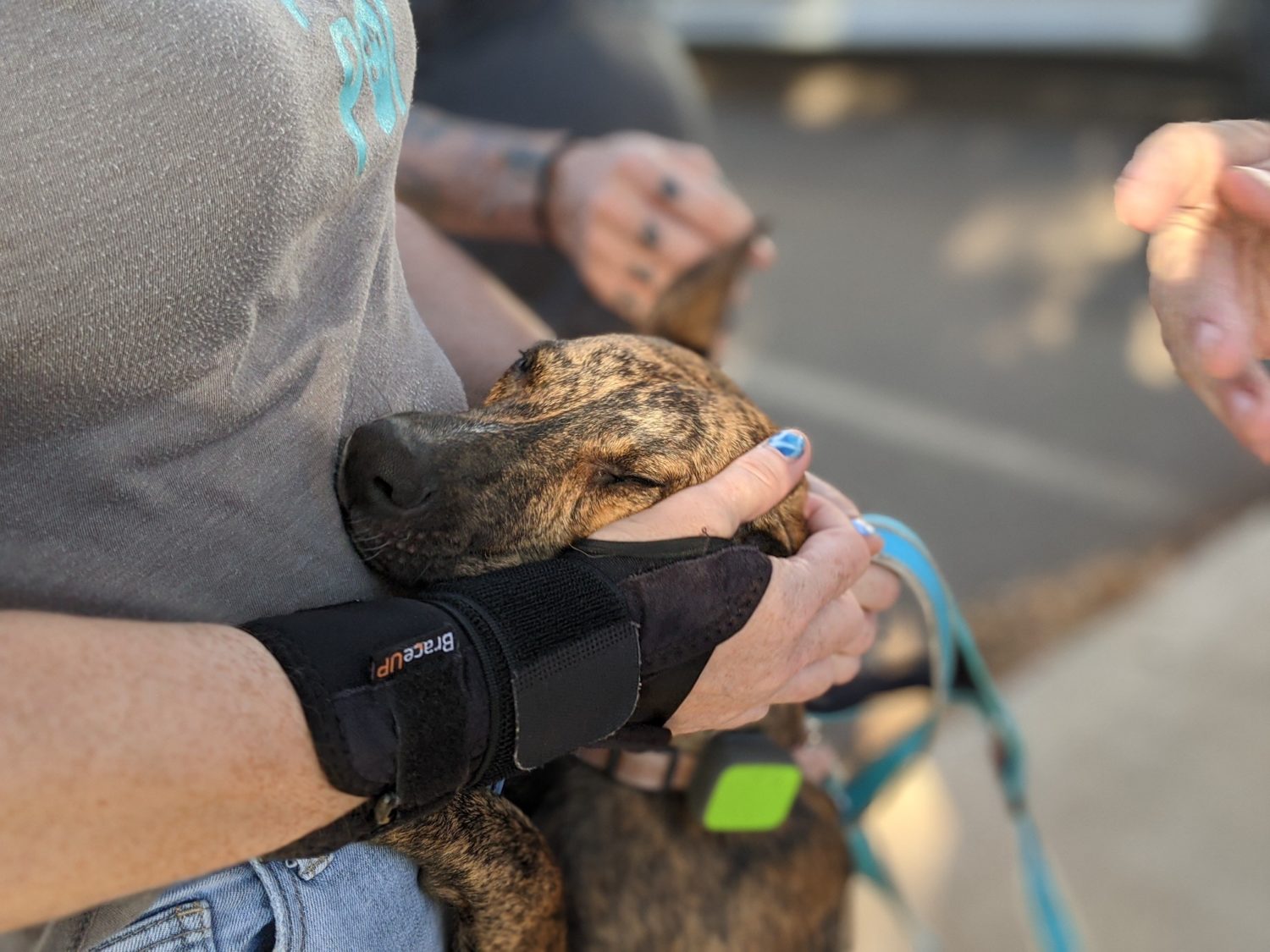 Jamie-Sue says that of her many fosters, Girly was definitely one of the hardest to let go. "My boyfriend brought her to the shelter as I was helping prepare the animals at the shelter for the flight that day. We were all very sad to see her go. I rarely cry when I let a foster go, but did with her, as did my boyfriend's daughter."
As a weepy-eyed Jamie-Sue loaded up Girly in the van heading to the airport for the overnight flight, her boyfriend texted her, asking her to remove her because he had fallen in love with her too!
But Jamie-Sue held strong, knowing that by letting Girly go, she was freeing up a space in her home – and in her heart – for another precious being.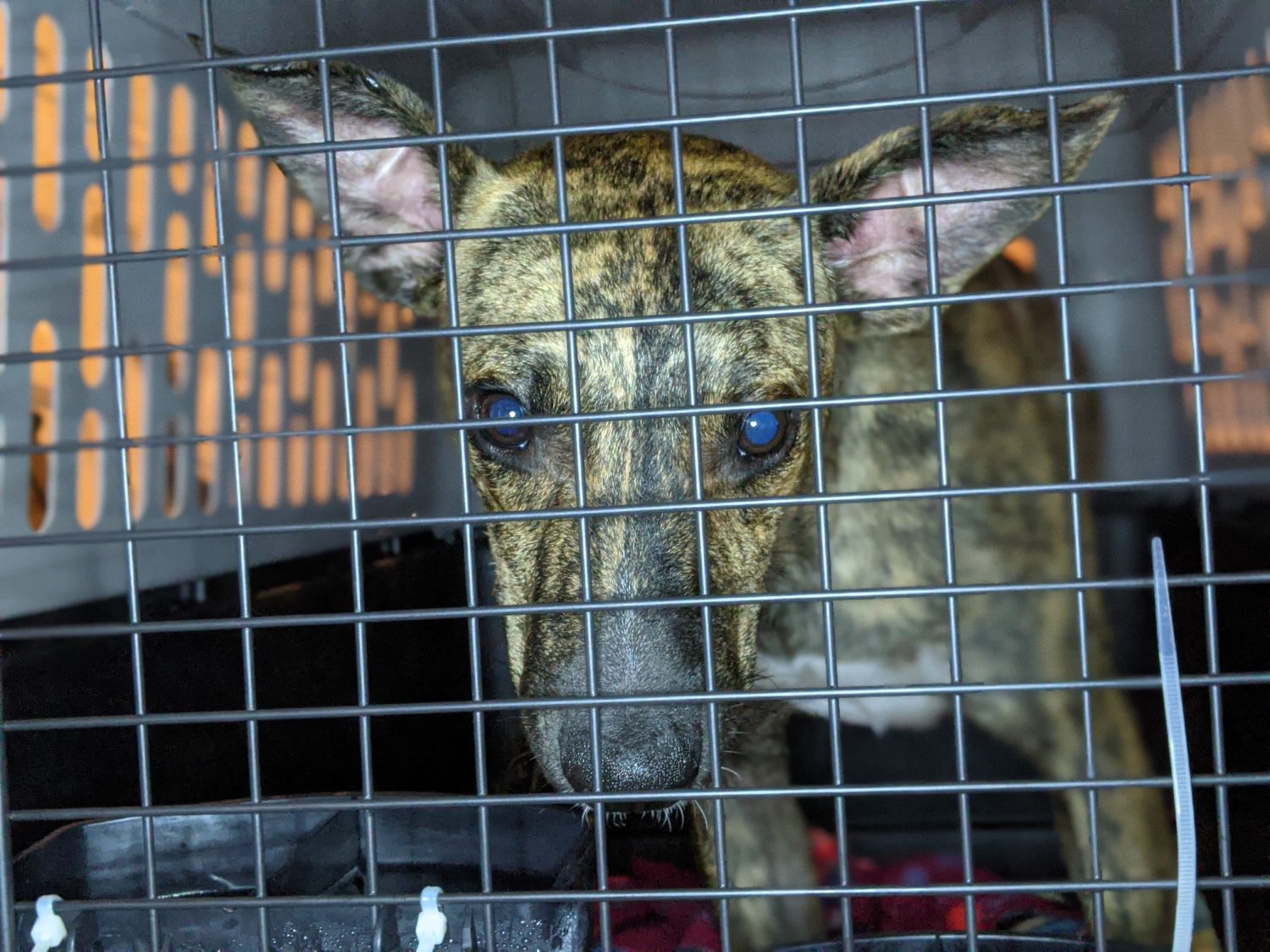 She won't stop fostering – or teaching her boyfriend's daughter the importance of doing so. "The more we foster, the more animals we are able to help. It was a great learning lesson [for her]."
When asked what she would say to Girly's new family, Jamie-Sue replied: "Give her the love and life she so deserves. She had a hard beginning and, despite her history, she still gives all of the love she has unconditionally. I just want her to live her best life with the best new family. Please, please, please take care of this special girl!"
Feel-good footnote: Girly has already been adopted from the Humane Society of Skagit Valley in Burlington, Washington, by previous adopters at the shelter who "fell in love with her." You go, Girly!