Good Packs Aid Hundreds During Texas Deep Freeze
During the midst of the COVID-19 pandemic, Winter Storm Uri and the Texas Deep Freeze of 2021 shocked millions across the state of Texas. Residents were forced to endure frigid temperatures with no heat, electricity, or sanitary running water. As two disasters occurred at once, the need for food and immediate service expanded dramatically.
We made an urgent call for funds and you answered! With your generous donations, Greater Good Charities partnered with the Houston Food Bank to provide food and supplies to the 250 seniors, 50 girls, and 150 animal companions in shelters with Good Packs and supplemental Pup Pouches.
Our Good Packs and Pup Pouches are part of our Good Packs program; a program in which essential items are provided to individuals and their pets to help them preserve their bond while enduring difficult circumstances. Each Good Pack includes survival and comfort essentials such as a warm blanket, socks, soap, shampoo, a toothbrush, toothpaste, and a reusable water bottle. Our Pet Packs are for those with a pet and include dog food and treats, a dog toy, a slip lead and a collapsible water/food dish all assembled in a packing cube.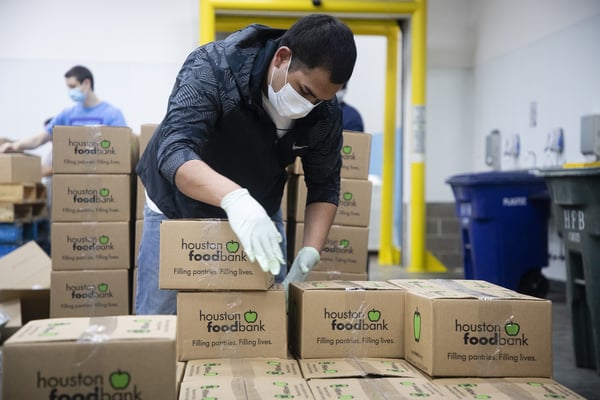 Volunteers Packing Boxes in Response to Winter Storm Uri
Photo © Houston Food Bank
The unfortunate truth is that lower-income individuals and families suffer the most in times of disasters such as the freeze. Because of limited resources, they are often unable to fix home damages or replenish food in their refrigerators that are lost due to power outages. They have to make difficult choices about what necessities they want to prioritize in their lives. This is why your support means everything to them.
Although the deep freeze has passed, Greater Good Charities still needs your support to help communities in need throughout the country. Our Disaster Relief and Good Packs programs will not be as impactful without donor support, so thank you.
We aim to be there where and when it matters most. Your donations allow us to continue providing support and relief when disaster strikes.