Hurricane Idalia Disaster Response: Stories of Resilience and Compassion
Hurricane Idalia struck Florida's coast on August 30th as a Category 3 hurricane, leaving a trail of destruction in its wake. The impact was unprecedented, causing severe agricultural and personal damage in areas that hadn't experienced a hurricane of that magnitude in centuries.
Amidst the chaos, Suwannee PAWS , a local non-profit animal clinic partnered with Greater Good Charities to aid residents. Despite the challenges, they called Greater Good Charities using a barely functional cell phone, powered by a generator, after a tree had crashed through their building.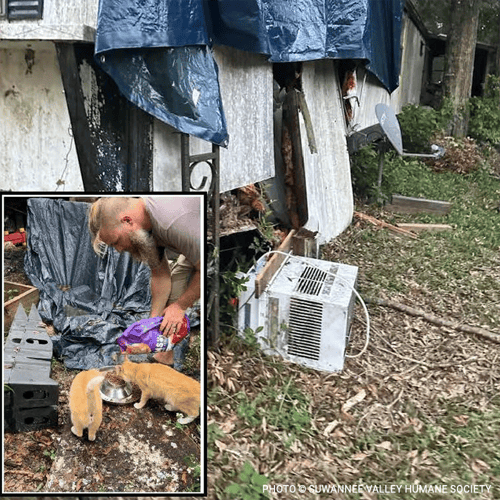 Brandon Detty helping a Suwannee County resident feed her cats after the hurricane split her mobile home.
Hurricane Idalia: Disaster Response Initiatives
In collaboration with Suwannee PAWS and other local organizations like Suwannee Valley Humane Society, Greater Good Charities responded to the need in Florida by supplying food and supplies, which were distributed to neighboring counties and shelters, maximizing the impact of the donations. The scarcity of pet food led to the immediate setup of a pop-up pet pantry by Suwannee PAWS, where volunteers tirelessly worked to help families and their pets impacted by the storm.
The daily never-ending line of cars brought story after story of families and individuals grateful for the help.
Stories like that of a single mom on her lunch break who said she had 60 cents in her bank account until the next payday, who left in tears with total appreciation that she was able to feed her pets that week.
There was also the incredible story of a woman in her early 90s who, with her walker, walked over two miles to get food for her dog. She had been sharing her meals with her dog, but as her food ran out, she prioritized her pet's needs over her own — going to the pop-up pantry to get dog food before securing her own supplies.

Woman in her early 90s walks over 2 miles with her walker to get food for her dog.
Helping Idalia Victims: A Community Effort
Thanks to the generosity of donors, more than 20,000 animals and their owners, including Suwannee County Resident Sonny P. and his cat Silver, received essential aid. Sonny, a 65-year-old resident, faced a harrowing situation when a massive tree crushed part of his home during the storm. Worried for his three cats, Sonny braved the storm to rescue them, finding them trapped behind the debris. The donation of pet food provided vital support for Sonny during this challenging time.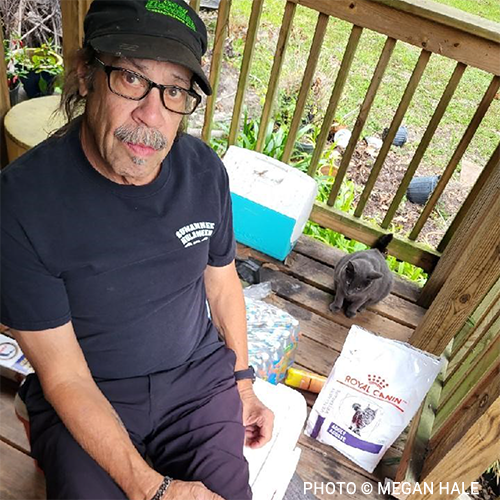 Suwannee County resident Sonny P. on the porch of his damaged home with Silver, his six-year-old cat.

How You Can Help
While the recovery process continues, ongoing donations are crucial. They enable us to support vulnerable residents as they rebuild their lives, one house, one building, and one shelter at a time.
Your continued contribution matters. By donating today, you can make a difference in the lives of those affected by disasters like Hurricane Idalia. Together, we can continue to support these communities recover and emerge stronger than ever before.