Fighting Hunger Through An Unprecedented Winter
This past February every square inch of Texas was in a Winter Storm Warning. Over 3 million Texas residents were left without power or heat due to the winter storms. Residents also faced low water pressure and the loss of potable drinking water. The side effects of Texas' deep freeze have lingered; impacting thousands of families to this day.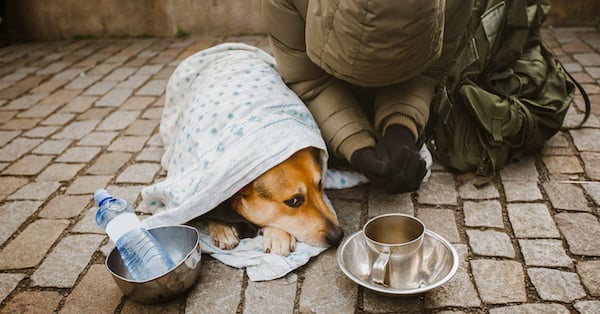 On top of the freeze, COVID-19 caused supplemental issues for already struggling Texas residents. The pandemic created immense food insecurity, as households could no longer afford basic grocery items such as fresh produce, dairy items, poultry, mixed snacks, and bottled water. One of the food banks combating the hunger crisis is El Pasoans Fighting Hunger Food Bank (EPFH), located in El Paso, Texas. 132 partner pantries across the borderland region rely on EPFH as their distribution center.
With a Greater Good Charities grant from the support of donors like you, El Pasoans Fighting Hunger Food Bank helped feed 35,000 people during the 2021 Texas deep freeze. This made a huge impact as dozens of trucks containing food for the EPFH service areas froze, resulting in the loss of distributable items. Your donations provided El Pasoans with the funds to source, process, and eventually, distribute new items to the local community.
Empty shelves at El Pasoans Fighting Hunger Food Bank because of the Texas deep freeze
Photo © El Pasoans Fighting Hunger Food Bank
Throughout the restless year of 2020, EPFH allocated over 139.7 million pounds of food to people facing hunger in El Paso. Despite Texas' winter storm this year, EPFH distributed 13,257,095 pounds of food in February alone! The food bank has also utilized its funds to provide emergency food distribution to marginalized and disadvantaged community members in the Paso Del Norte tri-county area.
Now, not only El Paso locals receive food rations during this difficult time, but people residing in Hudspeth and Culberson counties do as well. In partnership with 12 Tomatoes, over $109,000 was raised to provide food pantries in Texas with funds to support people in need in their respective communities. Your generosity truly makes an impact on thousands of families and community members in dire circumstances.
Check out this video of the CEO of El Pasoans Fighting Hunger Food Bank describing the efforts of the food bank to keep up with the growing rate of food insecurity in their community.
El Pasoans Fighting Hunger Food Bank works tirelessly to provide for people like Corina, a mother worrying about paying her rent and putting food on the table for her family. She states that going to emergency food distribution sites has been a blessing for her family, especially during Covid and the freeze. Corina is appreciative of the work of food banks and exclaims, "I just want to say, thank you. You guys are doing a great thing for our community. You really are, it's awesome".
The freeze was a singular event that exacerbated the food insecurity in communities already hit hard by the pandemic. Thousands of families in Texas still face the uncertainty of where their next meal will come from. With your continued support, you will ensure that food banks such as El Pasoans can provide for those struggling to meet the most basic of needs every day.