A Girl's World Through a Camera Lens
Today is World Camera Day, a day that celebrates an invention that changed the world and its memories. As we know, today cameras are an irreplaceable tool for documenting important moments and people. From paintings to hieroglyphs and modern writing, our way to document history changed with the camera. Since then, we've found ways to revolutionize this tool and broaden its purpose. The Girls' Voices curriculum is using cameras to empower girls while documenting their stories.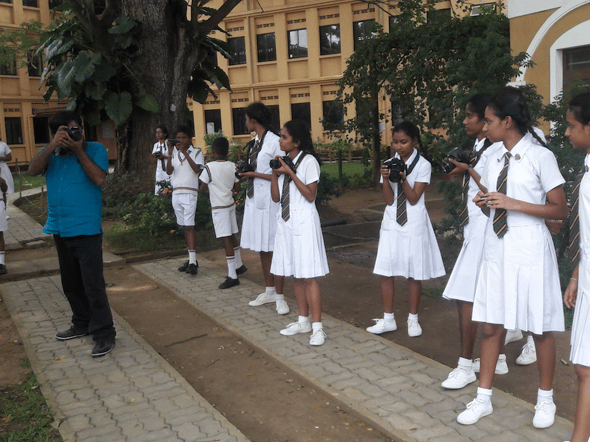 Girls from Shilpa Sayura Foundation in Sri Lanka learning how to work the camera.
We've found that the most effective way to help a girl share her story is through the lens of a camera! Due to its visual element, video-and-photograph-focused storytelling is more intimate and lets the viewer into their world through their eyes, creating a connection like no other with donors.
In addition to helping girls share their experiences with the world, our workshops teach them a brand new skill that they may have never interacted with, arming them with new skills and a new perspective.
In a male-dominated field, we believe that we need to make space for girls' stories and a camera can be all a girl needs to make her voice heard.
With the help of donors like you and partner organizations across the globe, participants have access to a range of cameras, including phones, point-and-shoot, DSLRs, and more.
Our workshops teach the basics of digital storytelling and focus on storyboarding visual composition and confidence building.
=
Our goal is always to empower young women to be the leaders of tomorrow. Donate to Girls' Voices and help us achieve that goal!