Good Packs: Support for People and Pets Experiencing Homelessness
Los Angeles is a city of contrasts. The energy of diverse cultures intersecting creates a vibrant metropolis, as complex and ever-changing as its residents. However, not all changes are positive, and the challenges of the COVID-19 pandemic have worsened the growing homelessness crisis in Los Angeles and cities across the U.S.
In Los Angeles, where I live, there are now few neighborhoods where the scale and severity of this crisis are not visible. Informal dwellings comprised of tents and found materials huddle under bridges, fill alleys, and pop up in vacant lots.
As I leave my neighborhood for the first time in many weeks of social distancing, the increase in tents and other makeshift shelters at the freeway onramp is noticeable. At the same time, spotless luxury cars glide past, emerging cautiously into the world from the safety of indoor garages. Los Angeles, it seems to me, offers more hospitable accommodation to some vehicles than it does to many human beings.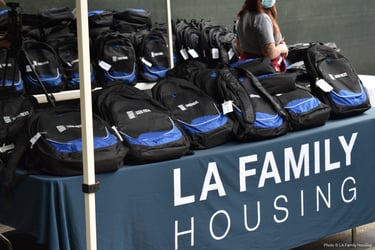 LA Family Housing (LAFH) is one of numerous organizations working to make a difference on behalf of our unhoused neighbors. What makes their work even more inspiring is a commitment to supporting individuals experiencing homelessness who count pets among their family members. Today, I am visiting an LAFH housing site where a hotel provides shelter to 180 individuals, and more than 40 pets. Together, we will distribute or deliver 300 Greater Good Charities' Good Packs — backpacks filled with essential supplies including basic hygiene items, a blanket, reusable water bottle and standard-size T-shirt to people currently without a home of their own. For those with dogs, thanks to iHeartDogs.com, we also have Pet Packs that include a leash, a dish, dog food and treats, and a toy.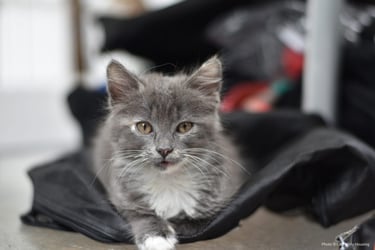 We set up tables to distribute the Good Packs outside in the hotel parking lot. A line forms just before 11am. The event has been advertised on the community notice board. Many participants have their pets with them. I overhear snippets of conversation – someone says: "It's so nice when we get help for our pets too. Last week they even had Nutrish coupons for twelve-pound bags. It makes such a difference when I'm trying to feed two dogs."
Despite facing the challenges of homelessness, it is clear that these Angelenos love their pets, and have continued to prioritize caring for them, no matter what. An impeccably groomed rescued Afghan Hound passes by, golden hair rippling in the gentle breeze. A spunky Dachshund in a dinosaur costume temporarily steals the show, until Sandro, a Chihuahua-mix with his own mini-backpack, shows up. His mom receives a Good Pack and now the pair model their coordinated look. A man cradles his poodle mix in his arms with no less tenderness than a human father holding his child. The bond these loving pet owners have with their animals is undeniable.
I am saddened to recall that this LA Family Housing site is a relative rarity in offering pet-friendly accommodation. Across the U.S., individuals experiencing homelessness too often face a heartbreaking choice between surrendering a pet and seeking shelter, when pet-friendly housing options aren't available. Good Packs with Pet Packs provide a needed resource for this community.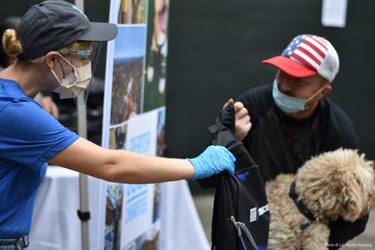 A flash of black and gold fur breaks me out of my reverie. The event participants who have received Good Packs gather at picnic tables at the far end of the courtyard. A Pet Pack has been opened, and a long-haired Chihuahua, Shera, darts back and forth across the courtyard in pursuit of a rubber squeaky toy nearly as big as she is. Her joy in this game of fetch is contagious. All those who see can't help but share genuine smiles with everyone around them. Despite the numerous challenges this year has brought, moments of community, connection, and joy endure.
To help bring joy to dogs like Shera and show your support for individuals experiencing homelessness, you can make a donation here.
We're on the ground helping people, pets, and the planet every day. Your donations make it possible.