How Cat Pawsitive Pro Turns Swats into High-Fives at Simply Cats Adoption Center
By Yasaar Nakchbendi of Chirpy Cats
Since starting the Cat Pawsitive Pro (CPP) program, there have been six adoptions at Simply Cats Adoption Center, and the staff could not be more thrilled.

When swatty Critter and cranky Charlotte came into Simply Cats, their preferred greeting was giving swats rather than high fives. Both very shy, they spent most of their time hiding in the 'safe' holes in cat trees. After a few sessions, they discovered that Charlotte loved being petted and eventually traded her hidey-holes for people's laps. Being treat-motivated, she responded well to the training and enjoyed the attention.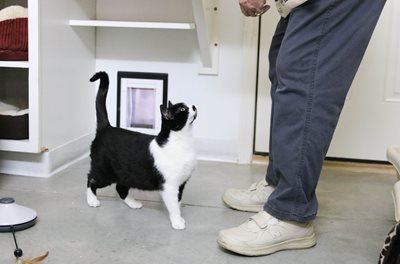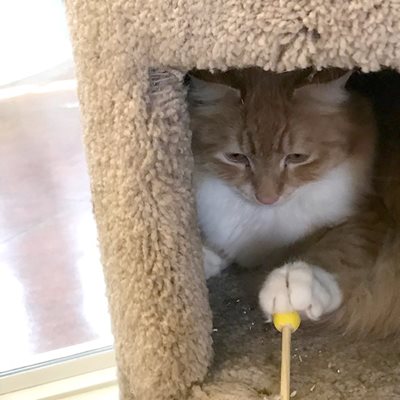 Critter took some time to respond to the training and would 'reward' staff with a swat when given a treat. But eventually, he let go of his fear and started coming out to greet people.

"We are thrilled to watch our shy cats come out of their shell, and enjoy getting petted and loved on by visitors and volunteers!" says Team Leader Emily Patterson.

And what was it like for the humans working with the cats? Emily was amazed at the progress made with the CPP cats. "It's rewarding to be part of the process that enables cats to show their true personality in a shelter environment," says Emily.

"Cat Pawsitive Pro has proven to be immensely helpful in building the confidence of our shy cats!" says Executive Director Patty Cutler.

Trainer-Mentor Samantha Bell has been working with the staff, Team Leaders and volunteers since the beginning of CPP, and she continues to be amazed at what can be achieved with shy and withdrawn cats. "We are so proud of the team at Simply Cats and so happy for their kitties. Long-timer Charlotte has gone from hissing, swatting and avoiding people to begging for affection and coming when called. And their extremely shy hider, Critter, is now out and about sitting on people's laps! The amount of progress their cats have made in a little over a month is truly amazing and inspiring. Thanks to the dedication of the Simply Cats volunteers and staff, these kitties are very ready for homes!" she says.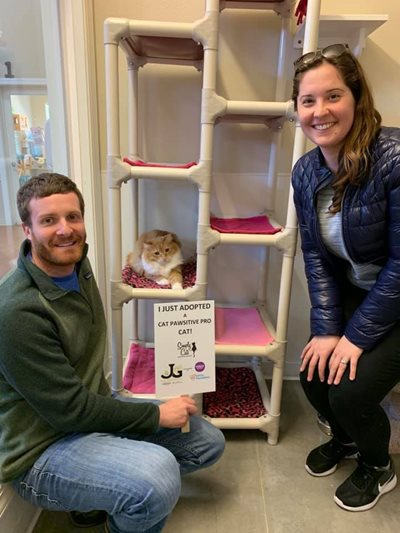 How wonderful that both Critter and Charlotte have since been adopted!

Mr. "Swat-man" himself will be continuing his clicker training with his new owners. Seeing these two cats transform from cranky into outgoing versions of themselves was incredible for the staff and volunteers to witness. "I think Cat Pawsitive Pro has helped to remind me how incredibly intelligent all cats can be when you give them the time and patience. Even our crankiest cats have the capability to redirect their attention into something positive and impressive to us all!" says Team Leader Paige Szathmary.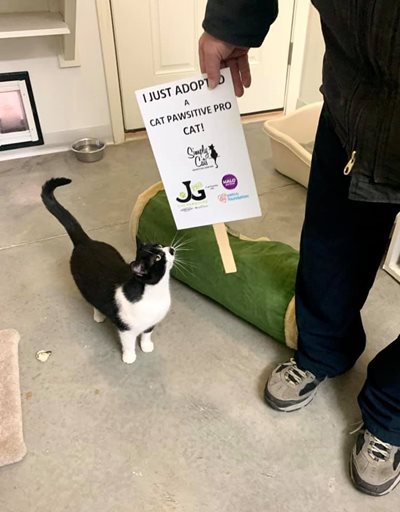 Staff and volunteers at Simply Cats have a reason to smile. Roxanne was another long-time resident that they believed would benefit immensely from the mental stimulation provided by CPP. They were right! Not only has she found her forever home, but her new owner is impressed with her sassy attitude.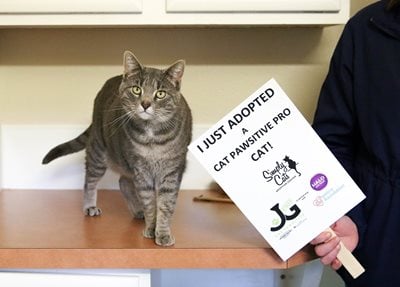 "I'm most surprised and pleased about the impact CPP is having on our shy/fearful/aggressive cats. They have made such remarkable changes in their approach to life. This training is something that will benefit those types of cats and kittens from here on out, and that will result in less stress and less days on the adoption floor for lots of them. I'm also incredibly pleased and grateful that we have a small group of invested volunteers … they are the reason CPP has been successful," says Team Leader Deb McDougall.


YOU can improve the lives of cats at risk. Donate today to The Jackson Galaxy Project's Cat Pawsitive Program and transform the places and people that support at-risk pets!