Let the Dogs Stretch Their Legs!

Jersey City in December sounds like a fabulous idea, right? The good news is that the Rescue Rebuild team prepared for the worst weather possible. We bought body warmers and hand warmers, and luckily the weather was more tolerable than anticipated.
Liberty Humane Society recently bought more property to have enough space for all of their animals, as they are currently overflowing in their current building. This new property was an old dog shelter that had since been shut down and abandoned for more than five years. Needless to say, it is a good thing that the Rescue Rebuild team are not fancy humans! With no heat or electricity installed yet, we had to get creative. Space heaters are a wonderful invention…as are headlamps! Jersey City is close to many of our team members hometowns, so we recruited friends and family to volunteer. It would have just been Director of Rescue Rebuild, Zach, and myself, on our own for this build if recruiting was unsuccessful. Luckily, we didn't tell them the conditions until they came to see it for themselves! The other two of our crew, Bryna and Matthew, were on a different build in Connecticut. Divide and conquer!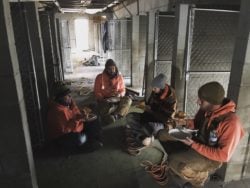 The team takes a quick break before the work continues!
Lots and lots and lots of welding. We welded all of the gates and gate latches, making them solid and secure. In the end, we installed 28 new gates for indoor/outdoor kennels—that's 56 gates total! We replaced 28 guillotine doors so the dog can have more space and go back and forth from the indoors to the sunshine. We also built chain-link lids for all of these kennels. This keeps the dogs from climbing up the chain link gate and hopping up and out. Animals being able to escape from their kennels can be quite stressful for both the animal and the staff. With the indoor and outdoor dog kennels complete, hired contractors will turn it into a second building for Liberty Humane Society to use for overflow. Now with these new kennels built, this frees up space to renovate the main adoption shelter. And with more space, the pups will be happier and healthier. The Rescue Rebuild team will be returning in February! Join us!