The World Through Their Eyes: My Story Finalists 2019
Back for its 3rd year, Girls' Voices for Change is the largest global media contest for girls, asking young women to share their vision of female empowerment. All entrants receive scholarship funding to help them overcome the barriers that keep them from going to school. This year, girls could submit their media to one of four categories.
One of those categories is My Story, which invites participants to share their lives with us — their triumphs, obstacles, and dreams. The winner of the Audience Choice Award will receive an additional $1,000 scholarship to pursue further education or vocational training.
This year, 12 My Story finalists compete for your vote.
Kimberly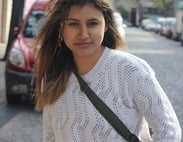 Kimberly, 18, is from Argentina. Her story focuses on the struggles and changes in her life and how those experiences influenced her drawings.
"We need to believe in ourselves, in the power of our words and our actions, those actions that made a difference along with the history, and will keep making changes if we keep believing in ourselves."
Miskenda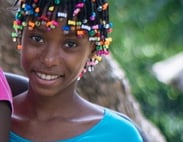 Miskenda, 11, is from Haiti. Miskenda's mother has a peanut business that supports her family and helps send her to school. Miskenda's entry showcases the importance of strong women like her mother and their contribution to further girls' education.
"The world would not be the same without girls. Girls are strong just like boys."
Viergnelie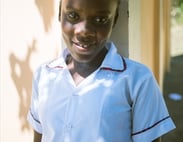 Viergnelie, 18, is from Haiti. Her entry focuses on her aunt, a single mother who struggles to support her two daughters and the support system around her. Viergnelie says she has learned from her aunt and mother that to heal women's problems one must have important conversations with both men and women.
"Girls need to support one another to be empowered."
Ketia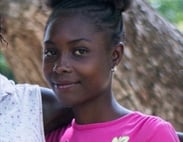 Ketia, 15, is from Haiti. Her video shares the struggles of going to school in another town. She lives in the isolated community of Petit Fond in the Central Plateau of Haiti and her family doesn't have enough to care for her and send her to school, but with her Girls' Voices scholarship, her family is finally able to do both.
"Girls needs to be empowered because they are such an important force in the world."
Aisha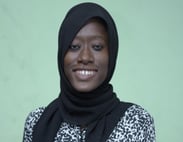 Aisha, 19, is from Ghana. A high school graduate, Aisha focuses her video on her faith, her family, and the good that lives on in her community. She is confident that she will further her education and hopes that she will be able to help others do the same.
"Girls need education to be empowered. They need access to basic necessities and must be given equal rights and opportunities given to boys to be empowered."
Ana Maria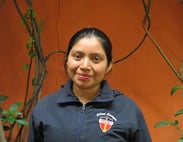 Ana Maria, 19, is from Guatemala. Her entry focuses on her family's economic situation and how it affects her and her sister's education opportunities.
"We need to be informed on the problems of our community. To have leadership skills and interests in participating in various activities. We have to be confident in our abilities and qualities. We have to believe to have the power to fight to get what we want."
Karol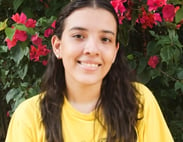 Karol, 17, is from Honduras. Her video talks about what it means to be a girl. For Karol it means to dream big and breaking through stereotypes.
"We need to feel safe doing what we like not thinking if other people will like our job. To feel empowered we need to change our mindset and not being afraid of being different, we were born to be different not the same. As women we deserve the same opportunities as men , we all have the same capacity."
Abida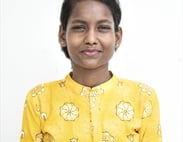 Abida, 18, is from India. Her entry tells the story of a girl's experience in an abusive relationship and the dangers of social media. Her video tells the story many women face, but are some times too scared to talk about.
"One needs to have strong confidence and self-belief to be empowered."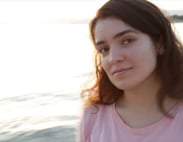 Adele, 17, is a refugee from Afghanistan living in Greece. Her video tells the story of two young refugee girls and their lives in Greece.
"Because we are strong, we are capable. We should not be overlooked. I don't even think of myself as a girl, I think of myself as a human being, and since in Iran if you are a girl you are nothing, I just never believed this. My hardships have become my strengths, and for this reason we can lead the world."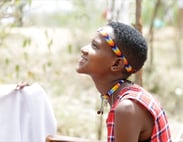 Sophie, 19, is from Kenya. Her story focuses on a Kenyan girl who, against all cultural odds, escapes child marriage to go on to be the first person in her Samburu family to go to university.
"So many of us have important things to say and ideas on how to improve ourselves and our communities. We should be part of planning and policies, even about how we are educated, the environment, political leaders, etc. They need to listen to us."
Amowaj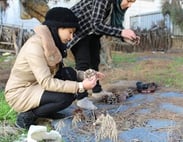 Amowaj, 17, is from Jordan. Jordan's video shares her experience as a refugee, struggling to advance her education. Her dreams may seem out of reach, but she won't stop until she's there.
"I think the girls in my area need to be more confident, they need to have income, give the chances to talk about their self and their needs, participate in the labor market."
Maria Luiza, 16, is from Brazil. Maria Luiza's video focuses on her own experiences with art and its importance in society. With the help of her family, she feels empowered to explore art through drawing, film, and photography.
"Because the girls can change the world to a better place with fewer inequities."