Seattle Veterans Receive a Little Holiday Spirit
Once the home to the eighth-largest homeless veteran population in the country, the Seattle area has seen a significant decrease in veteran homelessness in the past year. However, thousands of veterans continue to struggle.
This holiday season, we had the pleasure of working with the Seattle Stand Down to distribute over $100,000 worth of products including Greater Good Charities' Good Packs with basic supplies for vets and their pets.
Navy veteran, Bill Owens, and his partner, Valkyrie, a playful Belgian Malinois, were two of the many who attended our holiday event.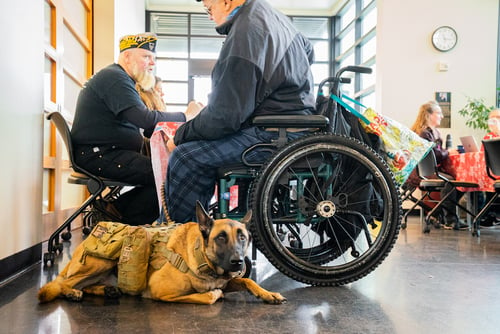 "Here in western Washington, in particular, there are not enough resources [for vetertans]," Owens said, recalling being sent as far away as Florida for schooling and service providers.
The Seattle Stand Down hopes to fill in those gaps by being a one-stop-shop with access to community resources, Veterans Affairs (federal, state and county), and social services.
Fellow Navy veteran, Jaime Yslas, serves as chairman of the board for the organization. He explained that the name of the organization comes from a phrase used during the Vietnam War when troops would come back from long missions and back to their secure bases.
"When they came back from those missions, they would come back to a secure area where they could rest, relax, and be taken care of." Troops were able to "stand down."
"From that term, we have evolved into a community event designed to let veterans have access to services to take care of themselves," Yslas said.
To date, the Seattle Stand Down has assisted nearly 4,000 Veterans who are experiencing or are at-risk of homelessness in the Seattle/King County area.
Thanks to your donations and the help of the Seattle Stand Down volunteers, veterans were able to receive haircuts, clothing, medical care for their pets, and toys to give to their families for the holidays.