Backpacks Stuffed With Supplies Give Hope to Veterans and their Pets
Over 40,000 U.S. veterans are homeless on any given night, many of whom rely on their pets for safety and comfort. Unfortunately, most homeless shelters across the country don't accept animals and too often, a vet must choose between a warm bed and their best friend. Along with our Rescue Rebuild team, GreaterGood.com, and Purina, Greater Good Charities is working to change that and bring security back into these heroes' lives!
This year, we started Greater Good Charities' Good Packs program. While Rescue Rebuild works to retrofit shelters across the country to accept pets, this program aims to distribute backpacks with much-needed supplies to veterans and their furry companions. Each backpack contains hygiene products, a reusable water bottle, a collapsible bowl to provide a clean place for the pet to eat or drink, a slip lead leash, pet treats, and a toy.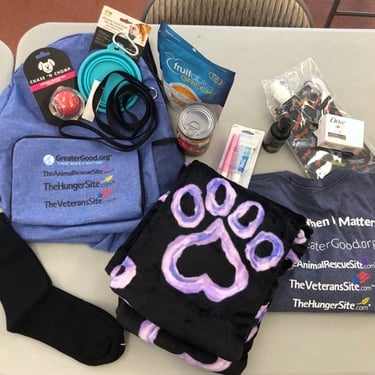 Our first distribution was at Esperanza En Escalante (EEE) in Tucson, AZ, a non-profit organization dedicated to providing transitional housing for veterans. The staff at EEE understands the importance of their residents' well-being and that's why they're one of the few shelters in Arizona that allow pets.
"EEE really believes that this connection between the residents and their pets is an important part of their recovery … Some of them, it's an emotional support issue, some of them it's truly service dogs. But in so many cases it's just that's the only best friend that they've got in the world," said Pat Beauchamp, Air Force Veteran and EEE Director of Operations.
Bobby Steward Jr. is an Air Force veteran and EEE resident who moved to Tucson from Texas to serve in the Air National Guard. After leaving, Steward's health began to deteriorate and caused issues at work, leaving him unemployed and searching for shelter.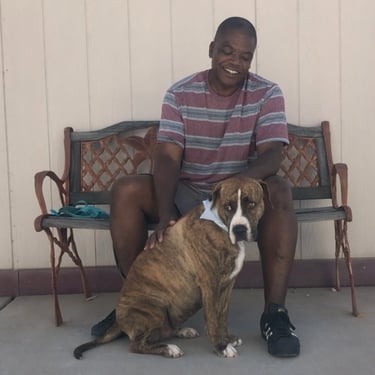 Steward has two dogs, Pickles, and Cowboy. He says he would feel lost without his pets and EEE has been very welcoming to the three of them.
"If I weren't here, I'd be homeless. Yeah, I would be homeless if it weren't for this facility," he remarked.
The truth is, pets are often a non-negotiable for these veterans who would rather struggle through in their cars or on the streets than abandon their pets.
Thomas Nickerson shared the powerful story of a veteran who committed to sobriety for his dog.
"So, we had a veteran come in, he was homeless and had been homeless for quite a while, and he had this little dog … One of the qualifications here is there's no alcohol whatsoever. You can't consume alcohol offsite and come onsite, we're an alcohol and drug-free environment. And the veteran said to me, he said, 'Well, I don't think I can do it.' And I said okay. And so we spoke with the VA, and the VA said 'Yeah, we can get the veteran housed somewhere else, but he can't bring his animal because the animal hasn't been vaccinated.' And he said, 'No, I can't leave my pet,' and he's still here. He's still sober, still doing the right thing."
Though EEE provides a place for veterans and their pets to stay and services to help veterans, like Steward, get back on their feet, donations are always needed and much appreciated.
"Without these donations, a lot of people around here wouldn't eat. You know, go hungry, and, not just the food, but there's, you know, hygiene products, and when you get ready to leave, there's furniture and supplies for you to continue – things that you would have to get on your own that would cost a lot," Steward shared with us.
You can help. Just $5 covers the cost of delivering one Good Pack to a U.S. Veteran and their pet. Donate today