Superstar Cat Emerges at Purrfect Pals Thanks to Cat Pawsitive Pro
By Rachel Loehner
Editor and Contributing Writer, Cat Pawsitive Pro

As Cat Pawsitive Pro (CPP) comes to a close at Purrfect Pals in Arlington, Washington, the staff and volunteers look back at the semester to see what they have learned and accomplished as well as what they will do going forward. But perhaps most exciting – Purrfect Pals is celebrating the biggest success story to come out of the clicker-training program at their no-kill cat shelter and sanctuary.

In the beginning, Brandy Unruh, Cat Care Manager, and CPP Team Leader weren't sure how well clicker training would go with cats, but Brandy was amazed by what she witnessed. "Having had a lot of experience clicker training dogs, I learned quickly that it was a different ball game with cats, and even more so with cats in a shelter environment. The tricks are fun, but seeing these shy, scared, and sometimes bored cats come to life the way they did was so unexpected."

Brandy goes on to reflect on why everything during the past semester was worthwhile. "It has definitely been a challenge to fit sessions into our hectic shelter schedules, but we are making it work because the end result is completely worth it. Going through the CPP program helped me see things from the cat's point of view, and it gave all of us more tools to help the cats in our care. I'm excited to see staff and volunteers connect more with the cats here at Purrfect Pals through clicker training, and of course, get more cats adopted!"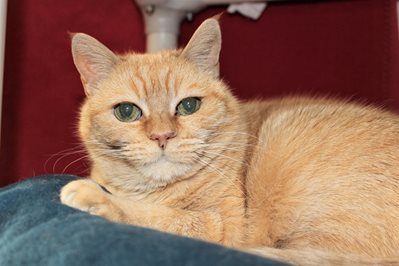 While the clicker-training program is about helping shelter cats be the best versions of themselves, the program wouldn't exist without the staff and volunteers who train the cats. Let's check in with some of the Purrfect Pals CPP team who worked tirelessly this past semester on training their shelter cats.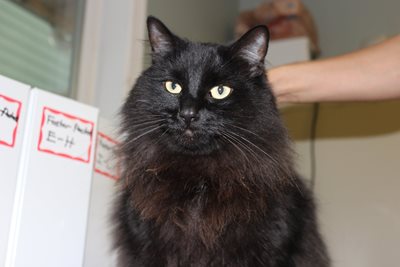 When asked about one of the greatest improvements that a CPP cat made, Veterinary Clinic Assistant and CPP team member Molly Vickery reports, "Sasha used to be a literal pill to medicate. But since our staff and volunteers have been working with her that little bit every day, she now takes her meds with little to no thought. It's pretty great!"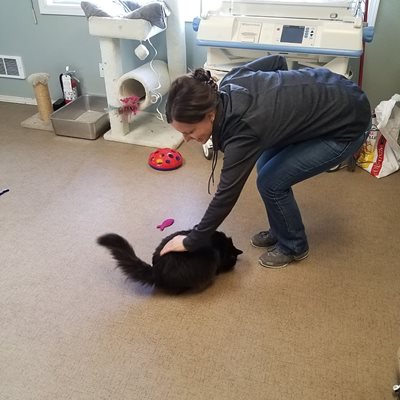 Jessica Rockstad, Adoption Coordinator, and CPP team member spoke about working with cat Khiana on a specific behavior. "The shaping method worked really well for Khiana and now she enjoys getting in the carrier! She has always been a challenge to get into one, but during training, I noticed top carriers are easier to use. Open the top hatch, put your hand in and lure the cat in with some treats."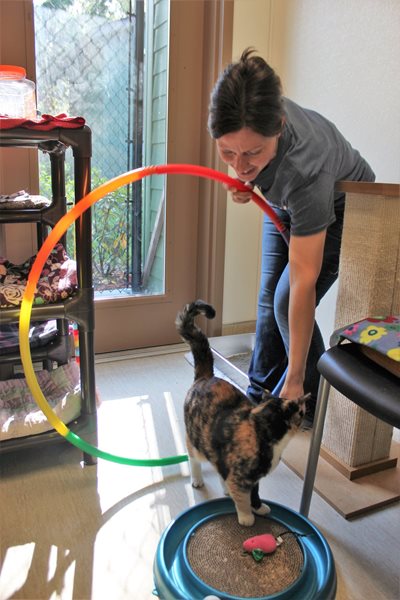 Annah Rossiter, Cat Care Specialist and CPP team member, echoed Jessica's thoughts. "Khiana is a big fan of using the shaping method. She remained engaged the entire time and was enjoying each step!"

It's clear that Khiana was the standout superstar of the program at Purrfect Pals, and CPP helped this long-term cat in more ways than one. Having been at Purrfect Pals since 2012, the staff and volunteers were determined not to give up on their longtime resident cat. Now at eleven years old, Khiana needed to find a home without other cats. She was also known to become overstimulated easily, sometimes lashing out at people. During the past six years with Purrfect Pals, Khiana had been adopted once from the shelter and returned. The team wanted a breakthrough for this senior cat.

Enter Cat Pawsitive Pro!

Connie Gabelein, Director of Community Engagement and CPP Team Leader, explains, "At the Purrfect Pals Sanctuary and Adoption Centers, our highest priority is helping cats with special needs who other shelters might not have the resources to save. When we were selected for the Cat Pawsitive Pro program, we were very excited to learn to use clicker training to help our long-term sanctuary residents who have been overlooked for adoption because of behavioral challenges. Khiana was one of the first kitties who came to mind."

Connie reported that Khiana really was a star student in the program. Being a super smart girl, Khiana would get bored easily and just needed more stimulation. "After our staff started clicker training with her, she quickly learned to jump through a hula hoop and give nose boops when prompted. She became much more relaxed and happy thanks to the program!"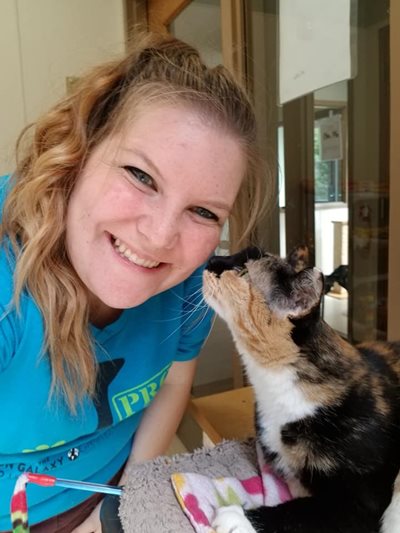 And with the help of Cat Pawsitive Pro, Khiana finally received her happy ending. She put her newfound clicker-training skills to use and charmed her way into the heart of her adopter, who had recently lost an older kitty and was looking for a new friend. Connie states that the "two hit it off immediately and Khiana's new mom is committed to continuing Khiana's Cat Pawsitive [Pro] training! We couldn't be more excited for them both!"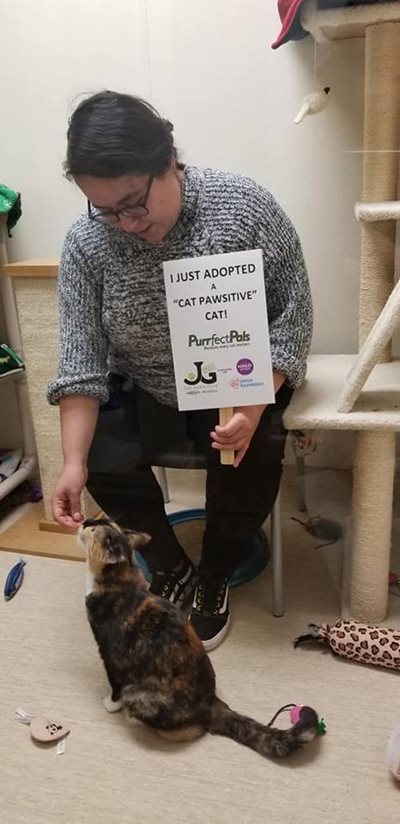 Purrfect Pals Executive Director Kathleen Olson adds, "While we will miss our Cat Pawsitive [Pro] Superstar who learned to come and sit on cue and how to hop through a hoop, we are so happy that Khiana finally found her person."

While Khiana clearly benefitted from the clicker-training program, the team at Purrfect Pals also worked with other CPP cats, including Hermie, Baby Bella, Vader, George Yoda, Janis Vaughan, and Sasha. Most of these cats seemed to catch on quickly to the training and also enjoyed it overall – with Janis Vaughan being the one who was most eager for treats! While Janis does gets overstimulated easily, the team is taking their time with her and working on the basics like touching the target stick.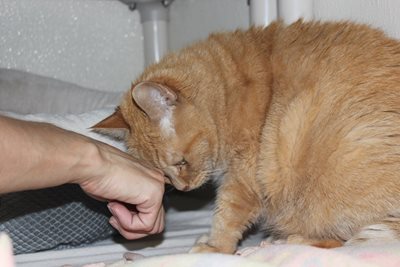 The team even promotes using clicker training in foster homes, like with Sasha, who is now back in foster after her initial CPP training. Sasha's foster dad continues to work with her on new behaviors, like jumping to the top of her scratching post when prompted.

Trainer-Mentor Samantha Bell, who has been guiding the staff and volunteers throughout the program, says, "I'm so proud of the amazing team at Purrfect Pals. They are talented, devoted, and wonderfully passionate about the cats they help. And it showed in the amazing progress that their kitties, especially sweet Hermie, made! I'm so grateful I got the opportunity to meet them and help them help more kitties!"

With the CPP semester over, Team Leader Connie and the rest of the staff and volunteers have a strong foundation to carry their clicker training forward to continue helping as many shelter cats as they can. They also realize the wonderful opportunity they were given to participate in Cat Pawsitive Pro.

Connie says, "We are incredibly grateful to our [Trainer-Mentors] at The Jackson Galaxy Project for all they taught us. Thank you so much, Samantha, Molly, and Miranda! We also want to thank the generous sponsors who make the Cat Pawsitive Pro program possible: Halo Pets, the Petco Foundation, and Greater Good Charities. Khiana wouldn't have been adopted without your support. THANK YOU!"

You can help even more cats with The Jackson Galaxy Project's Cat Pawsitive Pro initiative!