How Your Donations Are Protecting Wildlife, Livestock, and a Way of Life
There are only 3,900-6,400 snow leopards left in the world due to habitat loss, poaching, and retaliatory killing when they turn to livestock for prey. About one snow leopard is illegally poached every day. That's why Project Peril teamed up with Snow Leopard Trust to protect livestock in the hope to benefit the future of snow leopards.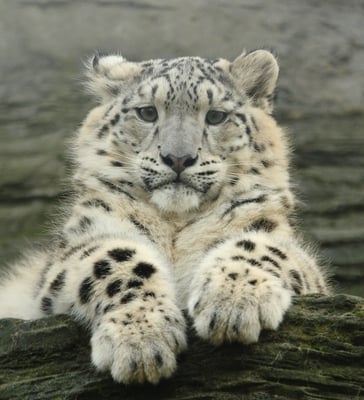 Livestock Insurance Program
With your donations, Greater Good Charities through its Project Peril program, partnered with Snow Leopard Trust for a livestock insurance program in Mongolia to provide direct compensation to herder families who lose valuable livestock to snow leopard predation. The program works in a region of South Gobi, called Tost, where roughly 85 semi-nomadic families share space with snow leopards.
The area became federally protected in 2016 as the Tost Nature Reserve, primarily for snow leopard conservation. A large population of snow leopards was found in Tost according to a 2020/2021 study and observation. Herder families are legally permitted to live in the Tost Nature Reserve and continue their traditional way of life.
When herders lose livestock to snow leopards, the financial losses can be devastating. The livestock insurance program directly provides herders compensation for livestock losses. In addition to the insurance program, Snow Leopard Trust also assists these herder families through the construction of predator-proof corrals. To date, 24 Tost families have these corrals, which protect thousands of livestock at night when they are most vulnerable.
Your donations insured 62 herder families from four Tost communities to insure a total of 12,000 livestock!
Conservation is an intricate balance of protecting wildlife and a people's way of living. By allowing herder families to live in the Tost Nature Reserve and providing financial compensation when livestock is lost because of the snow leopards' predatory tendencies, this program valuing the survival of the snow leopards and the local culture. To create a sustainable impact, conservation efforts should be about promoting co-existence. We shouldn't have to choose between people and the other inhabitants of this planet.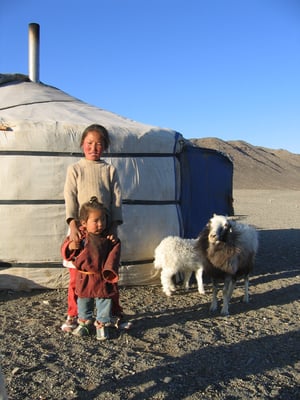 Photo © Shawna Peckman-Snow Leopard Trust
Two children from a herder family and livestock, Tost, South Gobi Mongolia
Handicraft Training
The Snow Leopard Trust also helps the Tost Natural Reserve community by dedicating a part of their donation for women to receive one week of handicraft training. In southern Mongolia, local camel wool is a plentiful, renewable resource in natural colors from almost white to grays and browns. The Trust's recent research found that handspun camel knitting wool is in high demand as an "exotic fiber" within the US craft/hand knitting community.
They invited skilled trainers from Wool World Training Center (Ulaanbaatar) to hold a total of seven trainings in southern Mongolia so that women could hone their wool processing and spinning skills to make fine quality handspun camel wool for export.
78 women from nine herder communities in southern Mongolia were trained to make handspun camel knitting wool. After successful training, the Trust placed their first order with women who made 450 skeins of 100-gram weight camel knitting wool. They will test market the wool through the Trust's offices in Seattle and hope to place larger orders for Mongolian women soon.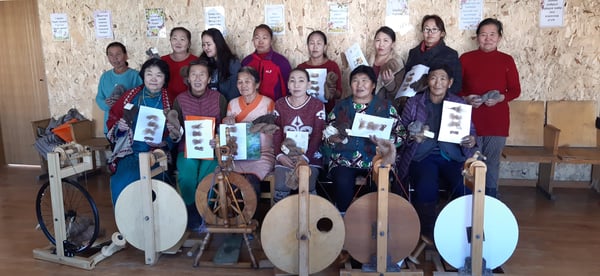 Photo © Snow Leopard Trust
Camel wool spinning workshop participants from three communities in Gobi-Altai Province, Mongolia, show off their handspun wool skeins and camel wool color samples, November 2019
Thank you so much for your support! Your donations to Project Peril made this happen!