Rescued Sea Turtle Finds Way Back Home
Project Peril is dedicated to the conservation of species identified as in peril, threatened, endangered, or close to extinction throughout the world.


Terri, a juvenile green sea turtle has returned to her ocean home after eight months of rehabilitation.
Rescued off the coast of Florida, Terri the sea turtle was in need of help. She was suffering from anemia and fibropapillomatosis, a disease-specific to sea turtles characterized by benign but ultimately debilitating epithelial tumors.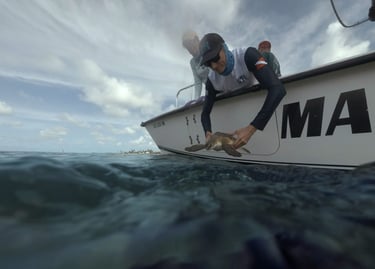 The Force Blue team found Terri during a study on sea turtles in the Florida Keys. They quickly transported her to the Turtle Hospital in Marathon, FL.
There, the camera-shy turtle went through blood transfusion, tumor removal surgeries, broad-spectrum antibiotics, fluids, vitamins and a healthy diet. Today, Terri is back in good health and looking fabulous!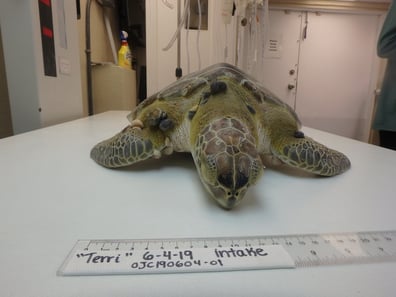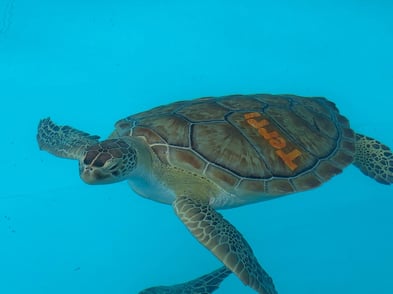 FORCE BLUE Executive Director and CoFounder, Jim Ritterhoff, says stories like these reinforce just how important our coral reefs are.
"It's also an important reminder of how much we all need to engage in the fight to help preserve and restore the critically threatened, vitally important Florida Coral Reef," he said.
And he is right! The only of its kind in the US, the Florida Coral Reef is home to significant marine wildlife, like Terri. However, it has been disappearing in the last few decades. In fact, because of storms and other global stressors, over three-fourths of the reef's living coral is gone.
Greater Good Charities and FORCE BLUE have teamed up for 100 Yards of Hope, a year-long coral reef restoration project. The project will shed light on the plight of our coral reefs. As a result, it will help restore habitat for Florida's sea turtle population.
Learn more about 100 Yards of Hope
On Sunday, February 9th on Sombrero Beach in Marathon, spectators watched as Terri made her way back home with the help of staff.
You can help rebuild Terri's home! Just $25 can help a veteran replant coral and restore her home.