How Weston Traded Severe Animal Neglect for Long Hikes in the Woods
Parting Ways With Abusive Owners
Weston was starving and near death when confiscated in a severe animal neglect case. Upon arrival at the shelter, he was extremely underweight. Every rib was clearly showing. Initially, this poor guy spent several days with a shelter veterinarian, passing plastic bags and other inedible items he had consumed in desperation from hunger.
Weston knew his former owners were supposed to protect and feed him, show him love, and endless playtime. At first, when these things failed to happen, he was confused. As the neglect continued, Weston's heart slowly began to break. He had reached a point where he wasn't ready to trust a human ever again, at least not yet.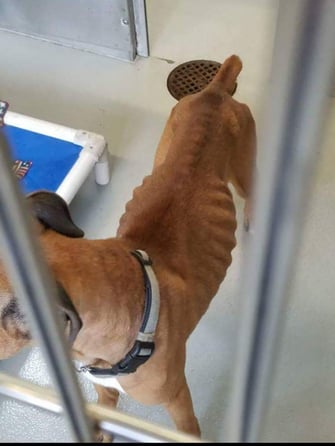 Weston Before

Because of Weston's emaciated frame, he was also suffering from pressure sores on his joints and over his hip bones. Thankfully, the Humane Society of Bay County came to the rescue. They knew they had to save Weston by taking him into their dog foster/adoption program.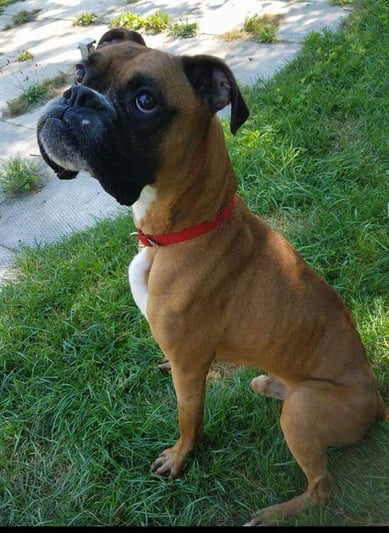 Weston spent nearly eight months in foster care, gaining good weight, working through some issues with IBD, and learning essential socialization skills he was never exposed to while living his former life of isolation and animal neglect. During his lengthy recovery, he gradually bounced back.
Weston has since found his perfect forever family with an active, outdoor-loving adopter. His health and spirits now restored, Weston regularly enjoys long hikes in the Michigan woods and other fun activities.
FULL RECOVERY!
"The food and preventatives we have received through GreaterGood.org's Rescue Bank allow HSBC to allocate more of our funds toward more involved medical cases such as Weston' who may not otherwise make it out of a shelter situation and into our dog foster program. We could never afford to take in dogs with severe but treatable health conditions requiring expensive, long-term medical care without the support of Rescue Bank. We are extremely grateful that Rescue Bank's donations to our organization have allowed us to turn around the lives of wonderful dogs like Weston and to give their stories such happy endings." – Humane Society of Bay County