Used as a Bait Dog, Finn Forgave and Moved On. He Was Too Busy Searching for Love to Dwell.
A passing driver found Finn emaciated and alone in a ditch. From the wounds and scars that covered his body, it was apparent that bad people had used Finn as a bait dog. Cedar Valley Pit Bull Rescue pulled him from the shelter and placed him in a great foster home. Despite Finn's previous life of unwanted violence and danger, he kissed each of his foster brothers upon meeting them.
But shortly after arriving, it was clear that Finn had serious problems with his legs due to years of abuse. The vet said he had a severe subluxation and that the only way to get this type of injury is to be swung by the leg. After his surgery, Finn recovered from his injuries, and he was so forgiving. Finn also put on healthy weight thanks to pet food donations from GreaterGood.org's Rescue Bank. He was never aggressive, never afraid of people or dogs. Finn only wanted to be loved in a loving home forever.
Today Finn has a new family with a canine brother. They all love Finn dearly. Now that Finn has found his pack, they are inseparable, dog and human alike! Love wins again!

"GreaterGood.org's Rescue Bank has helped so much. When you have a dog who has had health issues, the food helps their bodies heal and become the dogs they should be." – Cedar Valley Pit Bull Rescue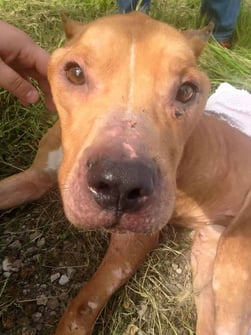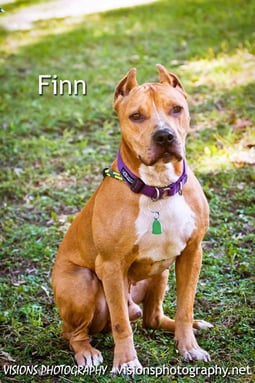 *Rescue Bank is now the Greater Good Charities GOODS program!