5 Ways To Prepare Your Pet for Disaster
Many of us have plans to evacuate our homes in case of a disaster or emergency situation so we can get out of harm's way with short notice. These plans might include securing financial and legal documents, making sure you have an emergency kit on hand to quickly grab, and knowing where to go for shelter. Unfortunately, pets are not always considered as a part of these plans.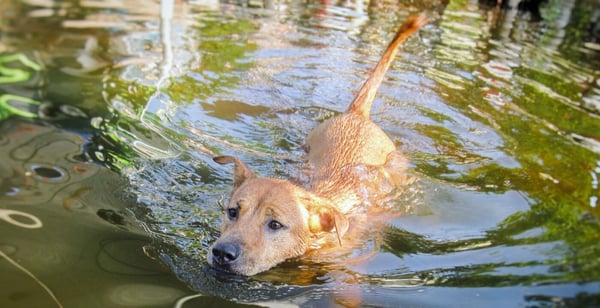 When Greater Good Charities responds to natural disasters, our shelter partners frequently report an influx of displaced pets from households who didn't have a plan for their pets. This adds stress to the already overburdened shelter system in these devastated areas. We believe pets are a part of the family, and that no pet should be left behind. A simple plan can make all the difference.
Here are five ways you can plan ahead:
Prepare an emergency kit for each animal
Stock up on the items you may need during a disaster now so you don't get caught unprepared. Below are basic items you should include in your pets' disaster kits. Store your disaster kit supplies in an easy-to-grab container.
One-week supply of food for each pet. Store it in a water-tight container and rotate it every three months to keep it fresh. If you use canned food, include a spare can opener. Reusable food and water bowls are also worth adding.


One-week supply of fresh water for each pet. If officials declare your household water unfit to drink, it's also unsafe for your pets. Follow

American Red Cross guidelines

for storing emergency water for your family and your pets.
Medication. If your animal takes medication, a replacement supply may not be easily available following a disaster. Make sure you have enough for a week.


Leashes and toys. It's a good idea to pack an extra leash and/or harness in your emergency kit in case your regular leash is unavailable or damaged. A slip lead can also be incredibly useful to manage your pets in times of crisis, and possibly aid other animals you come across. Toys also shouldn't be forgotten if possible! If you can, include a toy your pet enjoys to keep them occupied and calm.


Vaccination records. Keep copies of your records on your mobile phone and in the cloud so that you can access them easily. If you do end up at an evacuation shelter that takes pets, you will need to show proof of vaccination.


Photographs. Keep photos of you with your pets to prove ownership if you become separated from them - or to make "lost pet" fliers. Store photos in your wallet and on your cell phone and somewhere you can access electronically (send the pictures to yourself) on the cloud via Dropbox or a similar app.



Keep a collar and tag on all cats and dogs
Make sure your pets always wear a collar with identification tags and that those ID tags are up to date with your current phone numbers. Even indoor-only cats need to wear a collar with ID tags. In the event that your home is damaged during a disaster, they could easily escape, but having their tags will help you get reunited.
Plan a pet-friendly place to stay
Take some time in advance to find out-of-area pet-friendly hotels or boarding facilities, as many evacuation shelters do not welcome pets. You can also consider making a housing exchange agreement with an out-of-area friend or relative.
Utilize pet safety window decals
A safety sticker or decal like this one from iHeartdogs will let first responders know exactly what to expect and how to plan accordingly. Displaying these at your home will save vital time in the case of an emergency.
Practice your evacuation plan with your pets
Do a practice run of your evacuation plan with your pet(s). Make sure you can put your pet(s) in their travel carriers quickly. Check out this great video from CatPawsitive on how to train your cats to get into a carrier with no fuss!
Bonus tip: Microchip your pets
This may seem obvious, but it's incredibly important to microchip your pets. Microchip identification is one of the best ways to ensure that you and your pets are reunited if you are separated. Be sure to keep your pets' microchip registration updated, and include at least one emergency number of a friend or relative who resides out of your immediate area, who may be able to house your pet(s) in the short term following a disaster.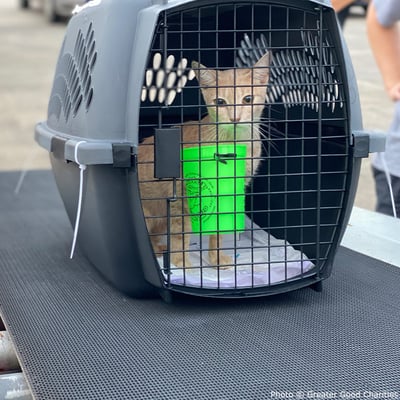 In times of disaster, the last thing you want is to be scrambling to find essentials and an evacuation plan. Creating a plan in advance and putting it into practice is the best thing you can do to keep your pets safe in times of crisis.
To learn more about our disaster relief program, visit Greatergood.org/disaster.