Girls' Voices Thanks YOU!
*This archived post was last updated in 2018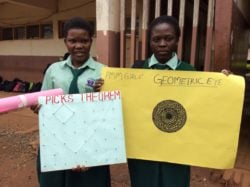 In the past year, Girls' Voices supported 115 girls to create short documentaries about their lives and supported each girl with a scholarship to ensure they could finish secondary school. We collaborated with an inspiring group of teachers and students in twelve countries. We were impressed with all the media the girls created.
Below, stellar student Hellen, from PMM School in Uganda, shared her gratitude with all of us. Along with Hellen, we offer a huge thanks to all of the donors who supported Girls' Voices scholars in 2017.
Every donation supports a girl like Hellen, who is following through on her dreams for an education. We can't wait to continue to make positive changes with you in 2018!
And in Hellen's words…
"My name is Hellen. I am in Senior Five Science at PMM Girls' School, Jinja in Uganda. I study physics, economics, mathematics, and ICT at the subsidiary level.
"I want to thank the people of GreaterGood for the good heart of loving, caring, and supporting the Girls' Voices. May God bless you all.
"I want to thank my teacher Chole for having linked me to people with such wonderful hearts through the multimedia production project, Girls' Voices for Change. I am very grateful and I consider myself to be a lucky person, being among the girls sponsored by GreaterGood. Sadly my parents are not here. I know they would have said the same. I know that their hearts are full of joy because of you, GreaterGood, Girls' Voices, together with teacher Chole. Thank you for helping me to be sponsored, making me become known in the world.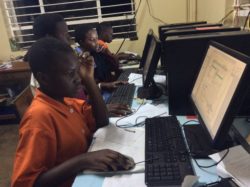 "GreaterGood has brought for me many positive changes only. My school fee is now covered and no more disturbance at all. I attend all my lessons. I read my books at my specified time with peace and with lots of love. All my worries have been washed away. I am confident enough and sometimes I advise those who are desperate to not give up; never to say no to such situations because there is time for everything. One must endure and persevere in all kinds of situations.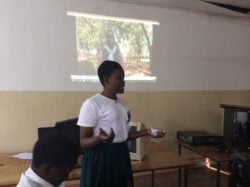 "My dream is to become an engineer of transport and communication network. That is why I love and study science subjects. My goal is to perform excellently in all the subjects in the final national examinations next year. I am determined in achieving my goals by sticking to my principles of placing God first, reading my books, following my personal reading timetable and maintaining discipline. I always tell myself, 'You are the engineer of tomorrow, you should work hard, be disciplined and be bold for a change.'
"My motto is Remain focused, Never back down, Be a woman of value and Keep standing tall!
"Thank you GreaterGood!"
– Hellen