WATCH: Good Flights is Airborne with Lifesaving "Save a Heart" Mission
In honor of Heartworm Awareness Month, Greater Good Charities is proud to announce the liftoff of our new Good Flights program with our inaugural "Save a Heart" mission.
Over the past 13+ years we have funded the transport of thousands and thousands of pets by ground and by air, moving adoptable at-risk pets from overcrowded shelters and disaster stricken areas to safety. And now, with Good Flights, we are working to save some of the most vulnerable pet populations in the country while helping the shelters that work so hard to care for them.
According to the American Heartworm Society, states like Louisiana and Mississippi lead the country in heartworm disease cases. Heartworm disease is progressive and fatal, but is treatable and curable in most cases when diagnosed early, and preventable with the proper medication. Unfortunately, the cost of treatment for many shelters is prohibitive—and if you are a heartworm-positive pet in an already overcrowded, under-resourced municipal shelter your chances of making it out of the shelter are slim to none.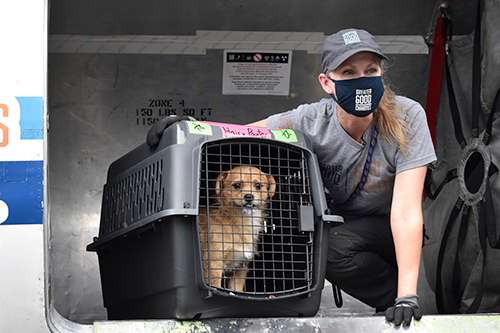 That's why this month Greater Good Charities is announcing our commitment to transport 1,000 asymptomatic heartworm-positive dogs from shelters in the South to safety on the East Coast. Together with Boehringer Ingelheim Animal Health, the makers of HEARTGARD® Plus (ivermectin/pyrantel) and The Animal Rescue Site, we will ensure these pets are flown and driven to safety and we will cover the expense of their treatment. And, with special thanks to Banfield Foundation, we'll be treating an additional 2,500 heartworm-positive dogs in the South who will be adopted there.
Our inaugural transports this month moved over 150 pets like Knuckles to safety, and we couldn't have done it without you and your support. Watch the journey of Knuckles and many others you helped save here:
It is important to point out that our shelters partners working hard to save lives make operations like this a success. Acadiana Animal Aid, St. Martin Parish Animal Services, Cara's House, Lafayette Animal Shelter & Care Center, Lafourche Parish Animal Shelter, St. Charles Parish Animal Shelter, St. Hubert's Animal Welfare Center and Humane Society of Broward County inspire me. And, thank you to Ameriflight for your partnership and ensuring our pet passengers safely arrive.
This flight is the first of many on our way to transporting at least 1,000 heartworm-positive dogs to safety this year, and treating another 2,500 who will remain in the South for adoption. This has never been done before at this scale, and is thanks to our amazing partners at Boehringer Ingelheim Animal Health, The Animal Rescue Site, and Banfield Foundation, and the support of donors like you.
Thank you. Good Flights is just one more way we Amplify The Good together.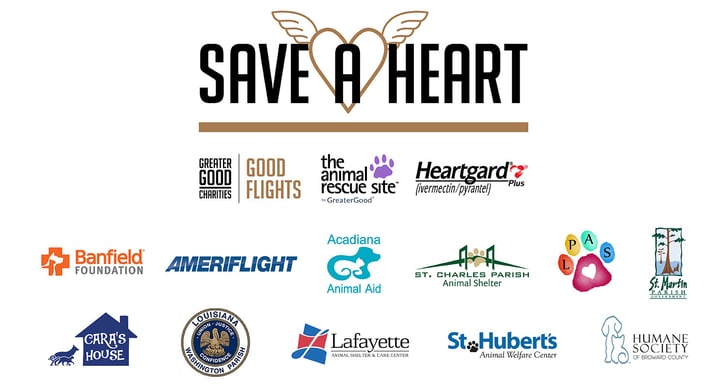 ---