First Annual National Feed a Rescue Pet Week a HUGE Success!
*This archived post was last updated in 2016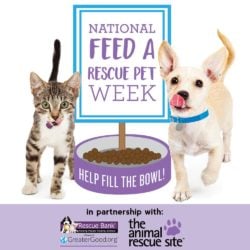 Thanks to YOU, our first National Feed a Rescue Pet Week hit our goal and then proceeded to blow it out of the water! From July 24th to July 30th, we called on you to help us raise enough funding to donate 3 million meals to rescue animals across the country. Well, you answered the call in a BIG way, allowing us to exceed our goal by 1.5 million meals! That's right—in one week, your selfless donations totaled 4.5 million meals to be donated to rescue animals in need through our Rescue Bank program! The number of animals who will benefit from your efforts is staggering.
A Chance to Bloom Rescue found Kane as a stray with severe demodex mange, secondary infections, and holes through three of his legs, all the way to the bone, from chewing himself due to the terrible itching. He was malnourished, and you could see every bone in his body.
Thanks to high-quality pet food donations from Rescue Bank, today Kane is healthy, has a beautiful coat, and loves to play in doggy daycare with his buddies! Breakfast and dinner are his favorite time of day! "Because of food donations from GreaterGood's Rescue Bank, we save money and can take in more cases like Kane. We love being able to help the underdogs!" ― A Chance to Bloom Rescue
Thank YOU so much for making the first National Feed a Rescue Pet Week a success. We CAN NOT wait to see what we can accomplish together next year!