Reunited in Maui: Finn's story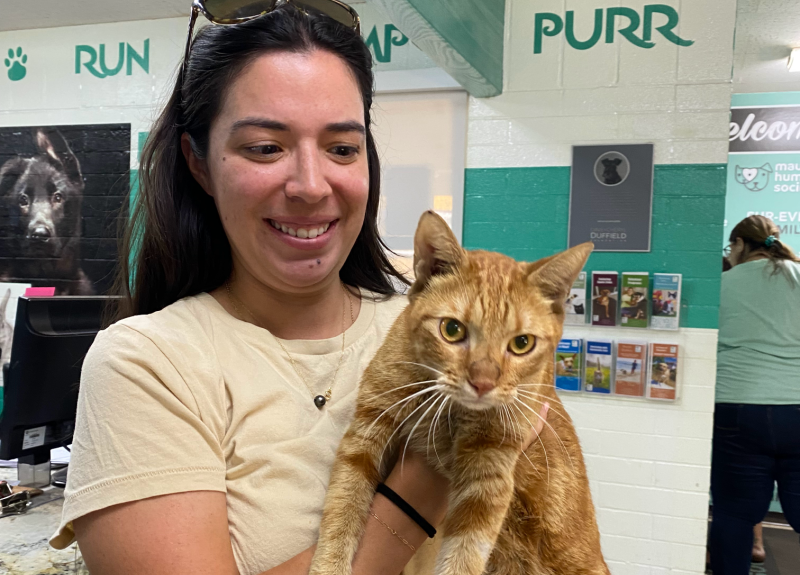 PHOTO © Maui Humane Society
When tragedy hits, the happy stories are what keeps us going. Here's one of the latest: Finn, a handsome orange tabby, was found alive near where his home used to be, in one of the hardest hit areas of Maui, and reunited with his family!
Since wildfires engulfed Maui, the Greater Good Charities has been assisting in a variety of ways with supplies and support. We've been on the ground in Lahaina, as part of a Search & Rescue effort to find animals in the "burn scar" - the area where wildfires left very little standing.
Other groups we've been working alongside include Animal Search and Rescue /Animal Incident Management and Maui Humane Society, each group leading a different part of the effort, but all united in one mission: finding and helping animals in need.
It's been hard, dirty, emotional work.
We've been setting out traps for the last few nights, hoping to capture animals still alive in the area, while also recovering those who sadly didn't make it.
We found Finn on our second night of trapping around 10:45 p.m. as our convoy was driving down Lahainaluna to start collecting the traps we had placed in the area earlier. As we drove by, Finn was sitting in a sandy driveway about four houses away from where his house once stood.
We stopped and he ran off into the rubble of the house behind him. We set a trap and let it sit while we pulled the rest of the traps in the area. When we came back, he was sitting in the trap we left and immediately started meowing at us.
As we loaded him into the van, our team members looked at each other with excitement and said: "this cat has a family!"
We brought Finn to Maui Humane Society, where he was scanned for a chip. Fortunately, the chip led us to his owner, Danielle, who rushed to be reunited with her boy!
Danielle's story of August 8 is heartbreaking and similar to so many others. After being separated from her pets during the evacuation, Danielle and her partner Bon have been hoping for a miracle – that they might find Finn and his brother Bali.
Now Finn is with his family and Danielle says he is doing great, and even more affectionate than before.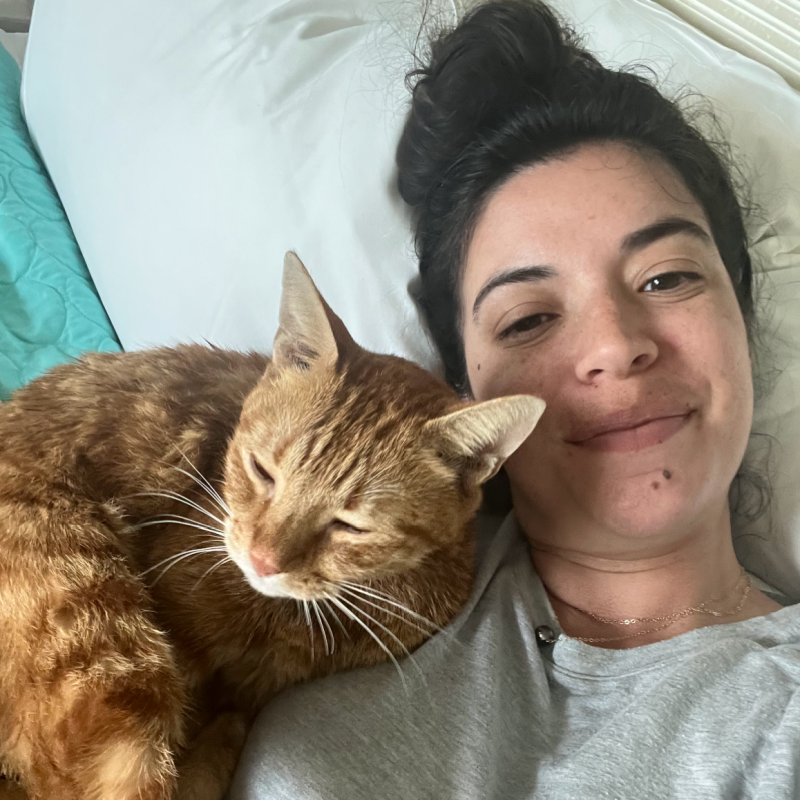 PHOTO © Danielle & Finn
We're still searching for Bali, setting out traps each night, near where the family's house once stood and where we found Finn. We continue to hope for another miracle.
Our team has brought in dozens of cats to Maui Humane Society for microchip scans and vet treatment. And, while there are still many sad endings, the happy ones keep our spirits up and our hope alive.
Greater Good Charities volunteer, Leigh, explains what reuniting Finn with his family meant to the team. "It was a really rough night for our team as it was the first time entering that specific area," she said. "We had trapped so many severely dehydrated and injured cats. Finding him and hearing that he had a person was a big win that night."
Thank you to our team members on the ground, working tirelessly to make reunifications like Finn's possible. Thank you to our donors and corporate partners who have made our work in Maui possible. Mahalo!
If you want to support our continued work in Maui, please consider making a one time or monthly donation to help us help Maui.