On the ground in Maui Helping People and Pets
In the wake of the Maui Wildfires, the team at Greater Good Charities has been working around the clock to secure and deploy aid to those impacted – both people and pets – by the disaster.
A long time partnership between Maui Humane Society and Greater Good Charities has allowed the two organizations to quickly assess and mobilize a response of donations and supplies for animal welfare needs on the island.
And, Greater Good Charities team members have been on the ground, working with organizations there to evaluate the humanitarian needs and how to best provide aid.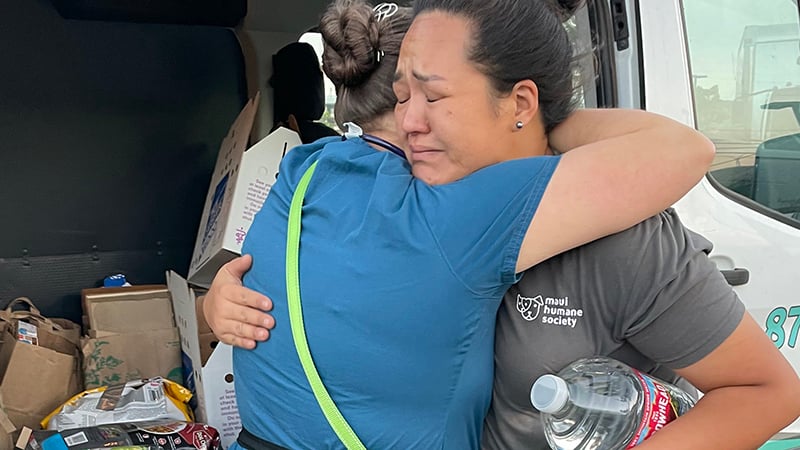 PHOTO © Maui Humane Society
The result is an outpouring of support from individual donors who are generously giving to help the Maui community and corporate partners like Mars Petcare, Muttnation, Pedigree, Pedigree Foundation, Purina, Royal Canin, Sheba, Tito's Vodka, and more who were quick to offer monetary assistance.
A flight mobilized quickly, headed to Maui on August 17, in partnership with Southwest Airlines® and Lucky Dog Animal Rescue, to deliver humanitarian supplies and Good Packs filled with survival and comfort items that include t-shirts, blankets, flashlights, socks, and hygiene kits. This donated Southwest Airlines aircraft will then serve as an emergency airlift of more than 100 shelter pets (30+ dogs and 70+ cats) from the island to Portland, OR to find new homes. Importantly, only shelter pets that were at Maui Humane Society prior to the wildfires will be transported to Portland in order to make room for the expected influx of injured and displaced pets that will arrive at Maui Humane Society because of the wildfires.
PHOTO © Southwest Airlines®
After the stop in Portland, dozens of the pets will continue on via a chartered Ameriflight to the San Francisco Bay Area where multiple organizations including: Berkeley Humane, Marin Humane, Animal Rescue Foundation, East Bay SPCA, Friends of the Alameda Animal Shelter and Fremont Animal Services will take in the pets and help find them adoptive families.
Greater Good Charities is working with veterinarians on the ground in Maui to ensure the safety and health of the shelter pets boarding the flight. A licensed veterinarian will also accompany the flight of shelter pets to Portland and all the cats and dogs will be evaluated and receive any follow-up medical care needed before being put up for adoption. 
| | |
| --- | --- |
| PHOTO © Greater Good Charities | PHOTO © Maui Humane Society |
There is so much generosity from our donors, corporate partners, and shelter partners as we navigate how to best serve the ever-changing needs of the people and pets of Maui. We are grateful to be a part of the massive effort to support this devastated community.
The road to recovery is going to be long for the devastated community.
Please send your support today.