A Big High Five for Star Feline Student at New Beginnings Animal Rescue
By Yasaar Nakchbendi, Chirpy Cats
After a few months into the Cat Pawsitive Pro (CPP) training, there have been many positive changes at New Beginnings Animal Rescue (NBAR) located in Royal Oak, Michigan. When they first started the program, their goal was to see happier, more stable cats ready for their forever homes.
The volunteers in the program have been enjoying working with the cats and seeing them in a whole new light. Working with cats in a shelter situation can be tough, but when the cats respond to the positive energy of the people around them, that's when the magic happens.
"Cat Pawsitive Pro has helped me learn tactics and approaches that enable me to decipher what our more troubled cats need to come out of their shell. Through the trials of various foods and rewards, I've been able to make some breakthroughs with some tough cases and most importantly, passed what I've learned on to other volunteers so the bonding can continue. It's helped me be more patient with the animals in our care and more inquisitive around how I can make their lives better," says volunteer Brett Norman.
Despite the frustrations encountered when working with challenging cats, volunteers are happy to report overall positive changes in the behaviors of the cats. "I'm glad to participate in the program. Sometimes I worry I'm not doing enough, but then I just try to focus on the progress we've made and the incremental improvements it's brought to the animals in our care," says volunteer Patti Brisse.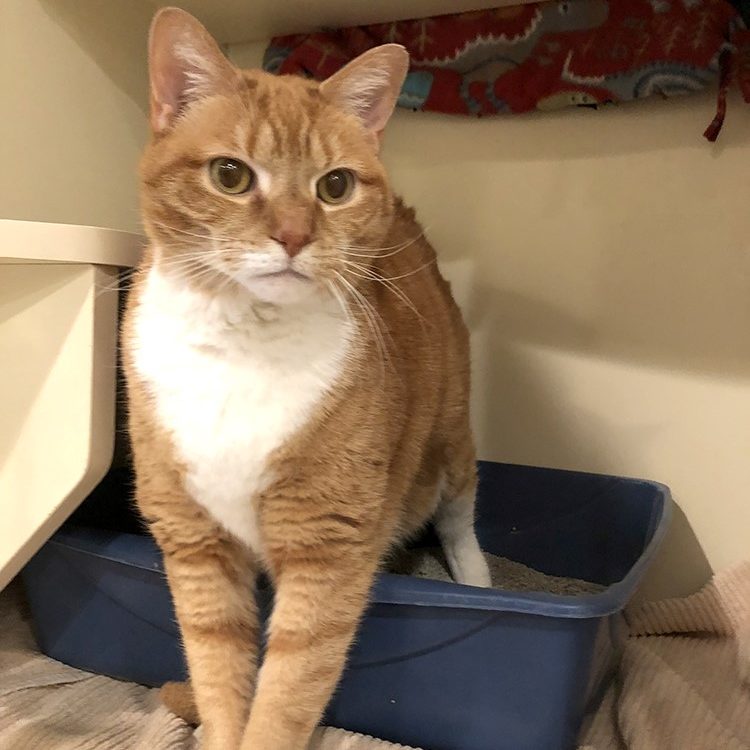 Phineas, an 8-year-old ginger female, is their first student who has 'graduated' to being adopted! Phineas and her brother were surrendered to New Beginnings in February due to allergies. Known by her previous owners as shy and aloof, for the first week or two she hid under her blanket or behind a litter box with her head in the corner.
"When we put her in the program, my goal was to just get her to make eye contact with me, as her face was usually in the corner or hidden. However, on my first session with her, I was sliding a treat over towards her to get her to turn her head, and not only did she make eye contact, she gave me a huge headbutt! We continued to work on this over the next few weeks and she has officially mastered the headbutt to the command 'bump,' " says Jennifer Fritz, Vice President and Team Leader.
"We put Phinnie available for adoption a few weeks after starting CPP. I was afraid she would regress since it took some time to get her comfortable in the quiet, isolated quarantine room that all our new arrivals stay in to decompress. We decided to put her in a condo in our lobby so that we didn't overwhelm her by putting her in our free-roam cat room. Not only has she not regressed, but she's also thrived up front! She never hides under her blankets and when people stop and look at her in the condo, she engages with them," says Lisa Hill, President, and Team Leader.
Phineas has received so much attention from all volunteers that it boosted her confidence levels tenfold. Jennifer jokes that she has been a star student and has set the bar too high for the other cats!
Phinnie, as she came to be affectionately known, was adopted on March 21, 2019.
---
Ursula, a 6-year-old black Persian, came from a hoarding situation and was transferred to New Beginnings from the county shelter. Apart from having ringworm, she was also pregnant and needed an emergency C-section, with both kittens sadly passing.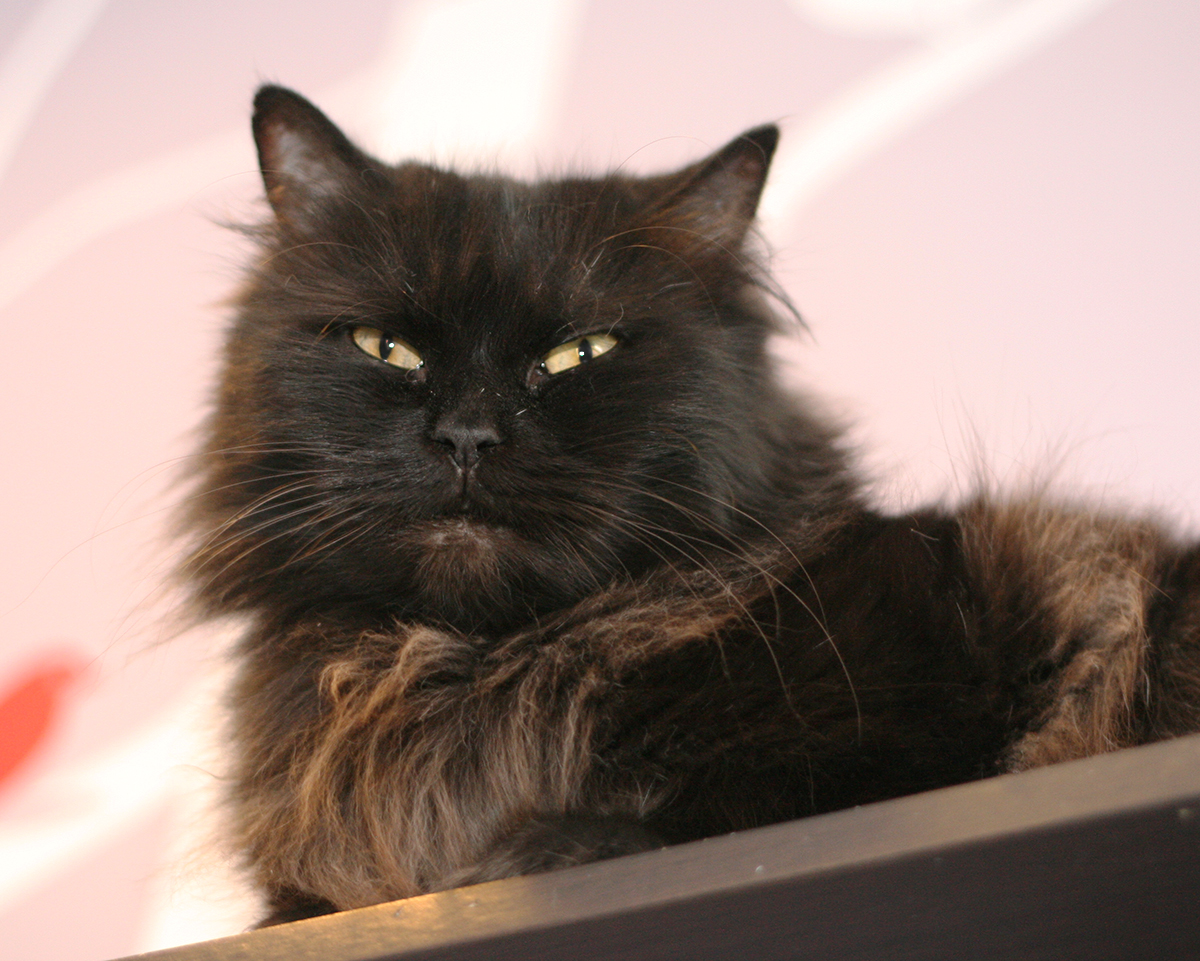 When she came in, she was the perfect candidate to be placed in the free-roam room as she liked other cats – but humans, not so much! Since starting the training, she has slowly started allowing humans into her little bubble.
"Sure, she's not giving us high-5's when we walk in the room, but she doesn't run away from me either," says volunteer Sylvia Stefanovich. Being food motivated, Ursula has mastered the "look" and no longer hides out in the hidey-hole but stays out in the room just being a cat while people are around. This is a huge 'paw' forward for her. She doesn't have any adopters lined up yet, but the staff is confident that if she continues to shine the way she is, she will soon sweep one lucky human off their feet.
"I'm so proud of the NBAR team and the cats in the program. Cats Pumpkin and Ursula came to the shelter from a breeder/hoarding situation a year ago. Neither would allow anyone to touch them and spent most of their time hiding in cubbies when people were in their room. In just a little over a month, both are out in the room delivering high fives! The team thought these two cats might never get adopted and now feel since the Cat Pawsitive Pro session, they might find their forever homes very soon," says Trainer-Mentor Molly DeVoss.
YOU can improve the lives of cats at risk. Donate today to The Jackson Galaxy Project's Cat Pawsitive Program and transform the places and people that support at-risk pets!