Greater Good Charities' 15 Year Resolution
As we look forward to 2022 (and our 15th anniversary!) Greater Good Charities is doing what many of us are doing this week—making resolutions to guide us. To close this week, appropriately known as "New Year's Resolutions Week", we are proud to share with you our new mission statement, our resolution to continue to broaden and deepen our impact. This mission will guide us to do more, with your support, to help those who need it most by continuing to respond to needs that arise and work to make the Good Greater wherever we go:
Greater Good Charities works to help people, pets, and the planet by mobilizing in response to need and amplifying the good.
In 2021 we were all met with challenges: the second year of a global pandemic that affected our partners and programs at all levels, unprecedented natural disasters like this winter's quad-state tornado that decimated parts of Kentucky, and more.
Through it all, your support allowed us to remain agile and focused, mobilizing in response to the need to help people, pets, and the planet where and when it was most needed.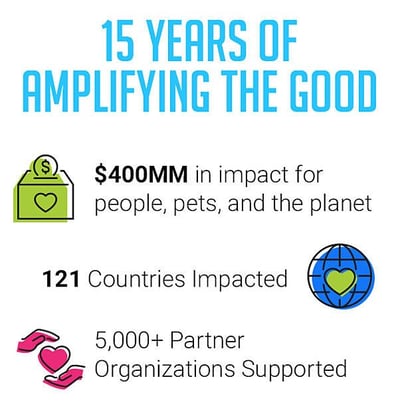 We crossed a very important milestone in 2021: Greater Good Charities has provided over $400 million in cash grants, in-kind supplies, and programmatic support for people, pets, and the planet. None of this is possible without your dedication and support, and it represents just a small fraction of what we did together to amplify the good in 2021.
Here are just a few ways we amplified the good together this year!
Pets
This year we launched three new pet-centric programs: Good Flights, Good Fix, and Good Home!
Good Flights - Good Flights' Save a Heart initiative to connect "sending" shelters from the south with "receiving" shelters elsewhere in the U.S., working in concert to save some of the most vulnerable pet populations in the country while helping the shelters that work so hard to care for them.
In working toward our commitment to transport 1,000 asymptomatic heartworm-positive dogs from Louisiana's hardest-hit parish shelters to treatment and adoption at better-resourced shelters, we have coalesced a team of shelters working in concert.
Good Fix - Our Good Fix program deploys specially trained high-quality, high-volume spay/neuter (HQHVSN) surgical teams and professional trapping teams to help control pet overpopulation in communities that need it most by reducing the human-animal conflict and the burden on animal shelters to euthanize unwanted pets. In October we hosted our inaugural mass sterilization clinic in Kauai.

Good Home - We also launched Good Home, our program that connects qualified pet foster volunteers with animal shelters across the U.S. to help thousands of homeless pets!
People
Good Packs - This year our Good Packs program hit an amazing milestone - 10,000 packs distributed to homeless Americans and their pets! Watch this video to see us in action at our Nashville event!
Girls' Voices - In response to the COVID-19 pandemic, Girls' Voices launched the Girls' Voices Movement platform. This is a new online platform which provides girls and young women (ages 13 to 21) the opportunity to connect in a safe, creative, and globally collaborative space to learn how to create mini documentaries intended for positive change. Check out the submissions from our Climate Action Contest!
Disaster Relief - 2021 has been a whirlwind of chaos, from COVID-19 to disaster after disaster. However, because of our phenomenal donors, we at Greater Good Charities, were able to be there when it mattered to support disaster survivors in many capacities. Check out these 10 great ways you helped during disasters in 2021!


Planet
Project Peril - Wildlife at Risk has been in the trenches saving trafficked pangolins in Vietnam for years. Your support funded an enclosure for pangolins which allowed them to do more for these shy creatures and gave humankind a rare opportunity to increase this pangolin species' dwindling numbers.
Greater Good Charities funded an enclosure to help partner Wildlife at Risk in Vietnam protect and monitor the vulnerable pangolin, an endangered species with the unlucky distinction of being the most trafficked animal in the world. Pangolins play a critical role in multiple ecosystems as diligent and thorough tenders of soil through their natural behaviors, and acting as natural insect control, consuming nearly 70 million each year.
Vietnam is home to one species of threatened pangolin. Wildlife at Risk has successfully rescued and rehabilitated several pangolins rescued from trafficking, and GGC is assisting in WAR's expansion of its work by funding a specially built habitat for two of these rescued pangolins. With natural vegetation, trees for climbing, and a dome to allow their natural underground behavior, it is hoped that the enclosure will not only provide safety and life but an environment conducive to breeding to help rebuild dwindling populations.
Help us spread the word and celebrate our impact together by sharing. Download and share your favorite image here!