A Dog Named Champ Benefits from the Generosity of Donors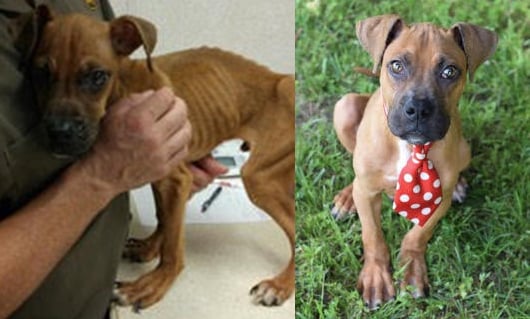 Meet Champ! He's an eight-month-old Boxer puppy who is happy and full of life now, but whose story began on a sadder note. Thanks to the good folks at Acadiana Animal Aid – and one very kind delivery driver – Champ's rough start to life is now behind him.
And thanks to the donors of Greater Good Charities, Champ is now on his way to finding a perfect forever home! Because of the dedicated donors who have given so generously to Greater Good Charities, Acadiana Animal Aid (AAA) received a $10,000 grant to purchase 100 crates to help transport animals out of the area after Hurricane Harvey arrived.
Champ's Rough Start
Found lying on the side of the road by a delivery driver, clearly neglected and starving, Champ's beginning will likely never be known. However, after getting the care he needed by AAA and entering a foster home, Champ is flourishing!
Champ has been diagnosed with rickets, has misshapen legs, and only weighed 11 pounds when found, but he is a very playful dog. He didn't quite understand toys or what to do with them when he first entered his foster home, but Champ quickly learned how to be a carefree puppy and loved the attention he received.
Now a healthy 35-pound dog, Champ is described as sweet, loving, and snuggable. When he eats, it's as if each bit of kibble may be the last he will ever see, reminding his caretakers of his unknown yet undeniably tragic start to life.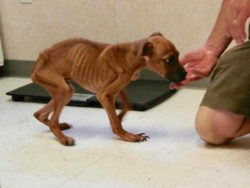 Champ when first rescued.
A New Beginning
Everyone at Acadiana Animal Aid fell in love with Champ, the abandoned pup whose story just needs a happy ending. Despite his popularity within the group, no adoption applications were submitted on his behalf in the two months he's been with AAA. So, the staff decided he might just find his happy ending in California.
Champ was one of the lucky 78 dogs and 20 cats that flew from Louisiana to California in the crates that AAA purchased with the grant from Greater Good Charities, flying out on a Wings of Rescue flight on September 22, 2017. With that latest flight, AAA has helped to save 545 pets since August 28, 2017
.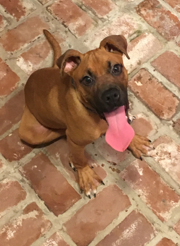 Everyone at Acadiana Animal Aid wishes Champ the best and can't wait to see him in his forever home!
Champ is currently with Labradors and Friends Dog Rescue in San Diego, California. Interested adopters can find them on Facebook and inquire directly about his availability status.