Ana Maria: Volunteer, Translator, Future Businesswoman
Girls' Voices program ignites girls' power through the art of digital media storytelling. The program inspires girls in developing countries to share their unique experiences while cultivating technology and creative skills critical to their future success.
Ana Maria lost her father over 15 years ago and for most of her life, her mother struggled to keep the family afloat, which included affording Ana Maria's educational opportunities. But Ana Maria was determined. Her goal was to continue on to college and be able to provide for her family and herself.
Through hard work and your support, Ana Maria has been recognized as an outstanding student at her school and is planning to graduate this year with expertise in Business Administration.
In addition, Ana Maria has assumed a leadership role in her community. She volunteers her time at the public grade school in her neighborhood and supports her mother's group of women artisans, acting as the Spanish translator for those who do not speak it in her Kaqchiquel community.
---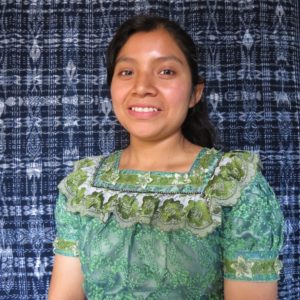 "With my sincerest gratitude to the Greater Good Charities donors, I would like to express my thanks for your support. I feel happy because thanks to the support I have received, I am a few months away from achieving my first major goal of graduating from diversificado (high school). I want to someday have my own business so I am able to help people in my community and help my family's household expenses. I hope that you continue to support education so that more young people and young women can overcome and achieve their dreams. Thank you!!!"
– Ana Maria
Your donation to Girls' Voices supports girls like Ana Maria